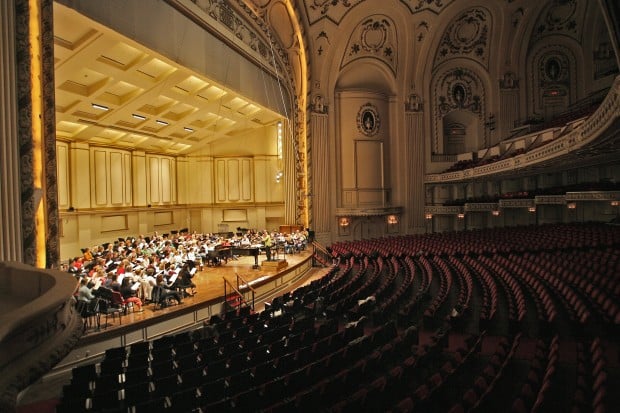 Powell Symphony Hall will be a spooky place this weekend. Resident conductor Ward Stare will lead the St. Louis Symphony Orchestra in two showings of Alfred Hitchcock's classic "Psycho" (hear those slashing violins live!) and a special Family Concert, "Howl at Powell," with a kiddie costume contest.
For some, Powell Hall is always a spooky place. Stagehands and others have long reported encounters with an apparition dubbed George, a figure in white top hat and tails; he was most recently seen a year ago by a newly hired custodian. Most memorably, former music director Leonard Slatkin and his secretary were stuck in an auxiliary storage area when the door mysteriously slammed shut and locked.
So, to get to the bottom of things, the folks at the SLSO decided to bring in the St. Louis Ghost Hunters Society for an overnight investigation Oct. 16.
Co-founders Nelson Kennedy and Adam Merseal and their group set up electronic equipment in the Green Room, then they split into teams and explored.
Much of what they heard — knocking and doors slamming — was probably tricks of the old hall's acoustics.
"We try to take a true scientific outlook to these things," Merseal says. "We don't think that everything is a paranormal occurrence."
They didn't find anything that answered to George. They did pick up something on a recording that sounded like a man's voice saying "Richard." And at 2:45 a.m., when they got impatient and asked for a sign in the lower-level Whitaker Room, the telephone rang — once.
The real find came later, in the spotlight room, formerly the projection booth of the old St. Louis Theater. Working with a pair of monitors set up to eliminate electronic anomalies and looking for a man, Merseal says they found themselves interacting with a decidedly female spirit.
"She doesn't like to be called George," Merseal says.
Publications manager Eddie Silva (who blogged his experiences at slso.org) accompanied the ghost hunters.
"I've never felt creeped out in Powell — at least by paranormal activity," he says. "But I will say the single ring of the Whitaker Room phone immediately after Adam had asked the spirit to give us a sign was … interesting."
Merseal says they'd like another shot at Powell.
"I don't know if George is real," he says, "but Richard might be."