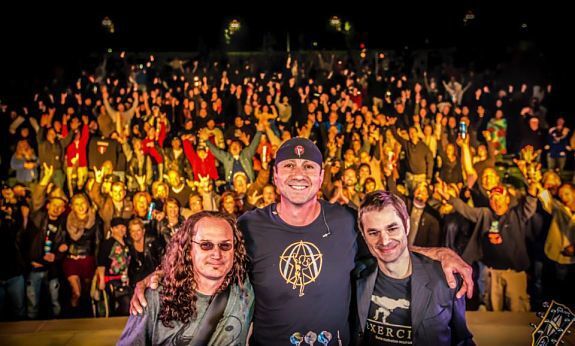 Break out your band tee, computer and air-drum skills because Thunderhead: The Rush Experience is performing a show that's sure to bring together all the aspiring Neil Pearts — virtually, anyway.
The tribute group, named for a lyric in Rush's "Jacob's Ladder," will play hits from the rock band's whole discography. The show is the latest in the Pageant Live Stream Concert Series, in which bands perform onstage at the Pageant but without an audience at the venue.
The shows are livestreamed, and donations from fans will benefit the Gateway Resilience Fund, which provides assistance to employees and owners of small businesses affected by the pandemic.
Vocalist, keyboardist, bass guitarist and bass pedalist Billy Audrain joined Thunderhead in 2010. His multifaceted role honors Rush's Geddy Lee. Audrain performs with the same instruments and tools as Lee to reproduce every note, whether vocal or instrumental, as it is on Rush's studio records.
Q • To those unfamiliar with your band, how would you describe your sound?
A • We are a tribute to the band Rush and try to give you the Rush experience. Rush was a progressive rock group that has been around since the '70s. Way back when their first record came out, there was this DJ, Donna Halper, in Cleveland, Ohio, who played the seven-minute hit "Working Man" as her bathroom song, which led to the band's big break in the U.S.
Q • How large is the Rush fan base in St. Louis?
A • St. Louis is a huge Rush town, and the response to the livestream concert has been awesome. The Midwest has always had a huge Rush fan base with such a cult following. I have been to four or five of their concerts, and everybody who is there has their concert shirts on, sing all the words and air drum constantly.
Q • Has your band been able to practice during the pandemic?
A • Before all of this craziness started, we had our last rehearsal, and we were getting ready to play at the Pageant in March. Our concert got postponed, and it's been postponed three times now. The new date is going to be in 2021. Our first rehearsal together since then was this past Sunday. It went pretty well, so we're excited to do the livestream.
Q • Do you have any concerns regarding the livestream concert?
A • I think the only awkward thing will be once you finish playing a song, and there's no applause. We are hoping to get an emcee, but we are not sure if that's going to happen because this event was such short notice. They would introduce us, and then maybe three or four times throughout the show come out and talk about a song we just played.
Q • Does Thunderhead have any Rush songs that you are known for performing well?
A • I think we all have our favorites. Rush has such a huge catalog of music. They have 20 studio records, so it's pretty easy for us to fill our typical three-hour show, even though the Saturday livestream will only be 90 minutes long. Rush does have a song called "Tom Sawyer," which we nail pretty well. One of my favorites is "Xanadu," and "Red Barchetta" is another one I think we do well.
Q • How will this show differ from your usual concerts?
A • Normally, we'll have video with our show, but in this particular case, we won't. We're not in this for the money, and no one is getting paid for this show, so we can't afford to bring in the video, but we will still have our light show. We try to bring the full experience as best we can, so I have my hair long like Geddy Lee and wear similar clothes to make you feel like you're at a Rush concert.
What "An Evening With Thunderhead: The Rush Experience" • When 9 p.m. Saturday • Where hyfi.com/pageant • How much Donations are suggested to benefit the Gateway Resilience Fund
Stay up-to-date on what's happening
Receive the latest in local entertainment news in your inbox weekly!