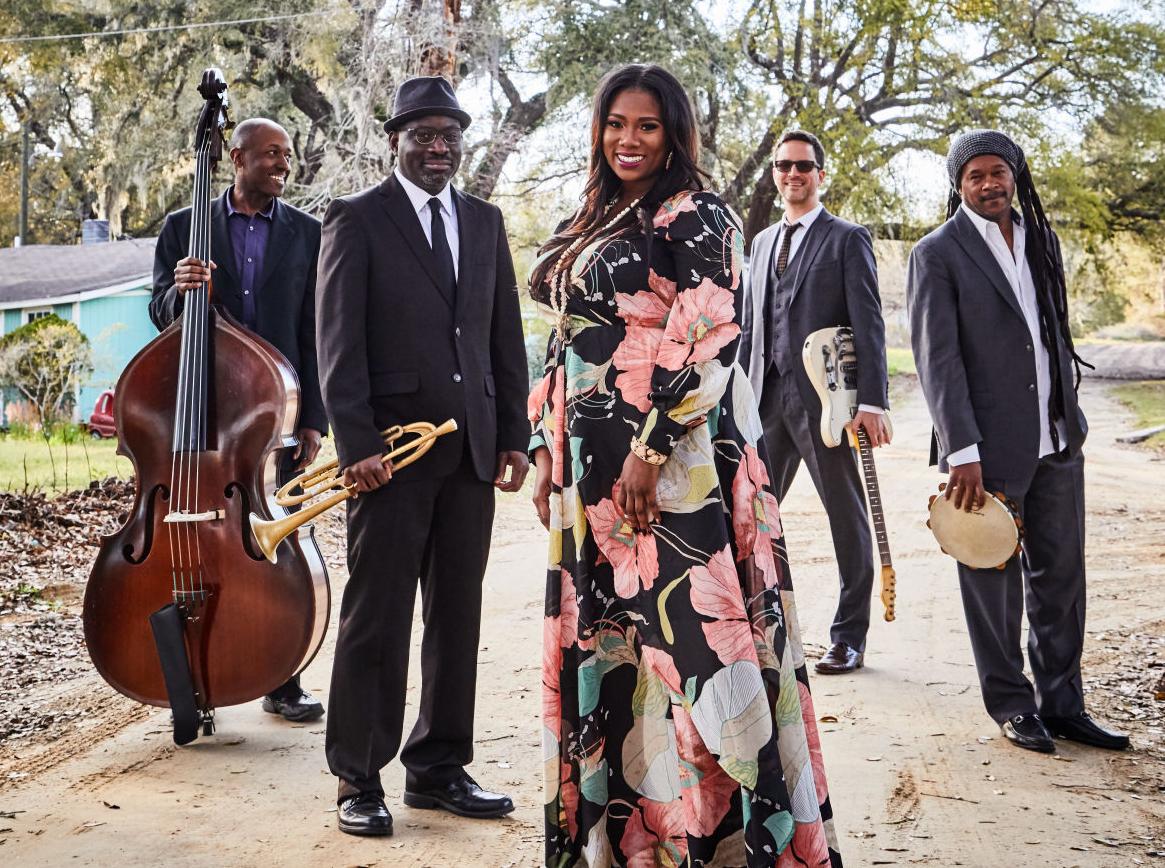 Ranky Tanky trumpet player/vocalist Charleton Singleton can't remember the exact location of the gig, but he knows it was somewhere in the upper Midwest: South Dakota, maybe, or Nebraska.
The Grammy-winning group — Singleton, drummer Quentin Baxter, vocalist Quiana Parler, guitarist/vocalist Clay Ross and bassist Kevin Hamilton — played its music, a propulsive, jazz-inflected blend of songs and sounds derived from the culture of the Gullah, descendants of enslaved Africans from the Lowcountry region along the eastern U.S. seaboard.
"Afterward, this sweet, older white lady who looked like she was probably in her late 70s or so, she walked up to me and said, 'There was a song you were playing, and it had the same melody of a song that I used to sing at 4-H camp,'" Singleton recalls. "And I was like, 'Exactly!'"
Ranky Tanky is on a mission of sorts to show the world at large how pervasive and influential the Gullah culture is and to give credit where credit is due.
"Like, the most recognizable Gullah song on the face of the earth is 'Kumbayah,'" Singleton says. "That song, as well as 'Michael, Row the Boat Ashore,' were born in the Gullah community. So were games like pattycake and the idea of clapping on beats two and four as opposed to one and three — little things like that, things you've been doing all your life."
Educating audiences about Gullah culture doesn't hinder Ranky Tanky from entertaining, however. The name translates from Gullah as "get funky" or "work it."
Which is what the band does in concert and on its two albums — 2017's eponymous effort and 2019's "Good Time," which won a Grammy Award for best regional roots music album.
The band came together in Charleston, South Carolina, where Singleton, Baxter, Hamilton and Ross had previously played in a 1990s jazz group, the Gradual Lean. They went off in various directions for some time but stayed in touch.
Around 2015, Ross, who was touring with various world-music outfits, began querying the others about Gullah culture, Singleton recalls. "He said: 'I see all these other people doing music from their country, or their region, or their state. And no one is out there doing a contemporary version of Gullah. Why not us?'"
The four joined with Parler and, per the band name, began to "work it" immediately.
Ranky Tanky's debut is especially illustrative of how Gullah music informs all manner of styles, from folk and gospel to jazz, country, blues and beyond. Among its songs are the spiritual "O Death," which gained a foothold in popular culture thanks to its inclusion in the film "O Brother Where Art Thou?"
Also on the album is "You Gotta Move," which traveled all the way from the Gullah community into the blues repertoire and eventually onto a Rolling Stones record.
"Gullah crosses over," Singleton says. "We tell our audiences about it so they can go examine it themselves and broaden their horizons even more."
The "Ranky Tanky" album didn't really take off until Terry Gross interviewed the band in 2017 on NPR's "Fresh Air" program. Afterward, it shot to No. 1 on Billboard's jazz and contemporary jazz charts, on Amazon and elsewhere.
The second album, Singleton says, "is leaps and bounds different," mostly because the band had more time to think it out, prepare and, importantly, work out its songs on the road.
"Not to say that we didn't have a good vision for the first record," he says. "But the second record was like: 'OK, sophomore album, here we go. How do we all feel? Let's get into it, let's talk about it.' Any ideas that anybody had were out on the table, and we tried them."
On "Good Time," the band continued to mine Gullah culture for songs but developed the arrangements to the point where "it's more like doing a live show on record," Singleton says. The band also began adding original songs, which are of a piece with the traditional material.
Only weeks after the album won a Grammy, however, the pandemic hit, slowing but not halting the band's momentum. The group did what it could, livestreaming shows or recording them for later viewing, to keep moving forward.
More than a year later, Singleton is happy to be playing in front of audiences again.
"It's a fantastic thing," he says. "You can ask any performer — they thrive off of being in front of a live crowd. You can get that energy that they are giving off, getting it from what you are doing. It's push and pull, give and take, both ways."
What Southern Journey, Ranky Tanky, Dom Flemons • When 8 p.m. Oct. 15 • Where Sheldon Concert Hall & Art Galleries, 3648 Washington Boulevard • How much $35-$45; proof of full COVID-19 vaccination or negative test required • More info 314-534-1111; metrotix.com