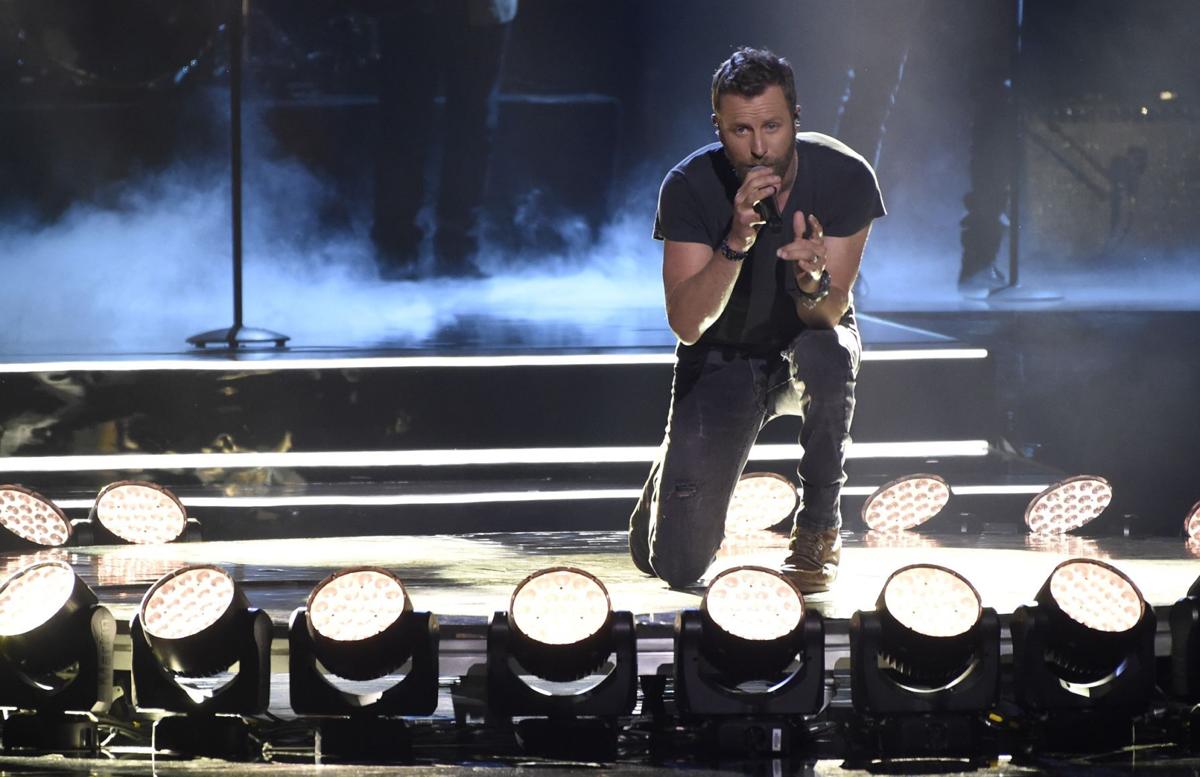 When Dierks Bentley took the stage Thursday night at Hollywood Casino Amphitheatre, fans might have sighed with relief as the short, strange concert season wrapped up.
In recent years, Bentley's shows at the outdoor venue have been stopped, delayed and in one case moved to the next night because of vicious summer thunderstorms that seemed to follow his band.
So maybe an autumn night in late October was the right time for Bentley to start his show with "Gone," "Free and Easy (Down the Road I Go)" and "Am I the Only One." No, Dierks, you're not the only one who wants to have fun — but some of the hardcore fans clearly were scared off by the late-October date; about 7,000 people were in the crowd at the 20,000-capacity venue.
Not that it made any difference to Bentley, who pours his energy and heart into each performance. His one-hour, 45-minute show was heavy on hits including "I Hold On," "Riser," "Burning Man" and "Up on the Ridge."
After "Somewhere on a Beach," Bentley reminisced about the memories he's made on the stage — "except for the Jäger Bomb years" — and launched into "Some Days You're Living" and toasted the crowd to "one last little taste of summertime before we close this place down."
It was a nice acknowledgement of a sure sign that the outdoor concert season — the amphitheater's 30th — was over.
For "Beers on Me," Bentley brought out Breland — one of the two singers who cut the record with him — and they tossed cans of beer to the fans down front, which got a very welcome reception. Breland stayed around to sing "My Truck."
Bentley returned for "5-1-5-0" and then headed back to the mini-stage close to the lawn seats, where opener Riley Green joined him for a medley that included pieces of "Settle for a Slowdown," "Whiskey Bent and Hell Bound" and "Family Tradition." Then Green ripped through a cover of the Joe Diffie hit "John Deere Green" before Bentley headed back to the big stage.
He left the stage briefly after "Sideways" but came back — as he almost must — in airline captain togs for what's become his signature and often finale song: "Drunk on a Plane."
Maybe in a non-pandemic season, that would have been it. But this was the COVID concert season, so what better way to end than with Bentley back onstage in a shaggy blond wig, cropped T-shirt and high-waisted jeans as the leader of the "Hot Country Knights"?
It's a gig Bentley has been doing for a couple of years, but a good number of fans who left during "Drunk on a Plane" missed a rollicking end as Bentley proclaimed "We're the headliners tonight" and roared through the song Elvis made famous, "T-R-O-U-B-L-E."
Then it was a mashup of "She's in Love With the Boy," "Shoulda Been a Cowboy," "Blue Clear Sky," "I Swear" "Bye-Bye," "The Dance," "I Hope You Dance" and "Ain't Nothing Wrong With the Radio" — with thanks to Trisha Yearwood, Toby Keith, George Strait, John Michael Montgomery, Jo Dee Messina, Garth Brooks, Lee Ann Womack and Aaron Tippin, respectively.
But Bentley and the Knights weren't done until they finished with a nearly R-rated version of "Riser" made raunchier with Viagra jokes and "big sizer" and "geyser" rhymes. If country music can take endless songs about women in bikinis and cutoffs and dancing on tailgates, why not?
To get the night started, Bentley got strong support from Priscilla Block and Riley Green.
Green, an Alabama native, was charming and personable with his No. 1 hit "There Was This Girl" but showed more substance on "I Wish Grandpa Never Died." He also did a funny bit in which, with the pandemic curtailing some tours and tightening budgets, each of his band members played a short solo to earn applause and "keep" their spot in the band. Spoiler alert: Five-way tie means they all stay.
Block, who had her first top-20 song this summer with "Just About Over You," has a powerful voice and an even stronger presence. After a song called "Peaked in High School," she talked about being told she had to lose 30 pounds to get onstage and then launched into a song called "Big Thighs." Keep an eye on Block — she could be bound for better things.