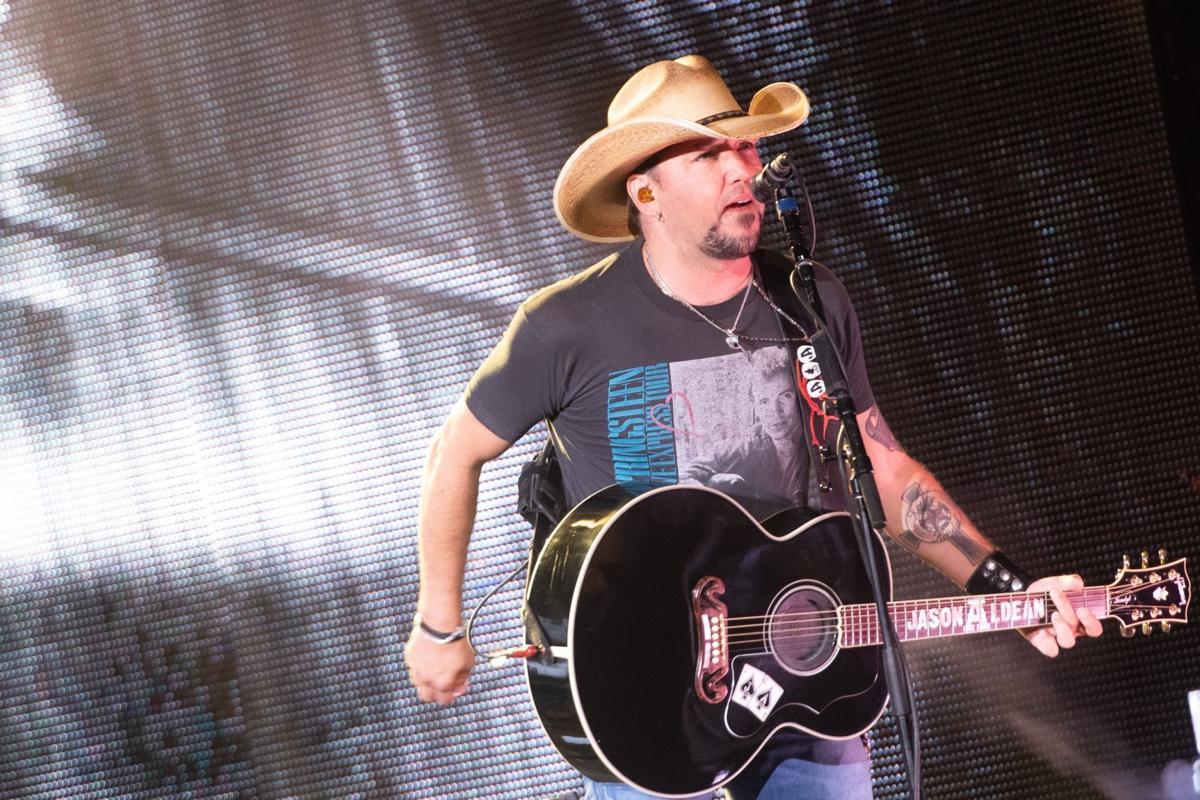 With the exception of the October date on the calendar, nearly everything about country superstar Jason Aldean's tour stop Saturday night at Hollywood Casino Amphitheatre felt — dare we say it? — normal.
Yes, the fans who helped fill (but not sell out) the venue had to show proof of COVID-19 vaccination or a negative test. But otherwise, there was fairly scant mention of the pandemic that has turned the world upside down since early 2020.
His aptly named "Back in the Saddle" tour opened with Aldean leaping onto the stage to "Crazy Town," one of his early hits. The massive stage scaffolding featured an almost 3D set of sculpted horses and video screens — clearly no expense was spared for the tour's look.
Aldean's second song of the night may have put the "bro" in "bro country," as he moved into "Take a Little Ride." A sample: "I hope you're wearing those frayed-out cutoffs. ... Drop the tailgate down."
Aldean has grown into a comfortable headliner over the years, roaming the full stage and engaging in just enough banter that fans know he's been there before. On a perfect fall night with a cool breeze, Aldean said there was nowhere he'd rather be because "usually when we come here, it's 150 degrees."
Aldean avoided the topics of COVID vaccines and mask mandates after last week blasting California's rules for vaccines for children and defending his wife's social media criticism of the president. Good idea: Fans came out for music.
And during his 95-minute set, Aldean rolled through most of his big hits: "You Make it Easy," "Amarillo Sky," "Burnin' it Down" and "Big Green Tractor."
Before launching into his current hit, Aldean told the crowd that he made good use of the pandemic downtime by learning to play some piano. At that point, he was at a piano rolled onstage with a hologram of Carrie Underwood for their current hit, "If I Didn't Love You."
Aldean said the song will be on his new double album that will drop in November and April.
As the night moved toward its end, Aldean did the music world a favor after "Dirt Road Anthem" by dissing the "encores" so many artists feel are a mandatory part of their show.
"They go offstage for five minutes, and everyone's clapping, and they come back out like, 'What, you want us to play more songs?'" Aldean said. "So we just keep on playing."
And with that, he roared into what otherwise would have been a three-song encore: "My Kinda Party," "Hicktown" and, for the wrapper, "She's Country."
Before Aldean took the stage, he showcased three support acts: Hardy, Lainey Wilson and a duo called John Morgan.
While you would be hard-pressed to find anything remotely country about Hardy, he delighted his retinue of fans with "Rednecker Than You" to open, along with a cover of the Blake Shelton hit "God's Country," which Hardy wrote.
While Aldean didn't touch on pandemic protocols, Hardy jumped right in, noting how great it was to see people "not 6 feet apart and not wearing (expletive) masks."
Wilson showed off a strong set of vocals with her 20 minutes, delighting fans with "WWDD" (short for "What Would Dolly Do?"), a tribute to the legendary Dolly Parton), and her recent No. 1 hit, "Things a Man Ought to Know."
And John Morgan, an act signed to Aldean's label earlier this year, was just happy for 15 minutes onstage and a chance to remind fans that the band had T-shirts for sale.