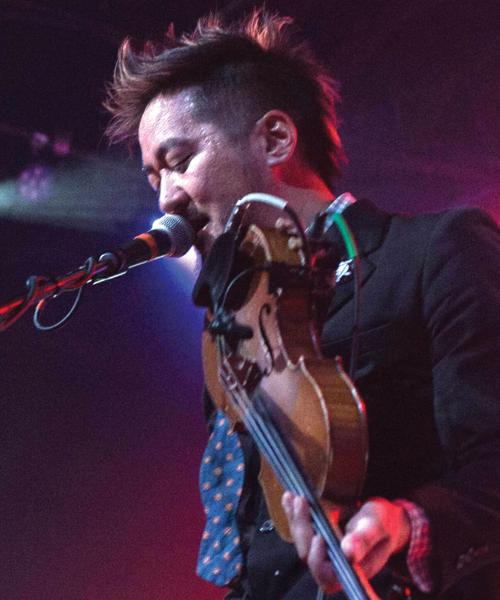 Deep into his concert with the St. Louis Symphony Orchestra on Friday night, multi-instrumentalist and singer Kaoru Ishibashi, aka Kishi Bashi, performed a solo piece — his popular cover of Talking Heads' "This Must Be the Place — using foot pedals that allowed him to loop and multiply his violin parts, providing full, lush backing for his vocals.
"Some people are like, 'You're like a one-man orchestra," he said afterward, pointing out the absurdity. "This," he added, gesturing to the SLSO musicians, "is a true orchestra."
No one seemed more blown away by the experience of the concert than Ishibashi himself, who said, "This has been a dream of mine," noting that it was his first performance with a full orchestra.
It was an impressive debut. The SLSO, conducted by Norman Huynh, provided Ishibashi's gossamer melodies and ethereal soundscapes with a considerable new depth and breadth without diminishing their occasional playfulness.
After the conclusion of the first number, "Bittersweet Genesis for Him and Her," Ishibashi exclaimed "Wow!" But he wasn't alone in being impressed, as the crowd lent him enthusiastic, even rapturous support throughout his performance.
Ishibashi offered material from his four studio albums, and his pop compositions are rich and complex enough both musically and lyrically — "Bittersweet Genesis," for example, is a creation myth — to warrant orchestral accompaniment.
Other songs were more lighthearted, as the title of one of them, "Penny Rabbit and Summer Bear," would indicate. "In Fantasia," which Ishibashi identified as his favorite song to perform, is about vampires. "I Am the Antichrist to You," though dark and dramatic, was written for the popular cartoon "Rick and Morty."
Ishibashi switched to guitar for "Penny Rabbit" as well as "Angeline" and piano for "Can't Let Go, Juno" and the impish "Honeybody." On the latter tune, he invited the audience to sing along — or more likely mumble or hum, given the restrictions of their facemasks.
But this was a pops concert with a purpose, and evening's main selection, "Improvisations on EO 9066," asserted its solemn importance as it closed the first half of the concert.
The multimedia piece is based on the internment of more than 110,000 Japanese-American citizens during World War II. Its title refers to the number of the executive order — that's the "EO" — signed by Franklin Roosevelt, who, driven by factors of racism, economic jealousy and a rabid media, created the camps and imprisoned those regarded as a threat to national security.
The piece includes a number of elements, including archival photos and film from the internment camps, recent footage of Ishibashi improvising violin music in those same, now long abandoned locations, and music performed live onstage by Ishibashi and the orchestra.
Some survivors of the internment were in attendance at the concert, and it was noted from the stage that there is material about the period on display at the Soldier's Memorial Military Museum downtown through Oct. 3.
The roughly 30-minute piece included music of deep foreboding and mournfulness, especially in its early "chapters." Later, there were Japanese-inspired melodies used as an assertion of cultural identity as well as songs from Kishi Bashi's 2019 album "Omoiyari," including "Song for You," "Theme from Jerome (Forgotten Words)" and "Summer of '42," which ends the piece on a note of hopefulness and resilience.
"Violin Tsunami" and "Manchester" were among the highlights of the second set. Nearly all of Ishibashi's songs showed off his impressive vocal range, which includes an effortless falsetto. After the big, booming finale of "Manchester," he quipped, "I feel like Placido Domingo, Pavarotti."
The performance wrapped up with "Philosophize in It! Chemicalize with It!" plus an encore that showed off what a nonorchestral Kishi Bashi concert is like, with Ishibashi beatboxing and frantically tapping his loop pedals to create a rhythmic sound bed for "Atticus, in the Desert."
He really is a one-man orchestra. But backed by the real thing, the results were even more stunning.