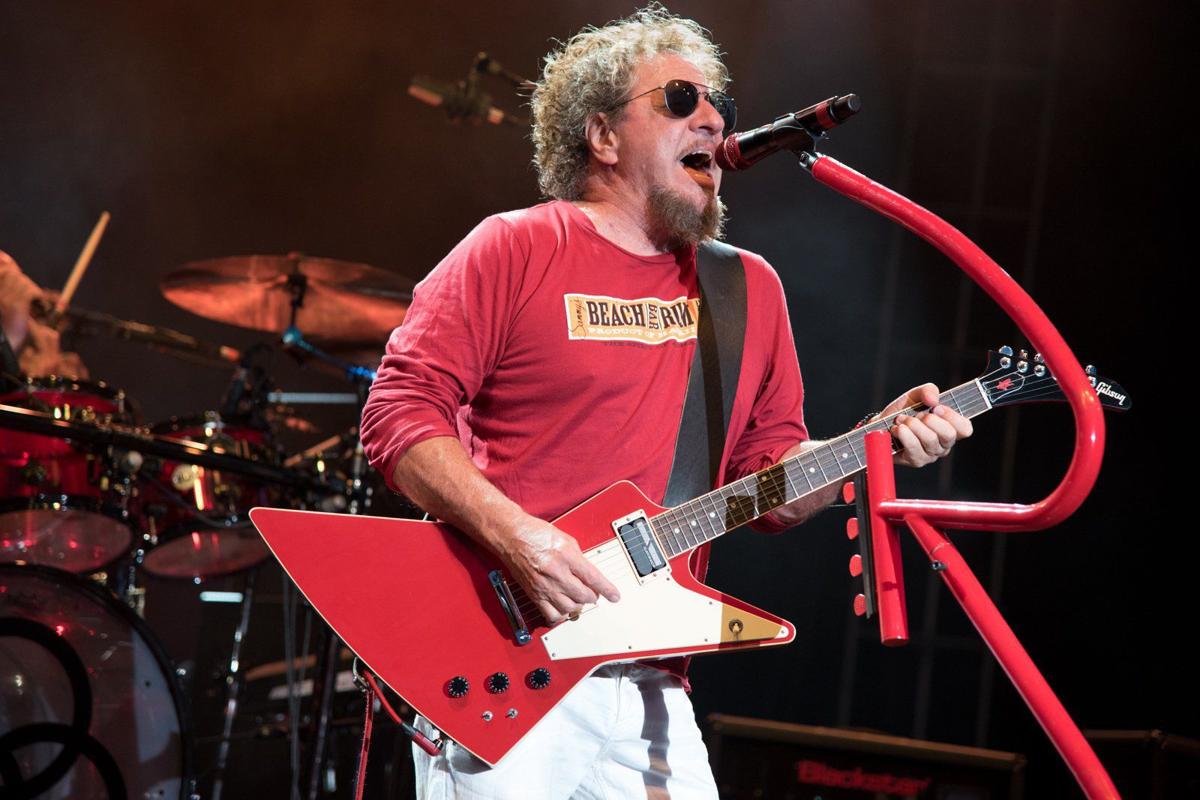 For just a little while Sunday night, the Red Rocker became a blues rocker.
Or rather, make that a St. Louis Blues rocker.
Midway through his concert at Hollywood Casino Amphitheatre, Sammy Hagar, who is traditionally pelted with all manner of T-shirts, jerseys and banners during his concerts here, donned a Blues sweater, much to the delight of the crowd, which was still buzzing from the team's afternoon playoff victory.
A "let's go, Blues!" chant went up as Hagar put it on, and he answered by playing an appropriate tune: Van Halen's "Finish What Ya Started."
The concert had been rescheduled from the previous night, when the threat of severe weather forced its postponement an hour and a quarter before showtime. About 11,000 attended Sunday. Ticket holders who couldn't return were offered refunds.
"Thank you for waiting for us," Hagar said. "We'll have a good time tonight, I promise."
Hagar is touring with his band the Circle, to promote their just-released new album, "Space Between." The group includes former Busboys guitarist and longtime Hagar sideman Vic Johnson; bassist Michael Anthony, who played with Hagar in Van Halen and has joined him often since then; and drummer Jason Bonham, whose Led Zeppelin Evening pays tribute to the band of his late father, John Bonham.
The nearly two-hour performance did include a handful of songs from the new album, including the set opener, "Trust Fund Baby," "Can't Hang" and the pairing of "Devil Came to Philly" and "Full Circle Band (Chump Change)." But for the most part, it was a retrospective of Hagar's career, featuring songs from his solo albums and his work with Montrose and Van Halen.
Hagar called out the years in which many of the songs he played were released and, during "Red," gave a nod to radio station KSHE, which helped establish him as perennial St. Louis favorite.
Other solo tracks served up included "There's Only One Way to Rock," "Three Lock Box" and "I Can't Drive 55." The video accompanying the latter tune, which showed a decades-younger, yellow-jumpsuited Hagar, may have underlined just how long the singer has been at this. But at 71, he's still getting the job done better than many of his contemporaries and even some younger performers.
That would include Vince Neil, the Mötley Crüe singer who had opened the show and later joined Hagar on the Montrose song "Rock Candy." Neil didn't seem to know the words, and his appearance was a needless distraction.
But the show got back on track with "Van Hagar" numbers such as "Poundcake" and "Why Can't This Be Love," with Anthony supplying his familiar high harmonies. Another song from that era, "Right Now," continues to be a Hagar show centerpiece, recalling the song's original video concept, displaying messages that were alternately urgent ("Right now the devil is at sea level"), assuring ("Right now someone is lending a helping hand") and probably unfortunately true ("Right now it's nicer … in Cabo.")
The group spotlighted Bonham with a cover of Led Zeppelin's "Rock and Roll" before returning to Hagar solo numbers "Heavy Metal" and "Mas Tequila" — the latter song lyrically modified so as to plug his latest signature brand of booze, a mezcal/tequila hybrid.
Rather than leave the stage and return for an encore, Hagar stayed and played "Eagles Fly," eventually being joined by the band, which finished up with Van Halen's "Best of Both Worlds" and another Circle song, "Affirmation."
Special credit goes to Johnson for playing while injured. The guitarist has a broken leg and had to stay seated throughout the show as well as endure a few comical barbs from Hagar.
For his opening set, Vince Neil skipped his solo material and stuck with Mötley Crüe classics such as "Shout at the Devil" and "Girls, Girls, Girls." Much of the crowd ate it up, but at this late date, Neil's vocal skills have diminished, and the recent Crüe biopic "The Dirt" — a downright disaster in the #MeToo era — soured the band's legacy .