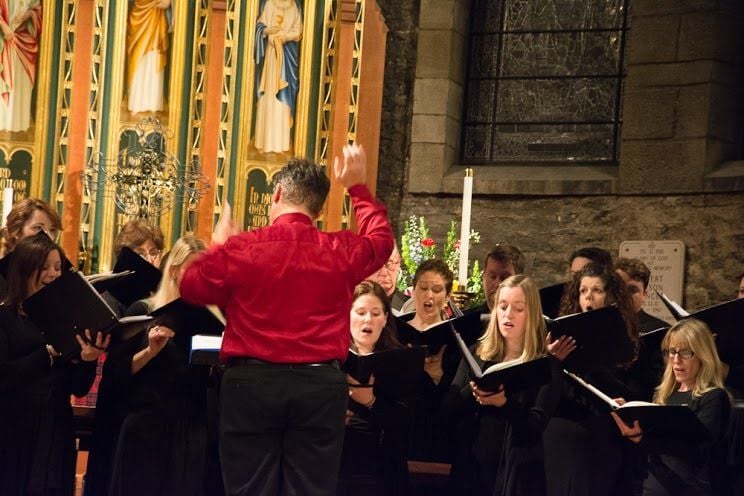 The 2020-21 arts season has started off in myriad ways, none of them conventional. Some organizations have canceled their seasons; others have postponed their performances, hoping that everything will be all right by January. The St. Louis Symphony Orchestra has a series of live pop-up concerts, online offerings and, as of this week, two sets of concerts coming up in Powell Symphony Hall for tightly limited audiences.
Artistic director Philip Barnes and the St. Louis Chamber Chorus have taken a different tack. On Sunday, the choir's place-holding 65th season began with a program titled "Will You Still Love Me When I'm Sixty-Four … and One More?" Because live singing in company isn't wise right now, the music is all provided via recordings, some archival and some professionally produced.
Like the other five presentations scheduled for this year, this one was given at Third Baptist Church in Grand Center. Subscribers had a choice: Go to the church for the live, socially distanced event (about 40 people attended the inaugural performance), or watch it online. (Due to health concerns, I watched from home; the acoustics aren't as important for this series as they normally are.)
The program opened, appropriately, with a recording of the choir singing John Rutter's "A Choral Fanfare," then shifting to Barnes chatting with board president Dick Brickson about the early history of the SLCC. When it was founded 65 years ago by the late Ronald Arnatt, a Brit who was the organist-choirmaster at Christ Church Cathedral, it was the St. Louis Chamber Chorus and Orchestra. Barnes talked about Arnatt and played a recording of "Celebration," the piece he composed for the ensemble's 50th-anniversary celebration (appropriately held at the cathedral), and of Arnatt reminiscing with the audience.
A few years after the ensemble was founded, when the cost of paying an orchestra had become prohibitive, the name was shortened to its present form. The next piece on the program was Barnes' audition with the chorus in 1989: the Sanctus from Gabriel Fauré's "Requiem," with organ accompaniment. (His conducting style has been refined since then.)
Barnes, who ditched the organs and made the SLCC into the finest a cappella choir in the St. Louis region, next talked about his initial desire to achieve the "pure" English choral sound with which he'd been brought up and his conversion to the "St. Louis sound," which he called "richer and darker." He thinks it works best in German repertoire and played a piece by Johannes Brahms to demonstrate.
He spoke about commissioning music — the SLCC has added an impressive number of new choral works to the repertoire, most of excellent quality — and, through the end of the program, played some of them. He talked about English composer Sasha Johnson Manning, who established the choir's relationship with female composers, and other favorites. Along with the hot-off-the-computer compositions, he noted that they also sing older works, such as the 13th-century "Sumer is icumen in." Since most older works came in separate scores for each vocal part, and thus may now be only partially available, Barnes has worked with retired Washington University professor Craig Monson to offer reconstructed scores of Mass settings.
The conversations were well-paced and sufficiently laced with humor that they never ceased to hold interest; the music was well-chosen and well-sung, particularly in the selections from recent years. The music was illustrated by appropriate, colorful photos selected by Dan Hanson; many of them were taken (often in exotic settings) by Hanson and Matt Chapman. It was a little long for a program with no intermission, but given the quality of the presentation, I'll be tuning in for "Why We Advocate for Women Composers" on Nov. 8.
Stay up-to-date on what's happening
Receive the latest in local entertainment news in your inbox weekly!