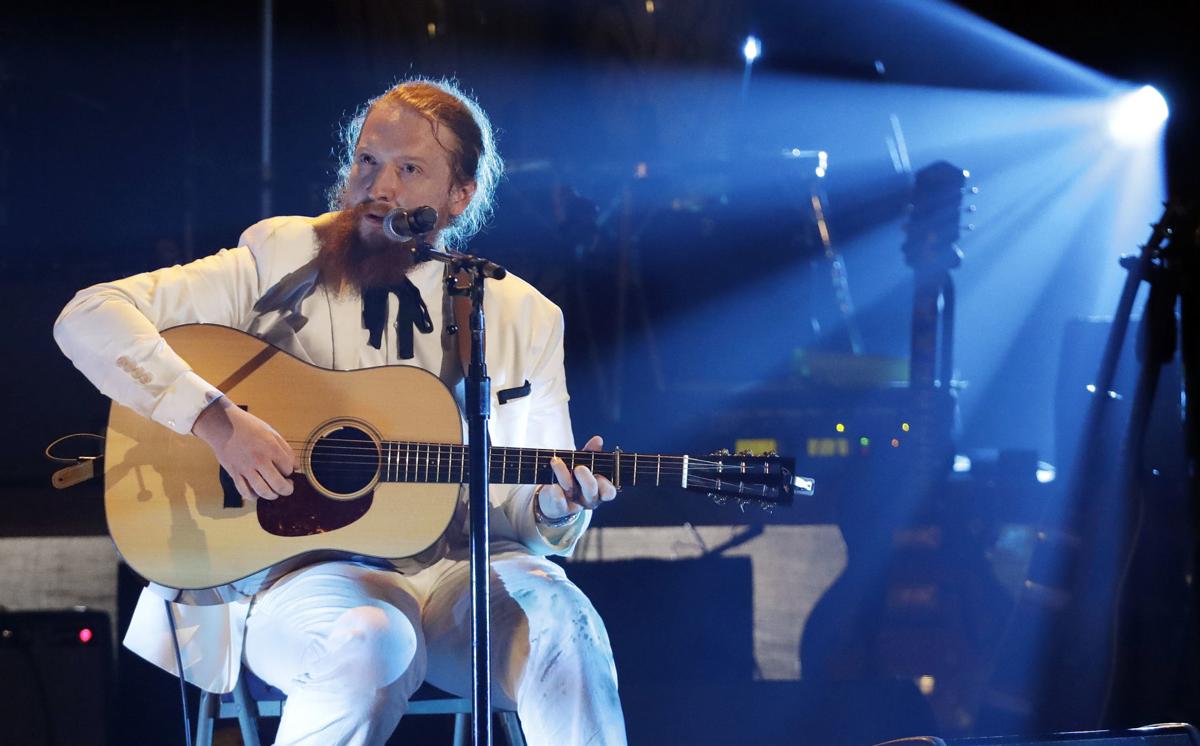 St. Louis can't get enough of Tyler Childers. Not only did the Kentucky-born singer-songwriter find the Stifel Theatre a hospitable environment for his hard-twanging, Appalachian-tinged brand of country music — his rip-roaring concert there Tuesday night was sold-out — but Childers booked another show for Wednesday night at the Pageant, and it sold out as well.
If that heapin' helping doesn't sate his local following, it was just announced that Childers will be returning on March 21 to play Chaifetz Arena on a bill with Sturgill Simpson, his friend and co-producer of Childers' 2017 breakthrough album, "Purgatory," as well as the brand-new "Country Squire," which recently topped the country album chart.
At the Stifel show, Childers said he was "pretty partial" to St. Louis because playing here "usually means we're almost home." He added, "The more it looks like home, the more I feel like people are understanding my accent."
Home is a central concept of Childers' music, to the point where he admits on the new album's title track, which opened Tuesday's concert, that his job is essentially "turnin' them songs into two-by-fours" — buying lumber to build a house on land already purchased — and biding his time in a camper (the titular Country Squire model) until it's finished.
That dream is so vivid for Childers that it was painted on the backdrop that dominated his otherwise sparse stage setup. The show's only shortcoming, really, was its too-low-key production. Nearly every song was enhanced — albeit only slightly — with colored lights that swirled about the stage and flashed into the faces of audience members down front.
The upside of that, of course, is that there was nothing to distract from the songs themselves, which are first-rate: vividly written slices-of-life drawn from the mountains and backwoods — the pleasures of hearth and home, but also the often grim realities looming outside.
Childers opened his set with a trio of songs from the new album: "Country Squire," plus "Bus Route," which deals with a schoolboy crush that gets sated some years later, and "Creeker," a classic barroom weeper about the drawbacks of country living.
The crowd was locked and loaded, on its feet and singing along pretty much from the outset, especially whooping it up when Childers dug into favorites from "Purgatory" such as "I Swear (To God)," "Feathered Indians" and "Whitehouse Road."
Things didn't settle down even when Childers' five-piece band left the stage for his solo acoustic set. Fans stood and sang along to "Lady May," "Nose on the Grindstone" and "Follow You to Virgie."
But the show's hard-rocking highlight came just before that, as Childers segued his own "Born Again" into a cover of "Tulsa Turnaround" and followed that with "House Fire," featuring a long jam that spotlighted his backing musicians.
Childers wrapped the show with another cover indicative of his rowdy roots: the Charlie Daniels Band's "Trudy." There was no encore, but by that point, Childers had said his piece.
Singer/songwriter Courtney Marie Andrews opened the show with songs mostly drawn from her recent albums "Honest Life" and "May Your Kindness Remain," plus some new material. Her songs, which are finely drawn and empathetic, are driven home by her powerful, rangy vocals. She well deserves the wider hearing the opening slot for Childers is according her.