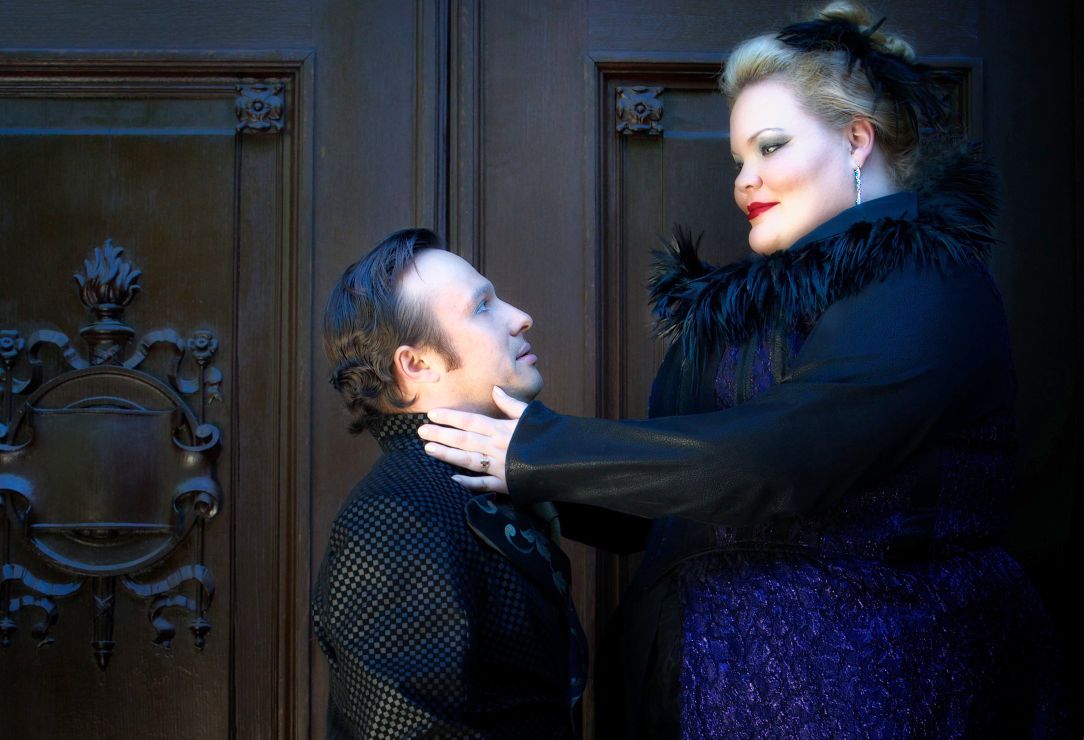 The best reason to buy a ticket to Union Avenue Opera's production of Giuseppe Verdi's "Un ballo in maschera" ("A Masked Ball") is to hear the remarkable voice of soprano Courtney Mills as Amelia.
This is a voice to be reckoned with, shot through with silver along with plenty of steel, and big enough to effortlessly fill the auditorium on a pianissimo. Mills, a native of Springfield, Ill., who seems destined for the hard-to-fill roles of Verdi and Wagner, uses her gift well, communicating the drama through the words and music.
Mills is a veteran of the Metropolitan Opera's Lindemann Young Artist Development Program and other operatic apprenticeships, and she's been taught well. If she's not yet quite the complete package in some areas, she should have a future in that big repertoire.
Mezzo-soprano Denise Knowlton, as the witch Ulrica, is another one with great potential. A strong actor with a big, warm voice, she commanded the stage in her scenes.
Real Verdi singers are, sadly, in short supply. Baritone Andrew Cummings, tall and sexy, was one of the most appealing characters on stage, with real presence. He may well develop into a Verdi baritone, but he's not quite there yet: his big Act III aria, "Eri tu," was a bit beyond him, and he suffered occasionally from intonation issues.
Tenor Emanuel-Cristian Caraman looked good and has a good voice; he's a little stiff onstage. As the page, Oscar, soprano Rachael Holzhausen was cute, perky and hit all her high notes, but she wasn't helped at all by director Mark James Meier's staging and dance moves.
Among the supporting roles, bass Todd von Felker as Tom stood out as a sardonic, observant conspirator. Tom W. Sitzler, a sailor who comes to Ulrica for advice, made the most of his small role.
No one onstage got much help from Meier, who does not have an obvious gift for choreography, and who frequently seemed to have left his singers to flounder. The advertised concept of a steampunk "Ballo" was not borne out by Patrick Huber's attractive, flexible set (there was nary a gear in sight) nor by the costumes.
As assembled by Teresa Doggett, those costumes appeared to be inspired by a mishmash of "Buck Rogers," "Battleship Potemkin" and a sale at Goodwill. The strange brocade tunics worn at the ball suggested a closeout on drapery fabrics. If the idea was to make the production seem "timeless," it succeeded, after a fashion.
Artistic director Scott Schoonover has a solid grasp of the score, although, oddly, he allowed Meier to add a group of singing, frolicking chorus women in those strange brocade tunics, rushing onstage and joining Oscar and the men as they sang about going to visit Ulrica at the end of the first scene. That's a first.
More seriously, there was a frequent disconnect between the pit and the stage that continued through much of the opera. Many distressing and unmusical sounds emanated from the woodwind section, to the detriment of the overall performance.
Union Avenue Opera's production of Verdi's "Un ballo in maschera"
Where: Union Avenue Christian Church, 733 North Union Boulevard
When: 8 p.m. June 30, July 6 and 7