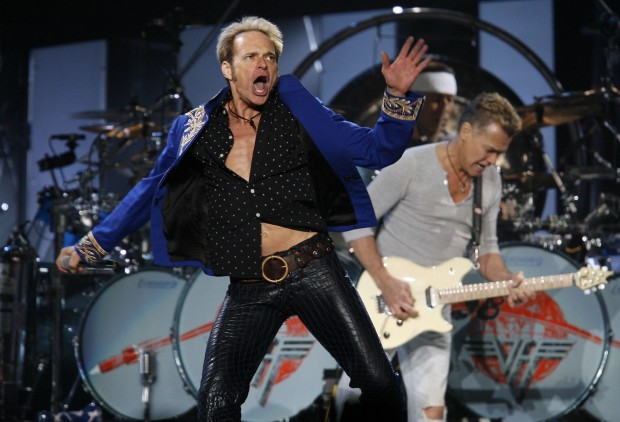 Midway through Van Halen's hour-and-50-minute performance at Scottrade Center Sunday night, singer David Lee Roth posed the rhetorical question, "Is there such a thing as rock and roll without complaining?"
Of course there is. And Van Halen — Roth, plus brothers Eddie and Alex Van Halen on guitar and drums, respectively, plus Eddie's son Wolfgang on bass — epitomizes hard rock's party-hearty, fun-at-all-costs attitude, evidenced by the band's late-'70s-early-'80s run of classic albums and its surprisingly on-point new release, "A Different Kind of Truth."
And yet, there are complaints to be filed, most of them involving Roth himself. At 57, he no longer stalks the stage like a predatory king of the jungle, coming off instead as an eager-to-please song-and-dance man, shuffling, sliding and spinning on a powdered wooden dance floor. His determination to entertain is admirable, but there's a desperate, ready-for-my-close-up Norma Desmond air about him, too.
Besides, the real show is taking place to his left. In recovery from both alcohol abuse and cancer, Eddie Van Halen remains one of rock's wonders to behold, reeling off impossibly fleet-fingered solos and chunky power chords, still cracking his trademark smile as if his six-string pyrotechnics were no big deal. Though it was placed just before the finale, his dazzling solo spotlight was the show's musical and emotional epicenter.
The stage was sleek and uncluttered, but dominated by a truly massive video screen that underlined Diamond Dave and Eddie's larger-than-life status. The 22-song set was filled with favorites, plus a few choice nuggets and a quartet of songs from the new album.
But for every off-the-charts performance, such as the crushing "I'll Wait" and the explosive "Hot for Teacher," there was a song or two that came up lacking. Roth seemed gassed, lagging behind the beat during "You Really Got Me." On "Dance the Night Away," he tried singing in a register no longer available to him. And on "Beautiful Girls," he forgot the words.
Still, the singer gamely offered a few of his athletic moves of old — a scissor kick here, a splits there — after which he mimed using a walker and tossing it away. He also offered a little street-corner philosophy ("I say mistakes make people") and at one point claimed "62 days clean and sober." Over the reflexive applause, he cracked, "No, not in a row."
If vaudeville ever makes a comeback, Diamond Dave will be there, without complaint.
The seemingly incongruous booking of Kool & the Gang was one of the evening's great decisions. With several original members still in the fold, the 11-piece ensemble countered the deep funk of "Hollywood Swingin'" and "Jungle Boogie" with lighter R&B fare such as "Too Hot" and "Ladies' Night." But the time the band closed with "Celebration," the entire house was on its feet.
---
"Somebody Get Me a Doctor"
"Ain't Talkin' 'Bout Love"