Update: This event has been canceled. Ticket purchases will be automatically refunded. 
St. Louis is getting a full dose of Etienne Charles this month.
Last week, the trumpeter played a five-night stand at the Ferring Jazz Bistro, leading his own band through selections from his most recent album, "Carnival: The Sound of a People."
On Saturday, he visits the Sheldon as a member of the SFJazz Collective, which will perform music by Miles Davis and Sly & the Family Stone.
The Collective is an eclectic group based, as it initials imply, in San Francisco. Its membership has been purposefully fluid over the years and currently includes Charles, David Sanchez (tenor saxophone), Warren Wolf (vibraphone), Edward Simon (piano), Matt Brewer (bass) and Obed Calvaire (drums), plus two new members: Martin Luther McCoy (vocals) and Adam Rogers (guitar).
"It's a great group," Charles says by phone on his way to perform a private show in Ann Arbor, Michigan, a day before his Bistro shows. "It's an opportunity to write music for great musicians who can play anything and make music out of anything. And getting to curate ideas and present a show based on a theme is always fun, too."
For each new season, the Collective chooses a master musician to honor with fresh, group-written arrangements of classic material. The musicians also contribute an original composition each. For 2019-20, the works of two musical giants were selected: Miles Davis' "In a Silent Way" and Sly & the Family Stone's "Stand."
That might seem like an odd pairing, but consider: Last year marked the 50th anniversary of both albums, and they were not entirely unrelated. "In a Silent Way" marked the beginning of Davis' electric period, which moved him further toward a brand of fusion inspired by the kind of funk that was Sly Stone's stock-in-trade. "Stand!" was the Family Stone's commercial high-water mark and contained music that was by turns celebratory ("I Want to Take You Higher"), boldly political ("Stand!" "Don't Call Me N—, Whitey") and sometimes both ("Everyday People").
"It's really high-energy stuff," Charles says. "And we get to take liberties with the arrangements. We weren't limited in any way."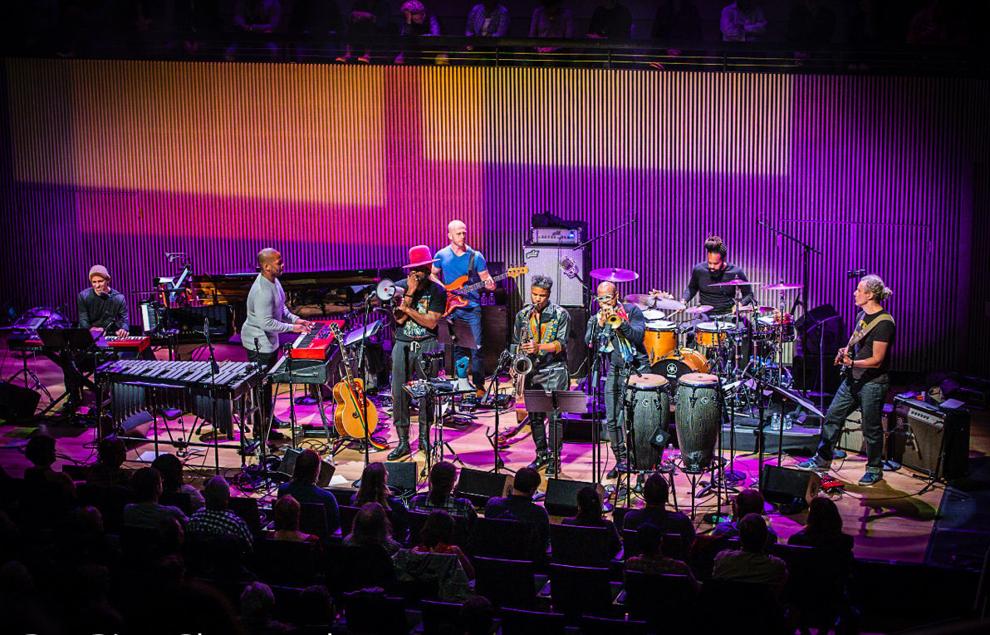 Stone, he notes, was a trailblazer in a variety of ways. "He had a completely integrated band — men and women, black and white. He was giving voice to people with his music." Quoting a lyric from "Stand!" Charles adds: '"There's a midget standing tall. And the giant beside him about to fall.' That's a powerful metaphor. Never mind 50 years ago; that's current now. In a sense, Sly was a prophet. And so was Miles."
By the time he recorded "In a Silent Way," Davis had changed his own music — and the sound of jazz in general — a number of times. "He was never about being comfortable," Charles says. "Once he did a couple of cuts, a couple of records with one quote-unquote 'sound,' it was time to move on.
"And once he saw Sly perform live, he knew that what he was doing had to change again. He knew if he wanted to stay current, if he wanted to stay popular in the eyes and ears of black listeners and general listeners as well, that he was going to have to make a change. And the change was plugging in. And that changed all of music. Not just jazz. It changed all of music."
Charles was born in Trinidad, and his own albums celebrate the Afro-Caribbean roots of jazz. But he is also a member of the music faculty at Michigan State University and plays in the Miles Electric Band, an all-star group whose members include alumni of Davis' bands. So the Collective show isn't at all out of his stylistic wheelhouse.
"Miles is one of my biggest influences," Charles says. "I'm very, very familiar with all the different eras of Miles' playing. All those styles, all those records. As a trumpet player, I'm a big fan.
"Being from the Caribbean, playing Caribbean music, I don't see them as different. You know, it's like, one instrument. And rhythm is rhythm, and soul is soul.
"What Miles was doing definitely spoke to not just me, but set the bar for every trumpet player, no matter where they're from on the planet."
What SFJazz Collective • When 8 p.m. Saturday • Where Sheldon Concert Hall & Art Galleries, 3648 Washington Boulevard • How much $15-$45 • More info 314-534-1111; metrotix.com