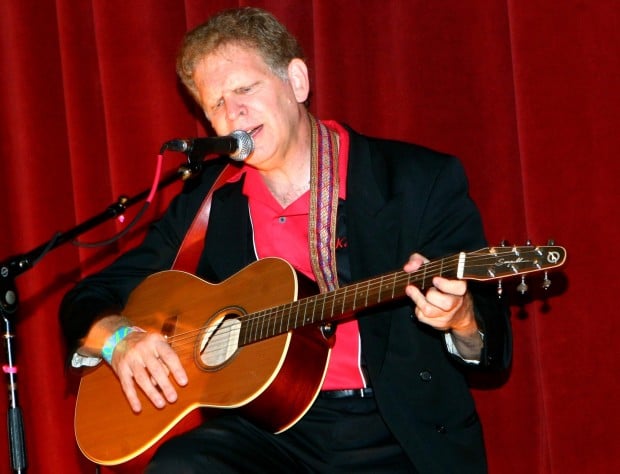 St. Louis singer-songwriter Kevin Renick, who made a splash when he landed the title song on the "Up in the Air" soundtrack, is back with a new EP and two performances next week. One is a Neil Young tribute, the other a recognition of Nov. 11, 2011.
• What's the Neil Young tribute all about (taking place two days before Young's 67th birthday)? We call our Neil Young tribute band Shakey Deal to poke fun at the fact Neil Young calls himself Bernard Shakey sometimes. We've been doing the Neil Young stuff for a while now. I get told a lot I sound like Neil Young, and I can play it up or play it down. We really enjoy doing this. Our guitarist Ned Watson can do some really ferocious Neil licks, and bassist Ted Moniak is well versed in Neil's stuff.
• What drew you to Neil Young's music? It was a combination of the underlying melancholy (feel) of the music, and that he sounded like somebody who had really been through a lot. Something came out in his music that always made you want to know more. There was an intrigue to it. And his voice cut through the clutter with an emotional impact most singers are not capable of.
• What are you doing to commemorate 11/11/11 (free concert at 9 p.m. Nov. 11 at Vin de Set)? It was a chance to do a unique show. My girlfriend and I are into the 11/11/11 phenomenon. I'm going to do half originals and half cover songs about the passing of time and transition, attempting to understand mysteries and things that don't have a clear meaning. ... When the clock turns 11:11 we'll stop and have a moment of meditation.
• What's your "Come on Down" album all about? It's a seven-song EP that's out now. We wanted to make something quick to showcase the fact we're jelling as a band. We're a four-piece band now getting tighter and tighter. So we wanted to go in the studio and inexpensively record a handful of songs that would sound good together. "Goodbye Typewriter" is on it. That's about objects in society that get outdated when something better comes along.
• How did the "Up in the Air" soundtrack change your life? It changed it dramatically. I opened a lot of doors. If you have something like that happen to you, suddenly people will take you seriously and give you a chance to do more. Without that, you're constantly having to prove yourself. To say you have a song in an Oscar-nominated movie is huge. It led to another director calling me to have a song in his movie.
• What movie and director is that? The song is "Ballad of the American Farmer." The movie is "In the Interest of National Security," and James Roberson is the director. It should be out next year.
• How is the song "Up in the Air" different from "Ballad of the American Farmer?" Stylistically the two songs are similar. But "Up in the Air" is very much about me and my own insecurities about life and where I was going. This new song is about the farming crises and the plight of farmers. I was given material to read. It wasn't about me. But I put my voice and personality into it.
• Did you get to meet George Clooney or any of the "Up in the Air" stars during the film's media blitz? I didn't meet Clooney, but I met Anna Kendrick. We got to go to Japan to promote the movie there and we were on the same plane. We hung out in the lounge. She was very sweet. I also met two of the lesser actors who had brief scenes.
• What's upcoming for you? I'm working on two projects at the same time. One is a tribute to my mom (who died in 2009), which is about loss and transition. The other album is a compilation of songs for movies that will have "Ballad of the American Farmer."
---
Neil Young Tribute Show with Shakey Deal, Dale Hanabarger
When 8 p.m. Thursday • Where Off Broadway, 3509 Lemp Avenue • How much $10-$13 • More info offbroadwaystl.com
What 11/11/11 concert • When 9 p.m. Nov. 11 • Where Vin de Set, 2017 Chouteau Avenue • How much Free • More info kevinrenick.com