It's the night before the Aug. 9 release of Slipknot's "We Are Not Your Kind," the masked metal outfit's sixth studio album and first in five years. Band co-founder and percussionist Shawn Crahan, aka Clown, is in his dressing room at Pinnacle Bank Arena in Lincoln, Neb., gearing up to play the Knotfest Roadshow's headlining set.
Or rather, he's gearing up to gear up.
"I'm about ready to get ready," Crahan says. "I need about an hour and a half before the show — stretching, spirituality, you know."
Well, we don't know. But OK.
Crahan is sounding pretty laid-back, but there's no hiding his excitement over the new album and its impending release.
"We've been working on it a long time," he says. "Tomorrow can't come fast enough."
Of course, the business has changed in the 20 years since Slipknot entered the fray with its self-titled debut album. New albums are previewed online and outright leaked these days. But in Crahan's estimation, that hasn't weakened his fans' — or maggots, as they're affectionately known — desire for "We Are Not Your Kind."
"People are going crazy," he says. "The release is tomorrow, but somehow, everybody's got it now, and it's just all over the place. But that's how it's been since the beginning of my career. You can't really keep what people want. It's just going to happen."
He, on the other hand, is more focused on the art itself and the process that went into creating it and putting it in front of people. "Like, we do have a plan, and we want to execute that plan," he says. "And the plan is for everybody: It's for the art, it's for the business. It's everything. And it's important to utilize the plan and see it through."
As for the music itself, Crahan does not mince words. "We Are Not Your Kind" is "a masterpiece, plain and simple," he says. "It was an honor to be a part of it. There's a lot that went into this album from many years ago up until the time of writing: a lot of love, a lot of emotion, a lot of temperature, a lot of color, but mainly time. I'm just really, really proud of this album."
Two singles had been released from the album so far: "Unsainted" and "Solway Firth." But some fans may have been surprised that "All Out Life," the single with which the band broke its long silence last October, wasn't included.
Crahan says the policy for making the new album was "keep it fresh, keep it real." Had it been included, it would have pushed one of the other new tracks off the record. And it just so happens that there was no shortage of new material.
"What people probably don't know is, there were like 22 songs written and 26 atmospheric kind of trippy art pieces, right? And it whittled down to what you have now. So things go, things stay. You're lucky to even get what you want. But this is what it is right now."
The idea behind Knotfest Roadshow — the band's own traveling metal circus, which lands at Hollywood Casino Amphitheatre on Sunday, with guests Volbeat, Gojira and Behemoth — is, "it's for the fans — to give them something that we actually feel that they need," Crahan says.
The bands, he says, "are so different," and the festival itself "doesn't feel contrived or derivative. It's still way out there."
Playing live is perhaps the best way for Slipknot to connect directly with its fans, but for Crahan, it's the actual act of making music with his eight bandmates that continues to keep him motivated.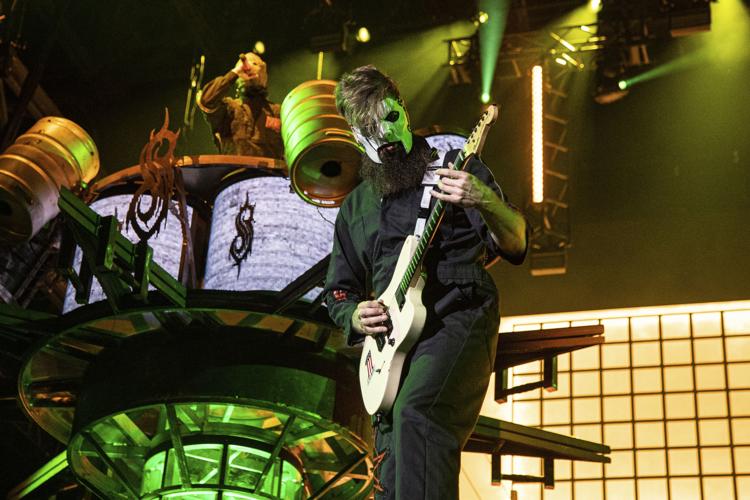 "To this day, I still love to be in a room with the other guys and (expletive) play music," he says. "Even if there's not a crowd, even if it's just practice. I love music. It's a very interesting idea that two people can be separate from each other and create vibration, for lack of a better (term). Just strings and sticks and cymbals. Vibrations. And have it be in time and have it be a color and a temperature and a feeling. Emotion."
It can't be ignored, of course, that Slipknot's music is sonically brutal and often violent in terms of its lyrical content. That makes the band a target for pundits and politicians searching for scapegoats on which to blame mass shootings and other acts of terror.
But Crahan is simply not having it.
"You know, I don't pay that any mind because art can't be touched. Freedom of speech, you know? Basically, Slipknot's my religion, if you want to go that far. You can't touch this. You can't fundamentally come into this, because this is my life, this is my spirituality, this is my religion that I worship.
"A lot of times, when they divert the plan, the strategy, to things like music, it's just because they don't know what the hell they're doing. They created all these laws, and now they can't overturn them or even adjust them. They can't find a happy medium. They can't compromise.
"And so, when it's like that, they're always going to blame some fraction. And I'm the fraction."
What Slipknot, Volbeat, Gojira, Behemoth • When 5:30 p.m. Sunday • Where Hollywood Casino Amphitheatre, 14141 Riverport Drive, Maryland Heights • How much $24-$129 • More info livenation.com