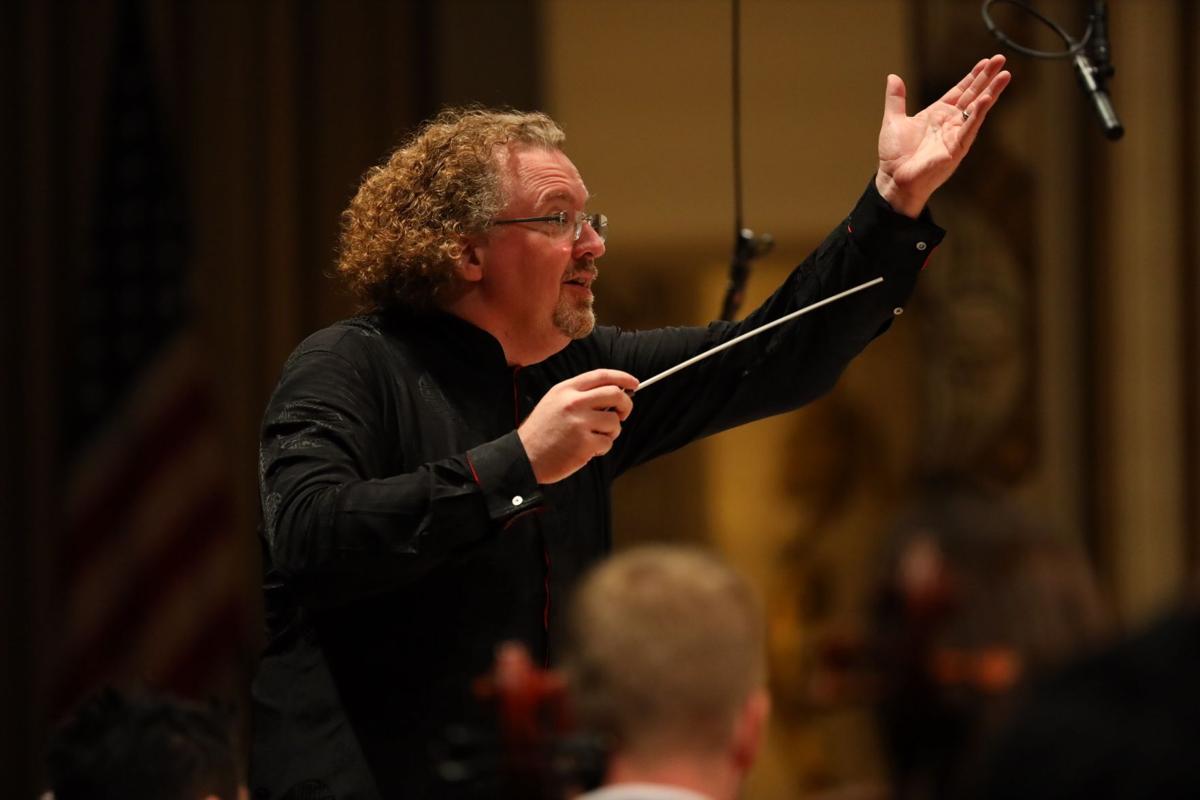 Musical organizations all around the world have canceled seasons, in part or entirely. Not the St. Louis Symphony Orchestra: It's playing it by ear.
Music director Stéphane Denève, president and CEO Marie-Hélène Bernard and company had planned a full, if seriously reworked, season, starting in September.
"We had planned small concerts with social distancing and worked to keep them connected with our original programming," said Denève, from his wife's family home in Sweden. "Right now that is not possible, but if things go well, we will restart the program."
He's not willing to say, as some other music organizations have, that they won't start up until January.
The SLSO will not downplay safety. Denève and his wife, Åsa Masters, both suffered from COVID-19 in April. He understands the importance of taking precautions, including wearing masks and maintaining social distance.
They requested and received plenty of input from the community about how to handle the season.
"We had lots of board meetings all summer, with the last in late July," Bernard said. "We talked with doctors, with city health officials, and we saw that the schools were opening virtually in the fall. We did a big subscriber survey and got 1,300 responses."
The majority of those who responded said that they miss the experience of being in the hall for live music — and that they're willing to wait until it's safe to gather again.
SLSO musicians, led by associate principal horn Thomas Jöstlein and others, have been making music for their neighbors in the form of socially distanced driveway concerts. Bernard called the concerts "a wonderful initiative. It's excellent to stretch that muscle of creativity and bring people in."
And while they wait to get back into the hall to perform, the SLSO has produced a growing body of online content, from educational and children's programming that will be a resource after the pandemic's end, to "Songs of America."
"Songs," a set of videos released in late June and early July, is a great project, with SLSO instrumentalists working with singers including Kennedy Holmes and Brian Owens. Videographers Jason Pippi and Austin Ratanasitee filmed the musicians in Powell Symphony Hall and in a variety of other locations, familiar and ought-to-be-familiar. (Fun moment: watching oboist Cally Banham and clarinetist Tzuying Huang playing while perched atop a bar in the Scott Joplin House.) One that wasn't produced here: Denève playing "St. Louis Blues" on the piano in his home in Brussels.
"We are pausing all choral activities for now," said Bernard, who spoke to both the St. Louis Symphony Chorus and the In Unison Chorus. "They understand." The annual Forest Park concert has been rescheduled for next spring.
Bernard calls the plans for reopening "a hybrid approach" that mixes live with prerecorded offerings. There will be a rebroadcast of a past SLSO concert every Saturday night at 8 on KWMU (90.7), with commentary from SLSO creative partner Tim Munro and St. Louis Public Radio's Robert Peterson. At 5 p.m. on the first Sunday of each month, KETC (Channel 9) will air a concert on video. There's a new on-demand podcast, "SLSO Soundbites," hosted by John Clare of Classic 107.3 and SiriusXM's "Symphony Hall," and a "digital magazine," SLSO Stories.
The orchestra's partnership with the Pulitzer Arts Foundation will continue with "Music of Our Time," a series of solo and chamber music performances, focusing on music by female composers. The St. Louis Youth Symphony Orchestra won't be able to gather for the foreseeable future, but they'll have mentoring from SLSO members via resources like Zoom. There are monthly "Lunch and Learn" sessions, with guests ranging from Bernard and Denève to orchestra musicians. And, in December, the holiday concerts will return in virtual form.
"Uncertainty is hard," Denève said. "We are not saying 'Everything is canceled; see you next year.' If it's possible, we'll be back. It's 'wait and see.'"