The news hit choral musicians like a bombshell: On March 10, 61 members of the 120-member Skagit Valley Chorale, a community choir in Washington state, met for their regular 2½-hour weekly rehearsal. Within a few days, 53 singers had confirmed or probable cases of COVID-19. Three were hospitalized; two died.
And it soon spread far beyond their numbers.
"Choir practice attendees had multiple opportunities for droplet transmission from close contact ... and the act of singing itself might have contributed to SARS-CoV-2 transmission. Aerosol emission during speech has been correlated with loudness of vocalization, and certain persons, who release ... more particles than their peers, have been referred to as superemitters and have been hypothesized to contribute to superspreading events. Members had an intense and prolonged exposure."
While speaking and playing smaller wind instruments certainly emit quantities of droplets and aerosols, singing is getting most of the publicity. Along with opera companies, this has had a profound effect on professional, church and amateur choirs around the world and in St. Louis.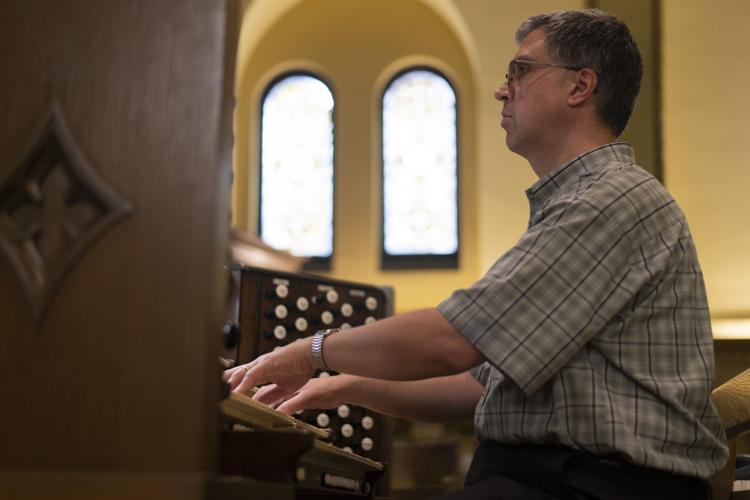 Andrew Peters, minister of music at Second Presbyterian Church in the Central West End, has, like many, shifted to online services.
"It's such an odd time, and I'm not sure where things are going," he said. "I recently heard a German choir singing Bach with masks on; they still sounded good. If we're spaced and wearing masks, can we still have hymn singing? Can we still have events?
"In times like this, the church really wants to gather. There are positive things (about online services), but it's hard to do with a computer. We need to be offering things, so that people maintain their connections."
The human voice was the first musical instrument; singing together binds people — connects them. Singing is an inseparable element of worship in many faith traditions.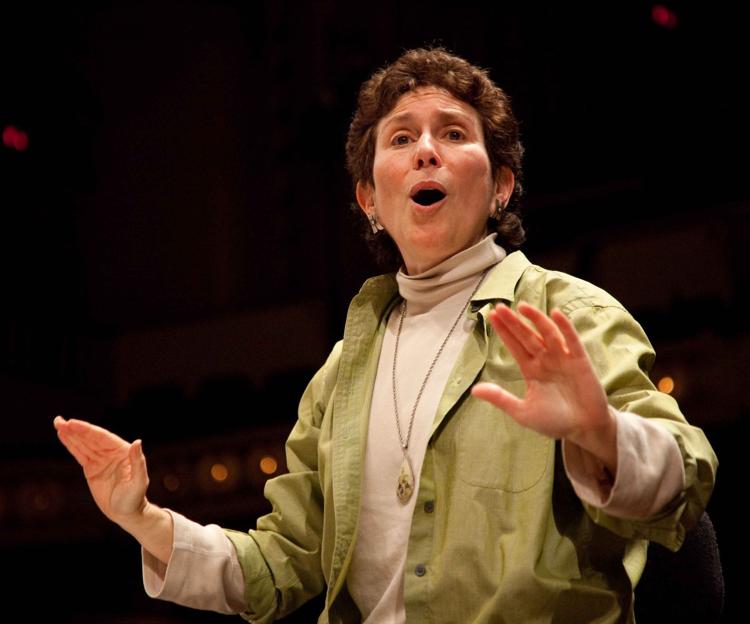 Asked about plans for the fall, Kaiser replied in an email that she was still mourning the loss of many works scheduled for this spring. "And next season will be my fiftieth year as a chorus director, so I do want to celebrate — hopefully with all the great music for the Symphony Chorus that we have programmed! But with any choral work now, singers have to be able to sing safely, and that's the most important thing."
Barnes wrote: "The Chamber Chorus has traditionally mounted six presentations to constitute its season, and I am confident that we will be able to offer that in 2020-2021. However, mindful of the safety of both our singers and our audience, we must be creative in the way we put together these presentations, and that is what we're currently working on."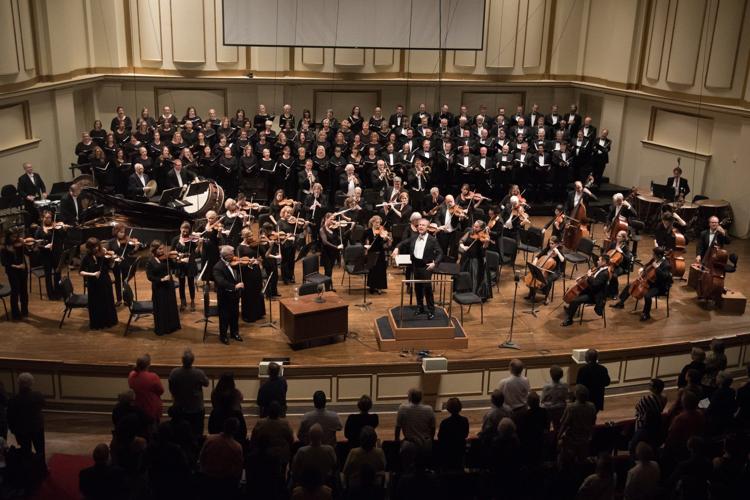 That may look like blending live and recorded elements "that will inform and uplift everyone's spirits — something that the human voice is uniquely able to do," Barnes added.
Canon Precentor William S. "Pat" Partridge, the organist-choirmaster at Christ Church Cathedral, directs a 24-voice volunteer choir with four paid section leaders. He reckons that their large choir room would work for rehearsals, but with only about eight musicians per service in the choir loft.
Partridge is coping in other ways.
"This being the longest 'rest' in our music-making history, I'm leading our members in creating a choir-congregation cookbook," he said. The book, "Recipes for Comforting Food in a Trying Time, 2020," will feature photos documenting "efforts to sustain Cathedral life," including the streaming of Sunday services, building upkeep and food preparation for downtown neighbors in need, usually between 100 and 150 people starting at 7 a.m. Saturdays.
"I try every week to call each one of my choir members and have a friendly chat," he said. "We stay in close touch."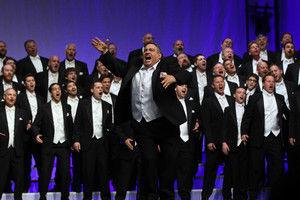 Dave Revelle is a 17-year member and vice president of public relations and communications for the award-winning Ambassadors of Harmony, an all-male chorus with more than 100 members singing barbershop. The group moved its June show to September, but there's no way of knowing whether it will happen.
"We want people to feel safe being in the audience, to actually enjoy the music, and not be afraid that they're going to come home and have an illness," Revelle said.
For now, they're meeting primarily through Zoom. The popular videoconferencing app, which has time lags, is essentially impossible to use for real-time music-making; all of those virtual performances now studding YouTube are the product of laborious recording and extensive editing.
The fact that almost no AOH members are musicians ("I don't read sheet music at all," Revelle said) complicates matters. Learning parts by rote is harder working alone.
The question, he said, is "how can we function as an arts organization in this environment and still produce things that are artistic? You want to fine-tune things in music; it's important to really hold a rehearsal. You just can't aspire to the same nuance and art when you're not actually together in the same room. It's a totally different world for us now."
But Revelle remains optimistic.
"What we can do is strengthen our bonds with one another — be more fellowship-oriented," he said. "We're learning more about each other; we have Zoom sessions with members speaking out and telling us about themselves. Some of them had an impact on barbershop and a cappella music in general. They can tell us more about how to be better singers."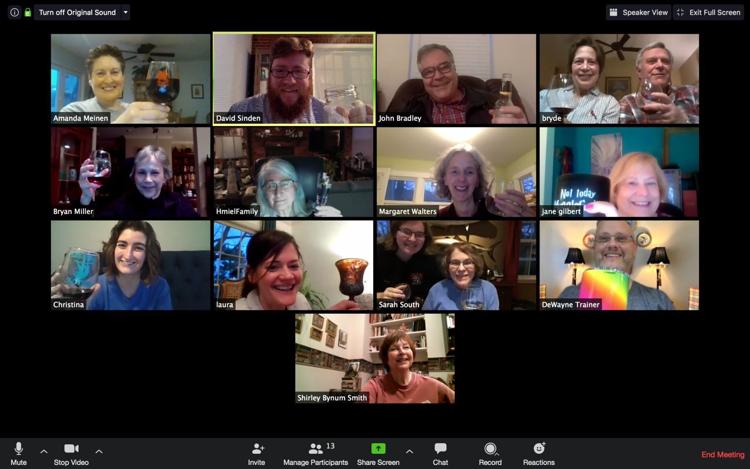 Another choir using Zoom for fellowship is St. Peter's Episcopal Church in Ladue, where music director David Sinden hosts regular Thursday evening meetings. He's using soloists singing from home and past performances for the parish's prerecorded services.
"I wouldn't put a date on it, but I'm looking forward to a time, with proper restrictions, when we can rehearse together," he said. "A lot of church is people singing together."
He's hopeful for the future. "Musicians are nothing if not innovative. We've already seen a lot of creative approaches to making music in this time, using the technologies available."
But Sinden isn't convinced that the act of singing itself is a major issue in spreading COVID-19.
"In some ways singing has been singled out," he said. "The science is not settled. The CDC report is not definitive. There are studies going on now trying to ID exactly what's going on with the bodies of singers. This is a very dangerous situation, and I certainly advocate an abundance of caution. But I think some of the language about singers is a little bit inflammatory."
A recent article in the Guardian supports his position, citing fluid mechanics expert Christian Kähler of Munich's Military University. After several choir-related outbreaks, Kähler, an expert in droplets and aerosols, conducted experiments to see just how far singers and instrumentalists expel them, studying singing in low and high frequencies, as well as various instruments.
Flutes are a problem; so are oboes and clarinets.
"However, we also found out that singing is quite safe. It was not the cause of the outbreaks of C-19 at these concerts," he said. "Air was only propelled about half a meter in front of a singer, and that is not far enough to cause the infection levels of these outbreaks."
Kähler thinks the outbreak was due to choir members' "close proximity to one another."
Professor Adam Finn of Bristol University agreed: "The evidence for a link with singing and spreading the virus may look compelling but is still anecdotal. Without data from comparably large groups who interacted in the same way but didn't sing, it's hard to be certain that the singing was responsible."
Until the science is settled, most choirs will err on the side of safety.
Concerned about COVID-19?
Sign up now to get the most recent coronavirus headlines and other important local and national news sent to your email inbox daily.