The survivors have lessons to share and have done so dozens of times at the St. Louis Holocaust Museum & Learning Center in Creve Coeur.
But every few weeks, it seems, yet another survivor dies. Museum officials know the survivors soon no longer will be able to tell the stories themselves.
On Monday, the museum announced an $18 million expansion and endowment that will triple the size of its existing facility, now at the northwest corner of Lindbergh Boulevard and Schuetz Road on the I.E. Millstone Jewish Community Campus.
"I'm thrilled very much," said Mendel Rosenberg, 91, of Creve Coeur. He attended Monday's announcement at the museum and lit candles during a remembrance ceremony along with five other survivors.
Rosenberg grew up in Lithuania and was in camps with his brother in Stutthof and Dachau. His brother was murdered. He tells his story regularly at the museum to school groups and other visitors. "I can't forget the fact that we are survivors, that nobody would believe it if we were not here."
Officials hope to make the museum building more visible and accessible, and expand its reach even deeper into the community to address issues of bias, bigotry and hate.
The museum gets 30,000 visitors a year, and about 20,000 of them are students; admission is free. It is in touch with about 30 Holocaust survivors who live in the St. Louis metro area.
Monday also marked International Holocaust Remembrance Day and the 75th anniversary of the liberation of Auschwitz. The announcement was attended by dignitaries including U.S. Rep. Ann Wagner, R-Ballwin, and St. Louis County Executive Sam Page.
Bud Rosenbaum, chair of the museum's executive committee, noted at Monday's ceremony that this year marks the 25th anniversary of the museum. He said more than 350 Holocaust survivors who settled in St. Louis after World War II worked two decades to establish it.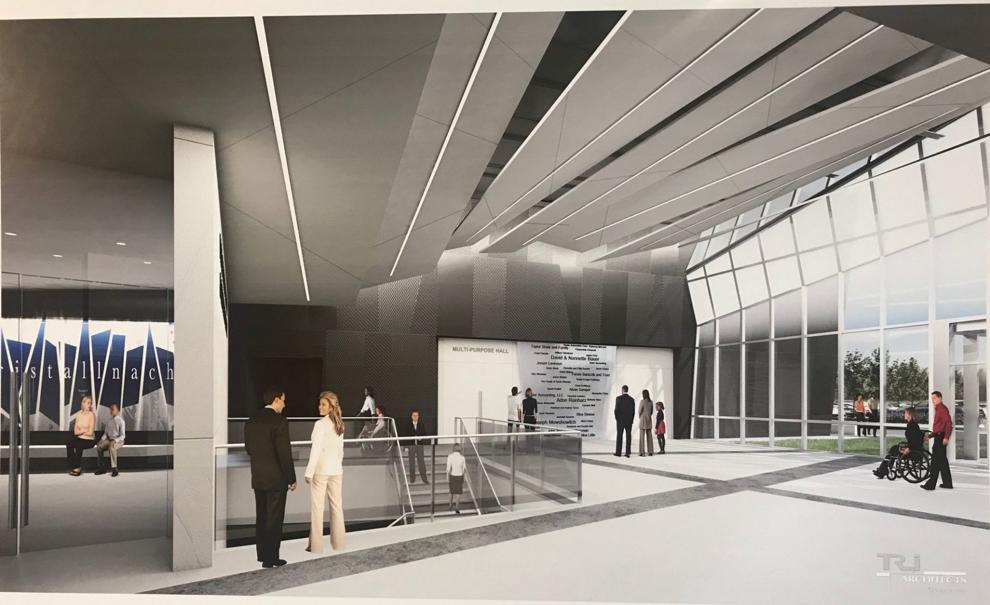 "As fewer of our Holocaust survivors remain available to tell their story personally, it is our collective vision to preserve their stories and help the next generation understand what can and indeed did happen even in a democracy," he said. "It is our mission that every generation realizes that freedom is a fragile thing and is something to be carefully protected."
The museum is run by the Jewish Federation of St. Louis. Don Hannon, the federation's chief operating officer, said in an interview Friday that he and other officials often hear from people who say they didn't know St. Louis had a Holocaust museum.
"Our goal is to make sure that doesn't happen in the future," he said. "We want to be well known. We want to continue to be a resource."
Sandra Harris, who started her job as the museum's executive director this month, said ground will be broken in May. Officials hope for completion in 2021.
The new 35,000-square-foot space will have a more visible entrance facing Lindbergh Boulevard. The museum will close during the expansion, but a temporary space on the Millstone Campus will be available for visitors.
About $14 million already has been raised for the project, along with a $750,000 National Endowment for the Humanities challenge grant, one of the largest ever awarded in Missouri.
Gallagher & Associates will work on the project. The internationally known museum design firm is behind projects such as the International Spy Museum in Washington, D.C., the National Center for Civil and Human Rights in Atlanta and the National Museum of American Jewish History in Philadelphia. The firm also designed the National Blues Museum in St. Louis and redesigned the Soldiers Memorial Military Museum here in 2018.
The expanded museum will include a larger multipurpose, flexible space with retractable theater seating for 250 people. It will also include a relocated library, an archive space, two classrooms, an exhibition space with more multimedia displays and a 3,000-square-foot space for temporary exhibits. The museum also will expand its online presence.
The lessons of the St. Louis Holocaust Museum & Learning Center go beyond the Holocaust: It discusses genocide around the world and encourages visitors to think about their own biases.
Harris said the goal is for visitors to walk away thinking — and then acting: "Yes, you heard the history, but what do you do with it?"
The museum has five employees and a dedicated group of about 150 volunteers. The expansion includes plans to triple the number of paid employees, which will allow for more programming, marketing, fundraising and curators for the collections.
The museum has more than 12,000 artifacts, including letters, photographs, artwork, and uniforms and patches survivors wore in concentration camps. The new space will provide more flexibility and display space.
TR,i Architects of Rock Hill designed the building, a sleek, silvery facade with a black wall cutting through the entrance.
"It's angled, it's a little uncomfortable; it creates a little sense of unease," Hannon said. "That wall runs through the museum."
"In contrast," Harris points out, "in the lobby, you'll see the light. It's not just the darkness."