ST. LOUIS — The children's zoo area at the St. Louis Zoo has been reimagined and will be rebuilt as a place where children and families can interact with and be inspired by animals: whether they're "popping up" next to a prairie dog, splashing on one leg with Chilean flamingoes or climbing through tunnels alongside Tasmanian devils, one of only three places in the country to see them.
The $40 million Henry A. Jubel Foundation Destination Discovery is set to open in 2026, officials announced Friday.
The project also includes an expanded preschool and indoor education space. Construction begins next year.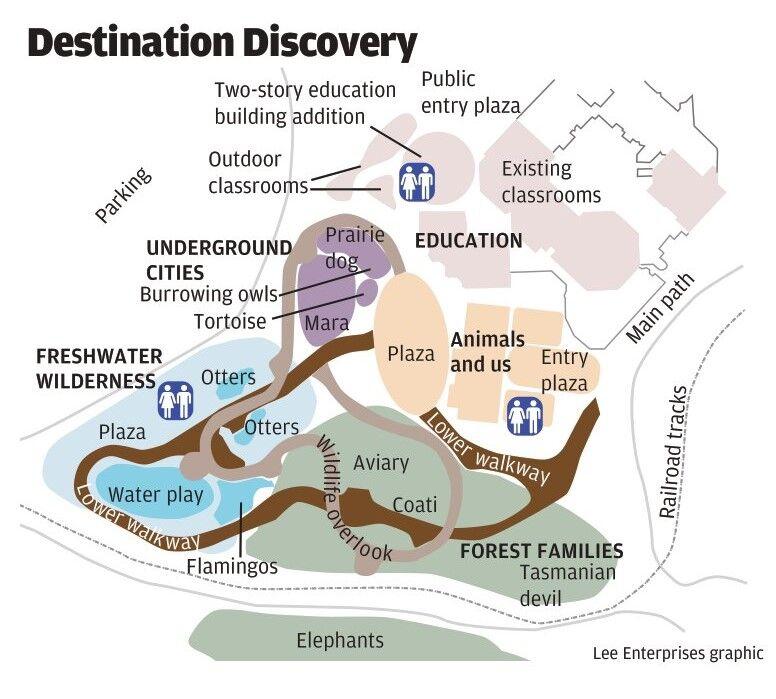 The Jubel foundation is giving a lead $15 million gift, with the rest coming from donations and other sources, such as zoo and association annual revenues. Admission rates have not been set, though the larger zoo itself is free. The previous children's zoo admission was $3.95.
Melissa Jubel Markwort, executive director of the foundation, spoke about her family's longstanding connection and love for the zoo at an unveiling event at the zoo Friday. "Today my family visits the zoo regularly," she said. "It truly holds a special place in our heart. When the children's zoo closed in 2020, as a family we knew we wanted to be a part of bringing the space back to life in an even better way."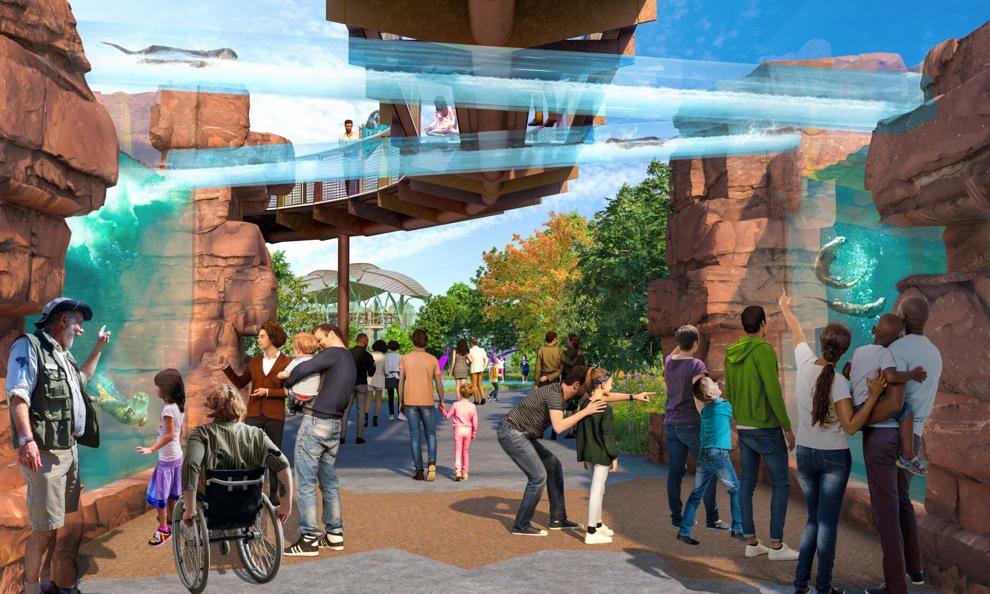 "I think that's what excites me the most is that this is going to be something totally different," said zoo president and CEO Dwight Scott in an interview at the zoo Wednesday.
He and other zoo staff often hear stories about visitors who went to the children's zoo during its 51-year history and have returned with their children and grandchildren.
"This is going to allow us to impact future generations in the same, impactful way. It's amazing."
The space, nearly three acres, is the current site of Emerson Dinoroarus, a walk-thorough display of animatronic dinosaurs. That exhibit, which opened in spring 2021, will close Nov. 5. Its admission is $5.95 for ages 2 and older.
Dinoroarus, though popular, was always meant to be temporary. The Emerson Children's Zoo closed in 2020 partly because the pandemic took away much of what made it fun: stuff to touch and climb on.
Though it was a tough decision to close the space, officials had planned to reimagine it anyway, and they have spent the past couple of years planning.
They knew they had big expectations to fill: The children's zoo had been a beloved, evolving attraction at the zoo, with a place to pet goats, slide alongside otters and climb into a hippo's mouth.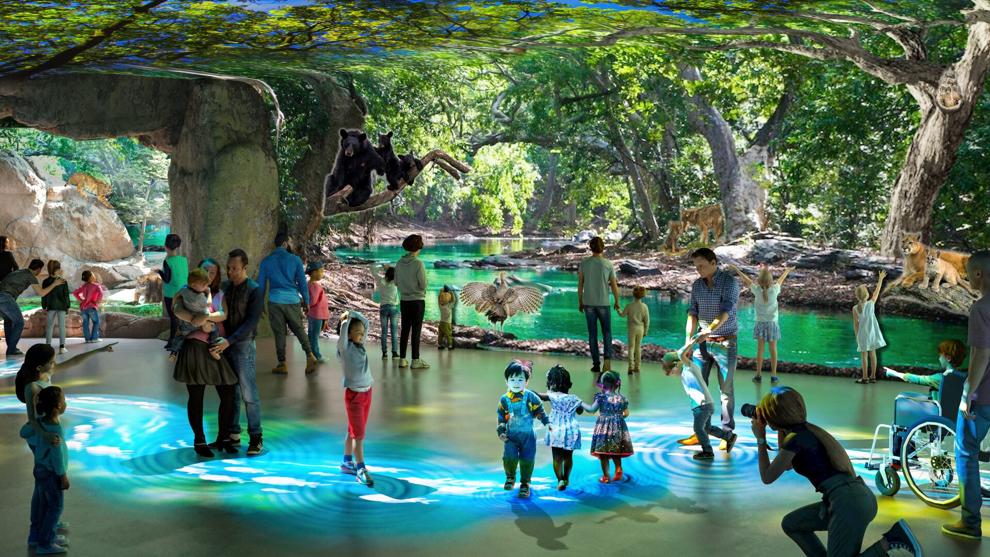 The Bob Cassilly-created hippo statue, by the way, will return. That's one nod to the old children's zoo, but nearly everything else they will put there is new. (The goats, by the way, will not return. Only four remain, living behind the scenes at the zoo, and they will be rehomed.)
For the past two years, the zoo has met with a network of 20 families from different backgrounds and races, some with members with disabilities, and even some who have never visited a zoo before. The zoo asked them what they wanted.
First, the families wanted to see animals that resonated with them. "What we've discovered was what really resonates is what is familiar, and what is familiar is generally what's in the most recent Disney film," said zoo director Michael Macek, laughing.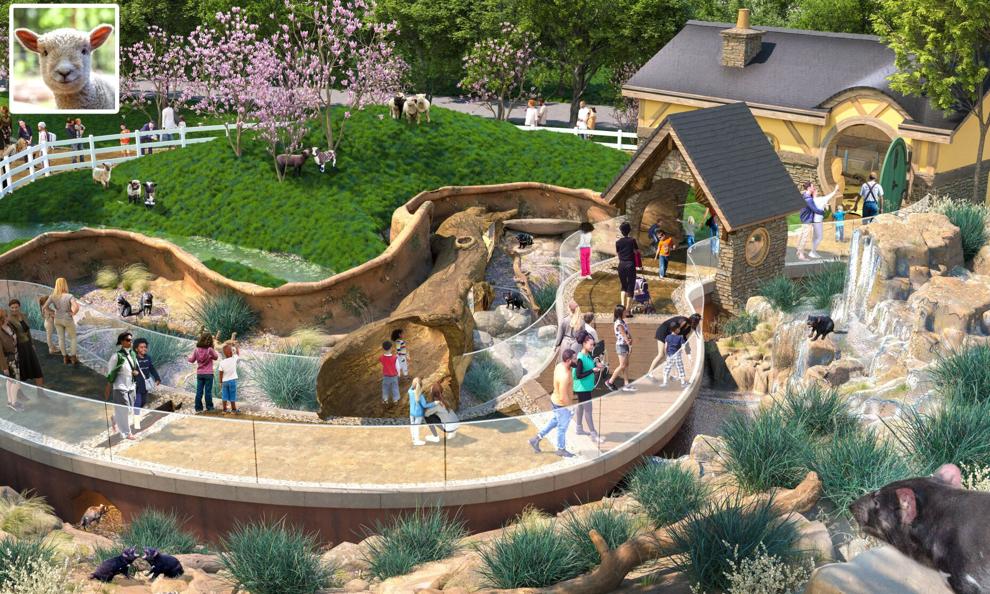 So that meant kids liked red pandas because of the movie "Turning Red," capybaras because of "Encanto" and Tasmanian devils because of the resurgence of Looney Tunes cartoons.
The children's zoo used to have Tasmanian devils, but the sister pair died in 2021. Tasmanian devils will return in a new habitat there alongside babydoll sheep, a gentle breed with distinct personalities. A climb-through tree trunk with a wildlife underpass will allow the Tasmanian devils to reach both sides.
The zoo showed the children in the group pictures of different birds they might like to feed at the new space, and the kids thought Java finches looked friendliest. So it's Java finches that will fly inside an aviary, and visitors can feed them with seed-encrusted "feed sticks."
Families also wanted the area to feature technology, but not too much technology. An entry plaza will lead into a building with the working title "animals and us." That building housed the old indoor part of the children's zoo and now is mostly a place to buy Dinoroarus-themed gifts and snacks.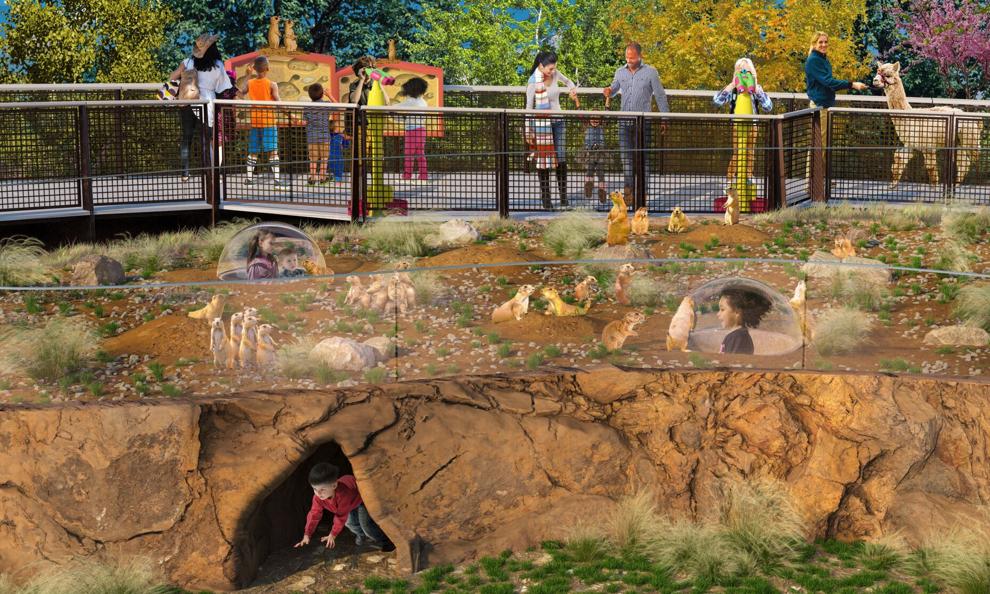 The building will become a place where guests get immersed in interactive projections, mapping and augmented reality technology that can change with the seasons and set the stage for the rest of their Destination Discovery visit.
"The other thing that was a little bit of a surprise was we heard loud and clear that they wanted a family destination, not just for the children," Macek said. "They want to do things with the children. They want to do things with other children and they want to do things with other families."
The zoo also wanted animals that were diurnal, or active during the day, and tolerant of living in colder climates so they could go outside nearly year-round. Chilean flamingos, tolerant of colder climates, will be new Destination Discovery residents. The American flamingos who live at the lake in the zoo in warmer months will remain.
The path will roughly follow the same path of the old children's zoo, and the zoo will keep as many of its bigger trees as possible.
There are working titles for various areas: At "forest families," treehouses connected by overhead tunnels will lead guests past coati, which are active, ring-tailed mammals that look a little like raccoons. The walk-through aviary will be there, too, as well as the Tasmanian devils and babydoll sheep habitat.
In "underground cities," guests can go through human-sized tunnels and pop up next to prairie dogs in their new habitat (they will be moved from their old habitat in the zoo), and guests can walk alongside Patagonian mara, a rabbit-like rodent, as well as alpaca. This space can also double as an outdoor classroom.
In the "freshwater wilderness" and water play area, North American river otters will swim through overhead acrylic flumes and can be seen through acrylic panels on both sides of the habitat. An overlook will allow guests to see them as well as have views of a flamingo-themed "splash zone," a splash pad next to the Chilean flamingo habitat.
The animal show is no longer, but the zoo plans to have "surprise experiences," like alpacas walking through the space with keepers or macaws flying overhead. As in the past, there will be educators facilitating encounters with animals such as rabbits and chinchillas.
The project also includes a two-story addition to the Living World building, adjacent to Destination Discovery. The second floor will house a new preschool space that allows the zoo to double the number of children enrolled, and a first-floor, indoor Discovery Zone will be open to the public and include things like a maker's space, animal pretend play and animal encounter areas.
The zoo purposely chose animals that live in communities and families, helping to spread the message that humans are part of that equation, too.
Scott started his job as zoo president and CEO in January 2022. Destination Discovery has been a big focus, as well as the transformation of the St. Louis Zoo WildCare Park, a 435-acre space in north St. Louis County, set to open in 2027, a year after Destination Discovery.
But one thing he's heard loud and clear this year: "Everyone's very excited about WildCare Park. But (they say) 'don't forget about the St. Louis Zoo.' The St. Louis Zoo is a jewel in our community, and people have a lot of pride about this being an excellent destination. And so I think this really speaks to that, better than any other project we could have done."