After taking 2021 off, the Bud Light Super Bowl Music Fest, produced by On Location and St. Louis-based Synergy Productions, is set to return in 2022 in Los Angeles.
Halsey and Machine Gun Kelly will perform Feb. 10, Blake Shelton and Gwen Stefani with Mickey Guyton on Feb. 11, and Green Day and Miley Cyrus on Feb. 12. More acts will be announced.
Concerts take place at Staples Center — which becomes Crypto.com Arena next month. Super Bowl LVI is Feb. 13 at SoFi Stadium in Inglewood, California.
"The energy and excitement people have is at an all-time high," says Amit Dhawan, founder of Synergy.
Presales and social media engagement have been greater than the two previous festivals combined, he says.
The fest launched in 2019 in Atlanta with Bruno Mars, Cardi B., Aerosmith, Post Malone, Ludacris, T.I., Jeezy, Ciara, Lil Baby, Lil Yachty, Trippie Redd, Lil Jon, Migos, 21 Savage and Metro Boomin. The 2020 festival in Miami featured shows by Guns N' Roses, Maroon 5, Dan + Shay, DJ Khaled and DaBaby.
Organizing this year's festival during a pandemic has been "invigorating in a sense, but I like challenges," Dhawan says. "Pulling it together in general has been really interesting in some ways and a reset in some ways.
"I keep saying it's like a risk-reward ratio. People have a pent-up need to get out. It's like, 'Oh, I haven't done anything in so long, I gotta go.'"
The difference now, he says, is that "people are looking for peak moments. I think the point is that people are less inclined to do things on the day-to-day — meeting at the bar on Friday. They're more inclined to do bigger things. People are going bigger for their birthdays, Halloween was big, and the Super Bowl is the biggest spectacle in America."
Lining up the artists was a bigger consideration than ever. Organizers once again sought "unique pairings that make the shows super strong."
Shelton and Stefani, for instance, will perform separately and together. The country music superstar and pop singer, respectively, are married and have coached "The Voice" together.
"One of the things is we wanted people who were comfortable together — people who will play well together because of all the precautions," Dhawan says. "We went with sensible pairings."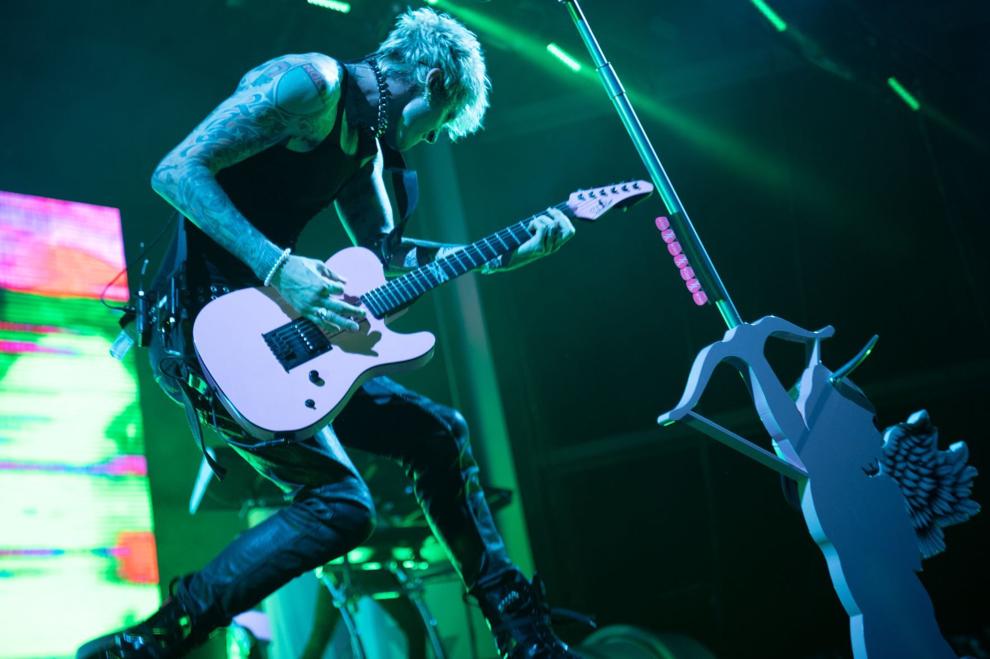 Most of the acts, with the exception of new mother Halsey, are back to touring. Green Day has been on a stadium tour with Fall Out Boy and Weezer. Cyrus was a headliner at Lollapalooza. And Machine Gun Kelly's summer tour stop at St. Louis Music Park was the new venue's fastest sellout yet.
COVID-19 protocols for the festival will follow the requirements for the city of Los Angeles at the time.
"What is it going to be in February? Are we having another wave or not having another wave? The world can go in any direction," Dhawan says. "We can be in a better spot or have other challenges occur."
The Bud Light Super Bowl Music Fest is not associated with the Super Bowl Halftime Show that will feature Dr. Dre, Snoop Dogg, Eminem, Mary J. Blige and Kendrick Lamar.
"It's a great lineup, and there's no overlap there," Dhawan says. "Everybody plays well together."
More concerts and events will be announced at L.A. Live, which includes the arena, and at other venues in the city.