St. Louis is typically seen as a second-tier concert town, one where national tours aren't guaranteed to land. But Gateway Studios & Production Services wants to change that.
GSPS is building a 32-acre, $111 million facility in Chesterfield where national bands can mount and rehearse tours — and hopefully launch those tours from local venues. The campus will also have film and television production capabilities.
"The facility is really about the music industry and bringing it to St. Louis," says CEO Trey Kerr.
The company says it will create more than 100 jobs, mostly in the technical fields.
"Having been in this business for 20 years, the industry has kind of pulled away from St. Louis," Kerr says. Top concert producers such as Live Nation and AEG are more interested in other Midwest cities such as Nashville, Tennessee, Chicago and Indianapolis, he says. "St. Louis gets skipped over a lot."
Kerr, a St. Louis native, moved back to the area about a decade ago after living in Los Angeles and Michigan.
"St. Louis is near and dear to my heart, and music is in our DNA — part of who we are — and it's always been that way," he says. "Being able to bring something like this to St. Louis is huge and exciting, and it's great for us as a whole."
He looked at Nashville and Atlanta as possible locations for the campus but decided on Chesterfield. Ground will be broken this month in preparation for a January 2023 grand opening. The builder is GMA Architects, led by Lani Walker.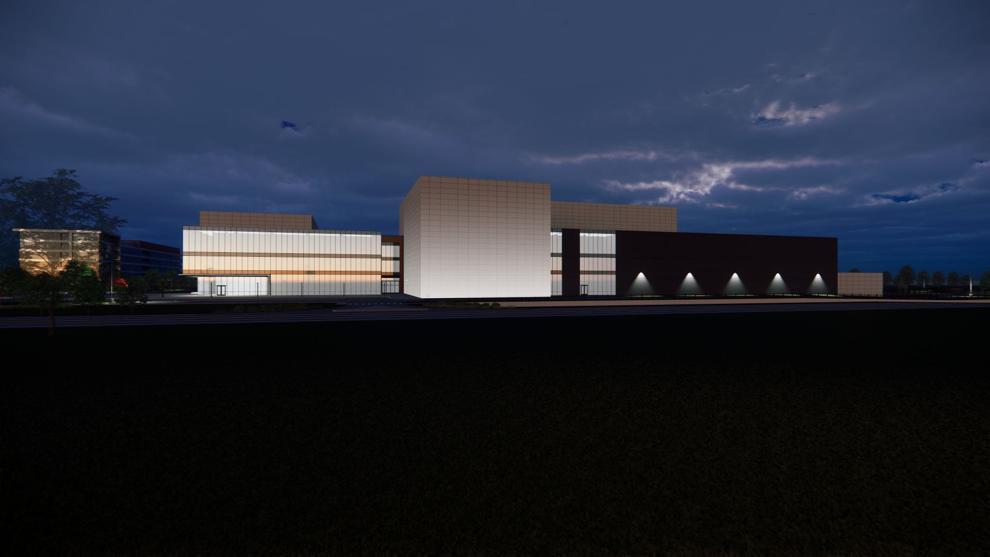 "Chesterfield passed everything unanimously," Kerr says. "I feel welcomed with open arms. Being able to do this is important."
Rehearsal spaces on the campus will be able to accommodate four acts at once, meaning "Phish can be in one room, Beyoncé in another, Hall & Oates in one, Kenny Chesney in another," Kerr says.
"Every act wants the time and space to tech their show, build their show, rehearse their show, so that show 1 and show 150 of their world tour are at the same quality," he says. "They spend a lot of time making their shows as special and as extravagant as they can. They can come into Missouri, St. Louis County, and spend their money here."
The largest space on the campus will be the size of a football field — big enough to build and rehearse a stadium-size tour.
Kerr says the company's bread and butter will be providing lighting, audio and video for major touring acts. He has touring and production credits with artists including Phish, Maroon 5, Florida Georgia Line, Drake, Thomas Rhett and Vampire Weekend.
GSPS leadership includes chief operating officer Andy Gerber (he has worked with Jimmy Buffett and Jack Johnson and festivals such as Hangout, Bonnaroo, Firefly, Electric Forest and Governors Ball); president of studio operations Jessie Sandler (Bon Jovi, Phish, Nickelback, the Eagles, John Mellencamp, Morrissey, Aerosmith, Michael Jackson and Prince); and president of business development David Haskell (Alabama, Kenny Chesney, Sugarland, Keb' Mo', Gretchen Wilson, Vince Gill).
A soundstage will offer shooting space for film and TV projects, and office space will be available.
Kerr says the GSPS campus is an example of something great coming out of the pandemic. In different circumstances, he and his partners probably would not have banded together this way.
"We were all financially hurt; we all suffered," says Kerr, who had been president of Clayton-based 201 Productions, a 4K broadcast company that worked on "The Leap Year Sessions" with Greensky Bluegrass last year at the Pageant, along with livestreamed concerts by Tonina, Marquise Knox, the Funky Butt Brass Band and Greek Fire.
The company was absorbed by GSPS.
"As this grew and developed over last year, we all had the time and energy to do this," Kerr says. "It started off as kind of a dream."