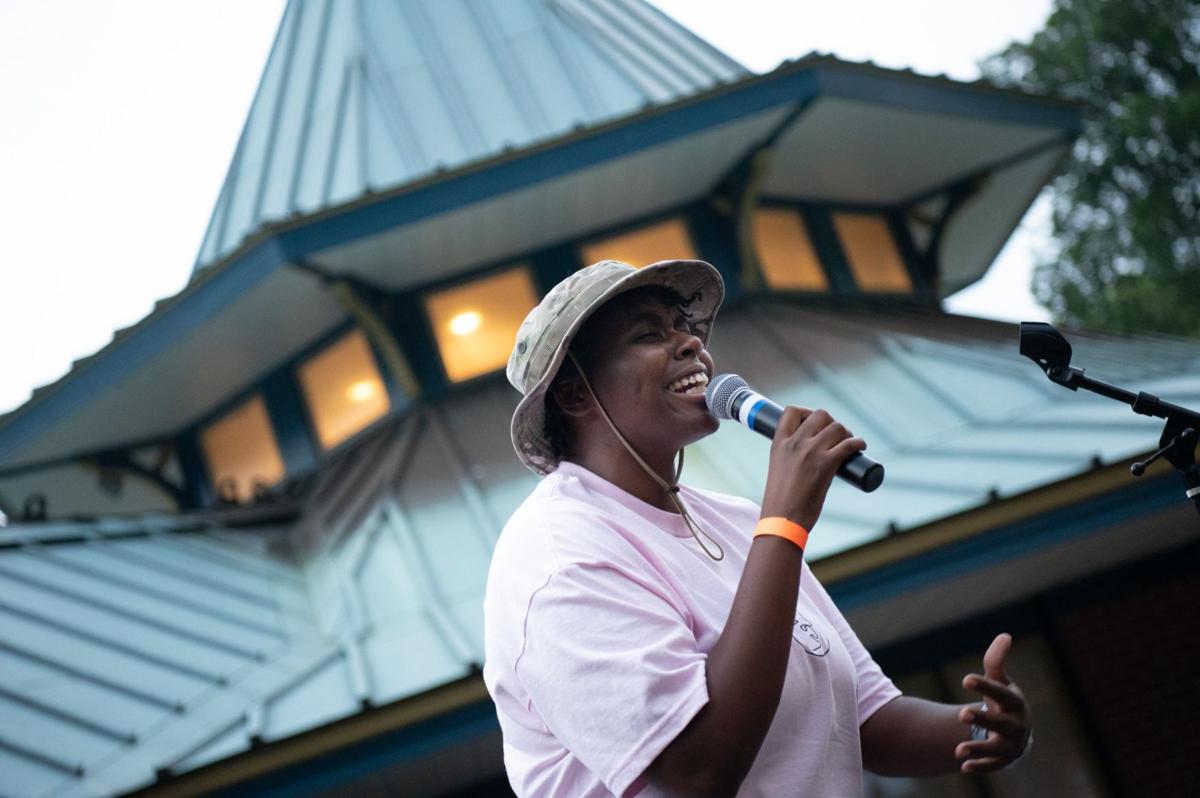 St. Louis singer Paige Alyssa checks off one of the biggest items on her professional bucket list this weekend when she performs a Stevie Wonder tribute at the National Blues Museum.
"I always wanted to do a tribute to Stevie Wonder or Prince," she says. "But the Stevie show never brought itself to fruition the way I wanted to do it. I wanted a one- to two-hour set dedicated to the music where I'm fully dedicated — no music of my own."
She also works as manager of marketing and community engagement for the museum.
"A lot of the songs I've been dreaming about for so long," she says. "Now I'm at the point where there's more tools in my toolbox. I can approach it more confidently than I could before."
Paige Alyssa will perform with Phillip "Dr. Philgood" Graves (keyboards, music director), Demarius Hicks (drums), Leland Crenshaw (guitar) and Jordan Brewer (bass).
Earlier this year, she released an all-instrumental album titled "No Worries," her ode to video games.
Q • Have you performed much of Stevie Wonder's material in the past?
A • I've done a lot of Stevie Wonder songs at weddings, like "I Wish" and "Signed, Sealed, Delivered I'm Yours." "I Wish" was one of the first songs I learned and committed to memory. "Sir Duke" is another one. As far as deep cuts, I didn't have a setting to do them, a setting for "Love's in Need of Love Today" or "Summer Soft" or anything off "In Square Circle." There's not a lot of places where I felt comfortable inserting those. Now I have a set dedicated to him, where I can put them in my set in a way that complements the music.
Q • How did you go about figuring out a set list with a catalog of music so huge?
A • I met with Phil. He's a huge fan too. We threw songs out there and said, "It's cool to do this, cool to do that." We started with a list of 30 songs and went back and forth trimming the fat a little bit. That's how I do all my set lists. I think about what songs speak to me. I had to choose between "Another Star" and "Summer Soft." I went with "Summer Soft." No shade to "Another Star" — I love that song. It's two powerful love songs from the same album, so I wanted to have a little more variety in the sound of the set.
Q • How did you go about trimming the fat?
A • I love "Ribbon in the Sky," but I knew I couldn't do that one. It's one of those songs people hear constantly. I owe it to myself to dig a little deeper.
Q • What's the most challenging thing about Stevie Wonder's music?
A • His discography is vast; his range is vast. At times he's in the lower part of his range, and there are times when he's soaring up there.
Q • How did you discover his music?
A • I grew up with Stevie Wonder's music. My gateway moment was listening to (a local radio station) and "That Girl" came on. I remember hearing the melody and the chord progressions and that chorus, and it did something to my 14-year-old self.
Q • What is it about his music that grabbed you?
A • The authenticity that comes with his music. Love is the thread through all of his music. His creations come from something more powerful than he is. I'm an artist, and I'm guided by something much bigger than myself. Stevie takes on the task with so much humbleness and purity. It's rare to get that.
Q • What was your takeaway when you saw Stevie Wonder in 2015 at Enterprise (then Scottrade) Center?
A • I took my mom. I remember crying the whole day — "Wow, I'm about to see Stevie Wonder in concert." It was breathtaking. He sounded amazing. He sounded like the records, and the band was locked in. It was dope seeing one of my heroes in real life.
Q • What are your top Stevie Wonder songs of all time?
A • "Summer Soft" from "Songs in the Key of Life" — it's beautiful, and he captures the ebb and flow so well. "That Girl" from "Stevie Wonder's Original Musiquarium" — I love this because of the tenderness and the longing he has for who he is singing about. "Did I Hear You Say You Love Me?" from "Hotter Than July" — oh God, it's just so good. The groove, it's so much fun, such a great song. "Spiritual Walkers" from "In Square Circle" — I think he's talking about Jehovah's Witnesses in the song. It's groovy and funky, and he's not trying to convince anyone of anything. "You Haven't Done Nothin'" from "Fulfillingness' First Finale" — Stevie Wonder has a way of talking about how people in power impact everyone else's world in a way that's incredibly informative and super funky.
Q • How would you describe "No Worries"?
A • It's my pandemic project. This was a project I started in 2019 in LA (where she was living at the time) and finished this year. I needed something that made me feel connection to home. I had to go back and think of all these video games. My mom started me on Sega Genesis. She loved video games. I love video game music. ... I dived in and wanted to work on something different and stretch myself as a producer.
Q • Was it tough being a singer and not having vocals on "No Worries"?
A • I really wanted people to put together the fact that I write and produce my own stuff. I'm still hit with "Who produced that?" I produced that. I wrote it. I arranged it. I really wanted to do something different — show people this nerdy side of me that holds a huge space in my heart and show folks I'm good at what I do. Dropping the project low-key was a no-brainer. It's a huge part of my life.
Q • What's your next project going to look like?
A • I've started writing. It's vastly different from anything I've done before. There will be vocals for sure. And I want my live band to have more of a presence — folks who have been playing with me the last few years. ... I'm talking about the last two years of my life in words. I'm at a point where I'm talking about my feelings again. I'm very excited for what that's going to sound like.
What Paige Alyssa • When 7 p.m. Nov. 20 • Where Legends Room, National Blues Museum, 615 Washington Avenue • How much Sold out; proof of COVID-19 vaccination or negative test required • More info nationalbluesmuseum.com