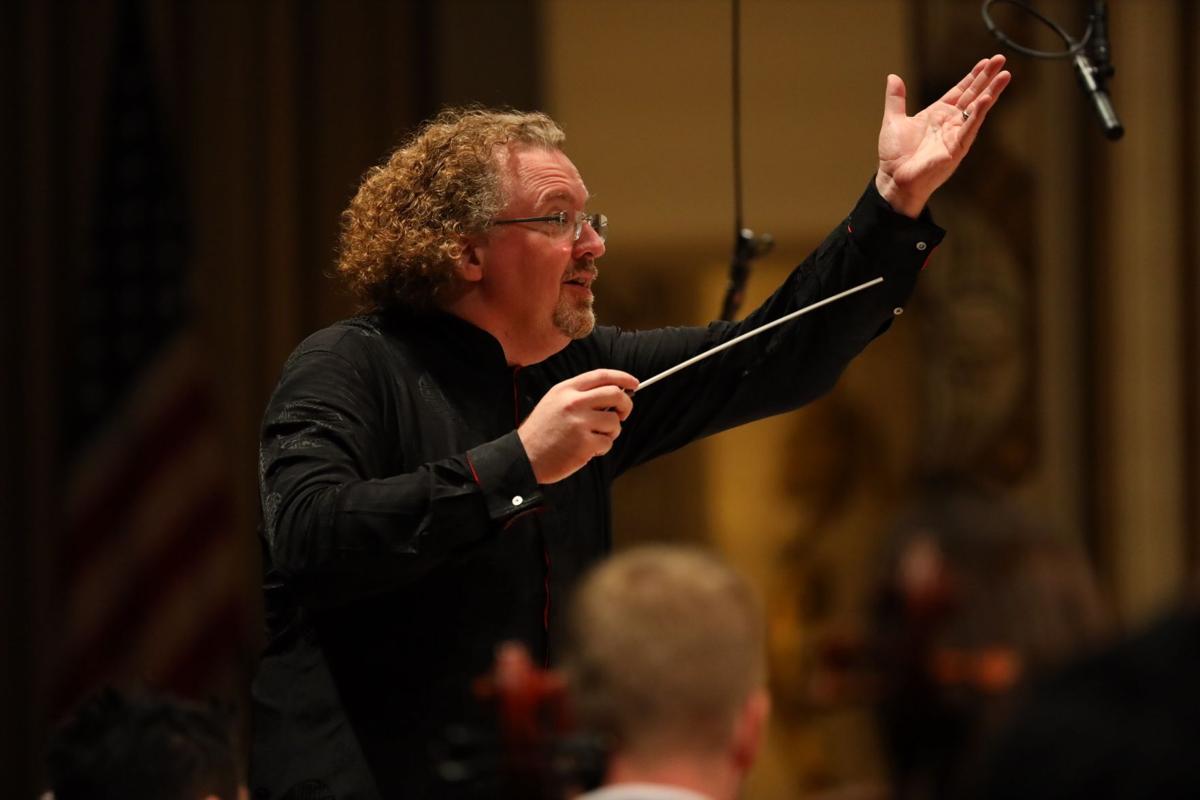 This weekend's concerts by the St. Louis Symphony Orchestra feature two themes that recur in this season's repertoire — modern music and Russian music. Modern music is represented by three American composers — Caroline Shaw, Charles Ives and Christopher Rouse. Russian music is represented by Piano Concerto No. 3 by Sergei Rachmaninoff, with soloist Yefim Bronfman.
In an interesting turn of presentation Friday morning, music director Stéphane Denève had Shaw's 2014 "Entr'acte," a transcription for strings of a piece originally for string quartet, followed immediately by Ives' "The Unanswered Question" from 1906, and that followed immediately by Rouse's "Rapture" from 2000. No time was allowed for applause until after "Rapture," and for "Entr'acte" only the stand lights of the strings were lit. For "The Unanswered Question," the woodwinds gained their lights, and it wasn't until "Rapture" was well underway that the full orchestra eventually gained its lights.
Shaw is among the busiest and most successful American composers working today. At age 30, she became the youngest person to receive a Pulitzer Prize for music for her "Partita for 8 Voices," written for the a cappella group Roomful of Teeth, in which she sings. A busy collaborator in avant-garde music in New York, she plays the solo part in her own violin concerto and is also active as a producer.
"Entr'acte" took its inspiration from a transition in a Haydn string quartet, but features minimalistic repetition and variation on a fairly simple initial gesture, a pizzicato section reminiscent of a Renaissance dance, and such extended techniques as glissandi, strumming and nearly silent pianissimos.
Ives was the ruggedly individualistic iconoclast who experimented with many of the innovations of the 20th century even before more famous European composers. His "The Unanswered Question," written three years before the Rachmaninoff concerto, features hushed strings representing "The Silences of the Druids," an off-stage trumpet asking "The Perennial Question of Existence," and three onstage woodwinds, the struggling "Fighting Answerers." We don't come away with an answer, but this is a very effective piece of modern music, even at the age of 115.
Christopher Rouse, who died in 2019, was among the most successful composers of his time and a frequent collaborator with the St. Louis Symphony Orchestra. Earlier in his career, Rouse reflected negative emotions in his music, but this later music is described as "turning toward the light." "Rapture" begins quietly and reflectively, but just over 6 minutes in, as the lights are strengthening, it turns into a tour de force for large orchestra, animated and brighter. Program notes describe a movement "from glowing serenity to blinding ecstasy."
It was a good programming decision to have this modern music separated from the Rachmaninoff concerto by the intermission. As was true of other romantic Russian composers, Rachmaninoff struggled with dark emotions, which affected his music. Even among other concertos of the late Romantic era, Rachmaninoff's are notable for their complexity and difficulty.
Piano Concerto No. 3 features incredible dynamism, power, agitation and virtuosity, but it is also balanced by moments of melancholy and romanticism. Soloist Bronfman is a frequent collaborator with the St. Louis Symphony Orchestra, and also with most of the more famous conductors working today. With a Grammy heading a long list of honors, he is particularly known for virtuosity and power, qualities that were much in evidence Friday morning.
However, there were several moments, especially in the first movement, when the orchestra overshadowed the solo music. Nevertheless, the artistry and emotion were so great in this performance that a standing ovation was immediate, resulting in an encore: Nocturne No. 8 in D-flat major, Op. 27, by Frédéric Chopin.