Chesterfield has a new destination for feel-good art. The Gallery, a 6,000-square-foot space featuring accessible artwork, is the latest addition to the growing District entertainment complex.
"I like art that is whimsical — evokes happiness," says Michael Staenberg, president of the Staenberg Group, the developer behind the District. "I'm not into Rembrandt and all the fancy people. This is not serious art. I can go to an art museum for that. This makes people feel good."
The District is a redevelopment of the former Taubman Prestige Outlets and includes the Factory (a concert venue) and Main Event (a family entertainment center). Topgolf is adjacent to the complex.
"There's nothing like this in St. Louis with this type of variety and range," Staenberg says of the Gallery. "We wanted to create something different with the Gallery. A lot of people say they have a gallery — this is a gallery.
"I want to show people they can enjoy art and afford art."
Gallery director Maneta Siegel says the new space is "modern, contemporary, edgy and fun. There's nothing in here that's depressing or dark. It's truly things that are happy and bright and different."
Most of the pieces on view are from Staenberg's private collection. His acquisitions over two decades can be seen around Chesterfield and the St. Louis area, including Chesterfield Commons. He has donated pieces to institutions including the Center for Creative Arts, the KIPP Public Charter Schools and the Regional Business Council.
"It has become a hobby for me, one of the things I wanted to do, though I didn't want to spend a lot of money for the art — no more than $1,000, though it's gone up since I started," Staenberg says. "I couldn't quit buying. I become hooked. I like art not as an investment but to make people feel good."
About 300 pieces of art are on view at the Gallery, and more are waiting to be circulated into the main room. Among the artists whose works are included: Stan Solomon, Thomas Roth, Jef Bretschneider, Tom Blood, Boris Bally, Lili Francuz and Judy Haas. About half are from the St. Louis area.
The works include paintings, photographs, sculptures, ceramics, metal works, wood works, mixed media and signs.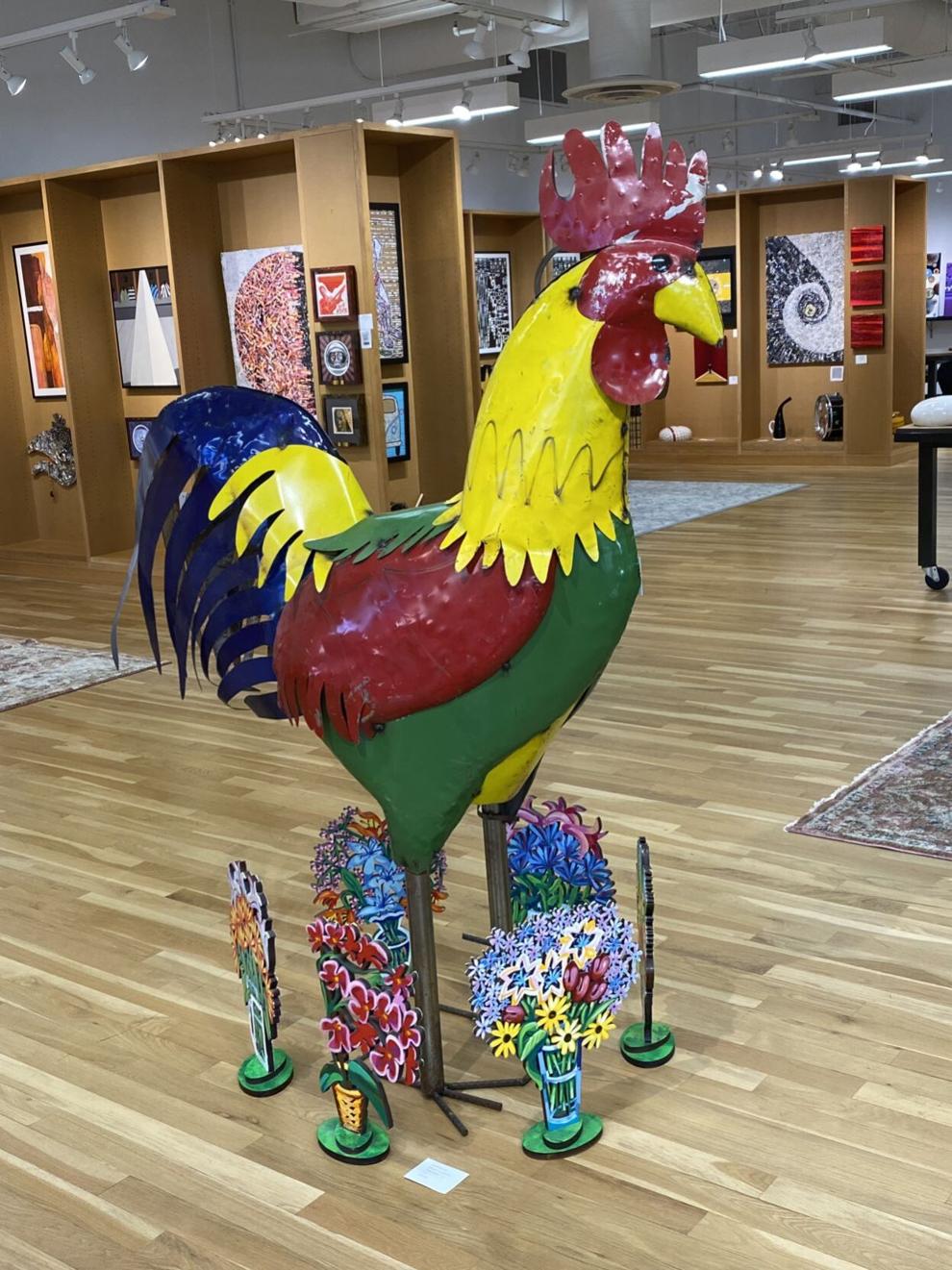 Everything is for sale. The average price range is $1,200 to $2,500, with pieces as low as $25 and as high as $40,000.
It was Siegel who suggested that Staenberg consider taking the art from his storage space to place on view.
"She said, 'What are you doing with all this?' and said, 'Why don't we open the gallery?' I thought it was a good idea, and it just started to flow," he says.
It took only $13,000 of paint, wallpaper, lighting, rugs and furnishings to transform the former J. Crew Factory store space into a gallery. Pieces from Staenberg's collection are also on view in storefronts at the District.
When Siegel was selecting artworks for the Gallery, she sought bright, uplifting pieces that potential buyers would be able to imagine seeing in their homes after a stressful day at work. "They can walk in the door and the painting helps them breathe and be calm," she says.
But Staenberg doesn't view the gallery as a moneymaking venture. "There's not a sale I have to make," he says. "This is a passion of blood, not a passion of money."
Sales from art will help fund the Gallery's operations, along with charities Staenberg supports.
The space is near the Factory, and there's an artistic relationship planned between the two venues.
"We wanted to augment the Factory with rock 'n' roll art," Staenberg says.
Steve Dirks, Kreg Yingst, Solomon, Mitch Levin and David Grojean are among the artists with music-centric pieces on display at the Gallery. Performers who work at the Factory and also make visual art will be able to showcase their pieces at the Gallery.
The Gallery could also display and sell signed instruments, photos or posters from acts at the Factory.
"Many of these (performing) artists are accomplished (visual) artists," Siegel says. "Artists can have a lot of downtime when they travel, and they're just so creative and talented. Many of them have taken up photography or art, or some become an artist first and musician second."
What The Gallery at the District • Where North Outer 40 Road, Suite 207, Chesterfield • When 11 a.m.-5 p.m. Monday-Saturday, noon-5 p.m.. Sunday • More info thegallerystl.com