GH: Previously on "The Busch Family Brewed: Red Flags," Billy Jr. and Marissa celebrate their one-year anniversary, and Billy decides to move to Dallas. His family, though, remains mostly suspicious of Marissa.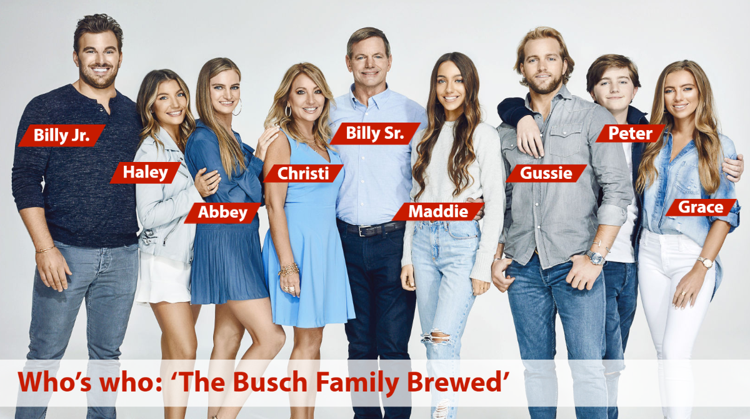 Episode 6 opens with a change of scenery. We're in Dallas! After some beautiful shots of the skyline and architecture, we arrive outside the Adolphus Hotel. Hmm, I wonder if it's named for …
BO: … Yes, Adolphus Busch, co-founder of Anheuser-Busch. Gussie and Jake have tagged along with Billy Jr., who is in town looking for apartments with Marissa.
GH: Yikes, this could get messy.
The three amigos roll into the hotel lobby. Jake and Billy each are pulling giant suitcases. Gussie carries a duffel bag that honestly looks empty. Perhaps it only contains pocket squares and bracelets. (Episode 5 callback.)
BO: Billy is wearing a blue cardigan with tiger faces all over it. Very whimsical.
"I brought my wingmen Gussie and Jake with me because they're never going to turn down a road trip," Billy says.
GH: Billy claims that he has a lot of family history in Dallas. It was the second place where Budweiser was distributed, he says, and Adolphus was so "into Dallas" that he wanted to build a hotel there.
A member of the hotel staff approaches with a tray of Champagne to toast their arrival.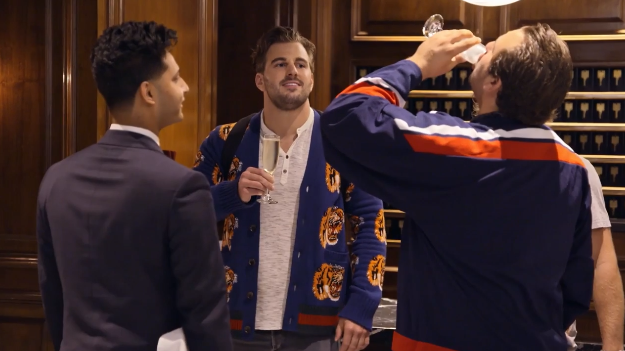 BO: The hotel really looks amazing in these shots; its website doesn't say whether Champagne is served to every guest at check-in or just to Busches. Billy urges Jake to show off his Champagne trick, which the server says he'd love to see.
GH: Surely, with all that hype, Jake is about to drink the Champagne out of his shoe or while standing on his head or something. Instead, he just opens his mouth and pours it in. Meh.
BO: The employee acts impressed and calls the guys "gentlemen" the whole time, despite Billy's ugly tiger cardigan.
GH: In an interview, Gussie provides some insight into the real reason he and Jake are along for this trip: "I don't know Marissa's intentions. I don't know her that well. But I would like to get some alone time with Billy to figure out where his head's at."
Jake: "Yeah, I think we owe it to Billy to have a conversation."
Do you now? Haven't you already done that and feigned support for your friend?
BO: In a hotel room, the boys are sprawled on the beds. "What are you seeing in this relationship with Marissa?" Gussie asks Billy. "Like, how invested are you?"
Pay attention, Gussie: You are in Dallas, where Billy is looking for an apartment in which he will live with Marissa, his girlfriend of one year.
GH: Jake supposes that, if Billy were to propose to Marissa one week from now, she would say yes. "Who wouldn't say yes to this?" Billy says, without a hint of irony.
Jake: "Honestly, I think the verdict's still out." (That's not quite how that idiom goes.) "I'm gonna support you. I haven't been around her enough. That's why I can't, like, judge her."
LOLOLOLOL
BO: Billy expects his parents to have his back, but he also realizes his mom seems not to want him to grow up. And the family is quick to judge Marissa because they don't know her well enough.
GH: Oh, no! Billy realizes he's late. He lost track of time. He has to go check out apartments, a revelation that seems to surprise his friends, who cannot wait to gossip once he leaves the room.