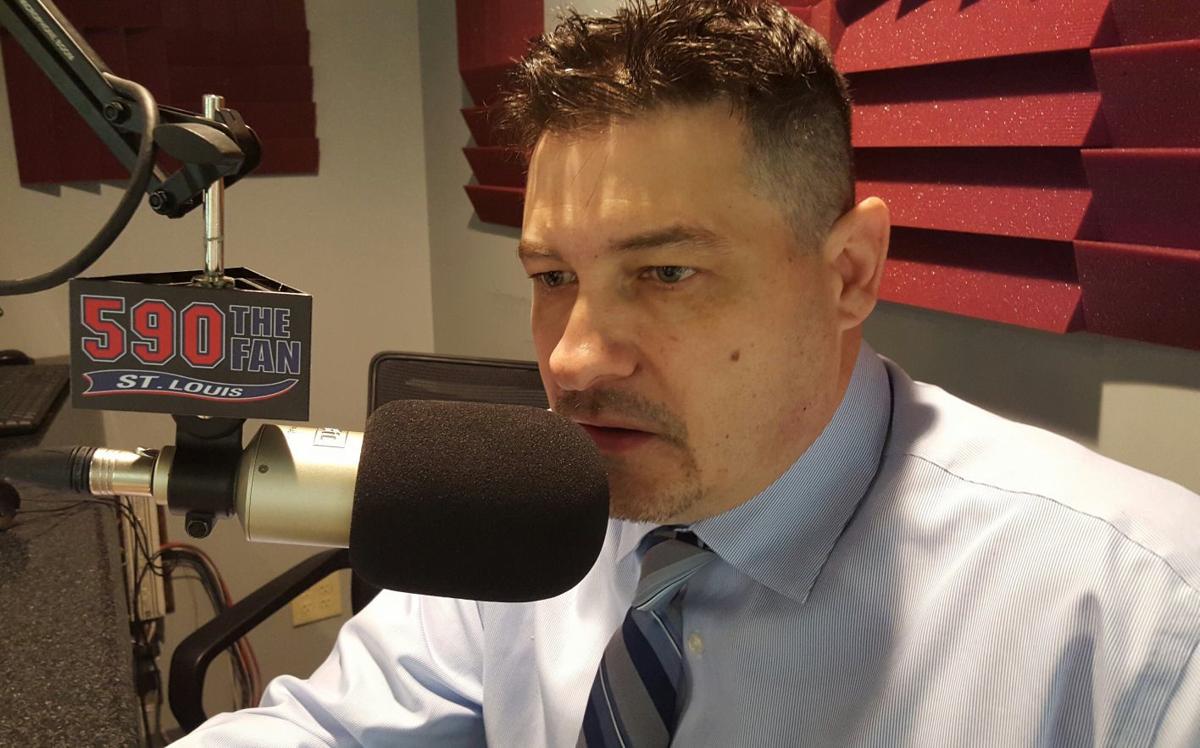 Dino Costa roared into town last month full of brashness and spunk, vowing to quickly take over the local sports-talk radio business.
"If I don't dominate this market in a year, I will crawl on hands and knees back to Wyoming," he said then.
But now, he says Friday — the final day of his sixth week on the air as the 6-9 a.m. host at KFNS (590 AM) — will be his last at the station. That's because he perceives a management restructuring of the station is imminent, and he's uncomfortable with that.
Costa was hired by Randy Markel, a newcomer and renegade in the local radio business who wanted a swashbuckler to shake things up. And Costa has done that, as has been his case at previous stops including Sirius XM satellite radio. He has made his mark locally with strong opinions interspersed with name-calling and coarse language.
And one of the people he has taken shots at is Tim McKernan, who is being pursued to operate KFNS. McKernan now controls the weekday programming at WGNU (920 AM) and the HD2 version of KPNT (105.7 FM), and also is a key member of the stations' morning drive-time show — a program Costa has called "sophomoric, juvenile."
Costa entered the market by also taking a direct shot at McKernan: "He's going down. He appeals to a younger demographic. He can keep the kids. I'll take everybody else."
But in an interview Thursday, Costa wasn't taking shots at anyone. In fact he was reflective while talking from Wyoming, where he lives and from which he has done his show when not in St. Louis.
"There have been strong rumors over the last couple weeks that there could very well be an ownership restructuring for 590 and I have made it clear to Randy Markel — who has treated me like gold since I came to St. Louis" — that I'm not interested, Costa said. "I have nothing but great things to say about Randy. But I indicated to Randy that I have no desire to work under a restructured ownership paradigm with the station. I made it clear to people before I came to St. Louis that I was not looking necessarily to get back into commercially run radio with just any person or any group or any station. It had to be a tremendous fit across the board. ... I perceived this to be a perfect situation with Randy. I came into this under the umbrella of an ownership group that I was extremely comfortable with, reporting directly to Randy. But I told them that if there is going to be a change and someone else will be coming into the organization to run the day-to-day operations that I have no desire to work for anyone else.
"I have indicated to Randy that (Friday) will be my final broadcast and I will wish 590 The Fan and Randy and this new ownership situation all the best moving ahead."
But Markel and McKernan said Costa is jumping the gun in his belief that a restructuring is a sure thing to going through.
"Starting in early February, we were contacted by several media outlets about opportunities," McKernan said. "We continue to have conversations, but at this point, we have no deal in place with any of the stations."
Markel had a similar comment.
"There is no sale, there is no anything," he said. "Have we talked about partnering up at some time? Absolutely. But there is no deal. I talk to people every week. There is always talk in this business about, 'What if we do this, what if we do that?' But there is no deal to announce at this time."
To that end, Markel said Costa wanted an assurance that he is in the station's long-term plans. But Markel said he couldn't do that.
"He was wanting to move his family here," Markel said. "I said, 'Dino, I can't promise you you'll have a job. I don't know what's going to happen. I've got people wanting to buy me out, I've got people I've talked to about forming a new company. I don't know when that's going to happen — even if it's going to happen. And if happens, I don't know where the chips are going to fall."
Costa, who was not on the air Thursday because he "decided to take the day off and make sure that I was comfortable with the decision," said he'd be open to reconsidering his departure if a restructuring doesn't occur.
"I would leave the door open to revisit the situation sometime," he said. "But at this point it is best for me to remove myself from the equation and allow things to unfold as they may and take their course."
But Markel said Costa won't be back.
Friday "will be his last day — if he's even on," Markel said. "I'm not about to drive up to Wyoming and make him go on the air. I don't even know where Wyoming is."
And Markel said he is tired of the tumult with Costa, who has made personal attacks against many people in print, on the air and in social media.
"I like Dino, he's like your crazy brother you have to bail out of jail," Markel said. "I believe in Dino. He's very talented. But it's the BS (he said the words, not the letters) that comes along with him that's hard to take. He came into this area with a scorched-earth mentality and it just didn't work. It's the way he wanted to do it, I wasn't about to stop him. You hire somebody to do what they do, he tried it. It didn't work. ... It was a constant uproar. Me for one, I'm tired of the drama."
Costa said he was doing what he was hired to do.
"When you acquire the kind of show I do, the kind of a show Randy was well aware of in advance of me going to the microphone for the first time, you either have to stand behind a show like that or not bring a show like that into the market to begin with. The show was clearly resonating over the six weeks it's been on the air. I have no regrets. The attention I brought to the signal was indisputable in terms of people who are talking about 590 the Fan again. It was intentional coming into the market like I did, intending to kick up a fuss a bit basically to get people talking about 590 again. But it comes down to, 'What are you looking for?' Are you looking for the status quo, what St. Louis has always been accustomed to? I thought the entire objective was to provide the market with something that distinguished itself from everything else in the market. I wish it would have gone a little longer for me."
In the big picture Costa sounds as if he is taking the high road out of town.
"I've loved every minute I've been in St. Louis," he said. "It was my desire to come to the market and provide a most unique and impactful radio endeavor and I believe I have done that by providing ... something that is clearly a radical departure from the status quo of St. Louis radio. I've enjoyed meeting so many great people in St. Louis. The Blues have treated me so well, I love their fan base. I've been looking forward to the Cardinals' season. I really became attached in the six weeks I've been there. We were prepared as a family to move there, we just closed on a house and we had to put the breaks on that. I was looking forward to the future with a lot of excitement and thought it would be something I'd love to spend the next 20 or 25 years in St. Louis. But things change, the dynamics of the situation have changed. I understand what Randy wants to do, perhaps."