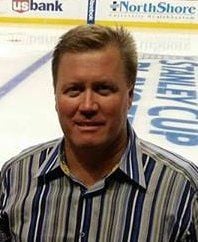 It's been a highly tumultuous run the last year for Grand Slam Sports, the company that owns KFNS — which is back in the sports-talk business after a failed short run at ''guy talk" after anchoring in the jock-talk arena for two decades.
There is a long list of current or former employees who are complaining long and loud about the company's plight, discussing a litany of problems. Payrolls missed. Workers abruptly dismissed. Lawsuits filed. Court judgments rendered against the company. A biting anonymous letter delivered to the wife of Dan Marshall, the man overseeing the company, designed to embarrass him into action. The lead investor wanting out and saying others do, too.
But there are two distinctly different camps of people who currently work, or have worked, for Grand Slam — which in addition to KFNS (590 AM) owns KXFN (1380 AM). Depending on who is talking, Grand Slam president Dan Marshall is either a despised and uncaring villain who flaunts his wealth while at the same time being responsible for putting people's lives in financial turmoil — or he's a guy who should be praised for trying to rescue the stations from certain failure and saving jobs by bankrolling the operation.
It was May 2013 when Marshall, who recently had been put in charge of the stations by Grand Slam's owners, boldly began implementing his "Marshall Plan" of reformatting — in addition to ''guy talk" at 590, 1380 switched from sports to female-oriented programming.
"I'm putting my money where my mouth is, investing in getting the signal back up and investing in good content,'' he said then. "The real truth of the matter is the neglect over the past 10 years of the ownership groups. It's like anything else, if you don't invest money and keep up with the times, (things are) going to gradually deteriorate.''
But many employees, current and former, say the same difficulties — neglect and financial woes — now plague the company.
Money problems remain the No. 1 complaint. Several civil suits have been filed against the organization in St. Louis County in recent months, two of which resulted in default judgments against the company. In one prominent case, former Grand Slam executives Dave Greene and James Oelklaus each were awarded $48,408.75 in a default judgment on a breach of contract claim.
Jay Randolph Jr., who was on the air when all-sports radio made its debut locally in 1992, now has a midday slot at KFNS and says the situation is bizarre and chaotic.
"It's like nothing I've ever seen,'' he said. "It's like every man for himself."
Randolph also has golf shows on the station, and says he tries to concentrate on his personal business rather than becoming involved in the day-to-day melodramas.
"I have enough going,'' he said. "I'm trying to stay out of the whole mess and the junk.''
Brian McKenna also is a longtime St. Louis sports-radio host. He recently was diagnosed with skin cancer and said that while his health outlook is positive, things aren't nearly as upbeat at work.
"It's difficult to survive when you only have two sales people,'' said McKenna, who is 590's morning drive-time host. "It's run on a string. ... Have I ever seen anything like this in basically 20 years in sports-talk radio? Absolutely not — not even close."
Charlie "Tuna'' Edwards, who is on KFNS at night, has been on the local airwaves for four decades at many stations and also says the Grand Slam situation can't be compared to any other.
"It shocks me,'' he said. "When I wake up, I think about it and I've never seen anything like this in my life — ever. People from other stations have called me and said they have never seen anything like this."
But there is a starkly opposite perspective, too.
Kevin Slaten, another St. Louis sports-talk radio original, says Marshall should be praised.
"As far as what I'm privy to, I know that Dan is the only investor who has paid money out of his own pocket to people who were owed money,'' said Slaten, KFNS' afternoon drive-time man. "Anybody who has a complaint is out of their mind.''
Marshall said he's simply trying to make the stations profitable.
"We're doing the best we can with the resources we have to make a go of this thing and keep it operating,'' he said. "We've got a lot of expenses cut down, things are better,'' he said. "We caught up with all the salaries of the employees. ... When the revenues of the station weren't able to cover it, me and my wife stepped in and — like always — we covered all the employees and paid everybody up out of our own pocket. ... Our goal is to get (the stations) to be self sufficient.
"We're excited for the future, but it is a struggle,'' Marshall acknowledged. "It's AM radio in St. Louis and the economy is not great. I felt horrible (about people being behind on pay) ... when it came down to it I had to step up and cover some salaries. I'm doing everything I can to keep this thing afloat with the resources I have."
Slaten criticizes those who are hard on Marshall.
"There are certain people in this business ... who are nothing but complainers,'' he said. "They whine and complain no matter what happens. Some of them — not all — are lucky to have jobs. They've weeded some of those people out, and it's only better for morale. ... It's a much better working atmosphere."
And Slaten is of the opinion that if it wasn't for Marshall coming aboard a year ago the operation would have crumbled then.
"No question,'' he said. "Before Dan Marshall got involved, that place was dead. Nobody else cared about it. When he came in — everybody does some things right and some things wrong — he rescued that place and kept a lot of people working that wouldn't have been working. It's nothing but on the upswing now, and all of the people he didn't want around and needed to be paid were paid and they're gone. All you can do is pay people their money when you get rid of them so everybody is on the up and up."
Nick Trupiano, who has an often-racy show that was on 590 then moved to 1380 with the format changes, is sympathetic to Marshall's situation.
"My family and I have been in the bar and restaurant business for 15, 16 years and sometimes an idea doesn't work,'' he said. "Granted you promise people stuff, but you don't promise people stuff thinking you won't be able to deliver. Sometimes it takes a little longer. I feel bad for Dan, I truly do because ... it (stinks) when you see someone who has an idea and truly believes in it and is passionate about it. Maybe they don't handle it the right way, but here's a guy who really thought he'd revolutionize talk radio in St. Louis. Maybe if it was on the FM signal he'd have had a shot."
Multiple current and former Grand Slam workers have discussed an anonymous letter sent recently to Marshall's wife by "former employees of the two radio stations" to make her aware of their problems.
The Post-Dispatch obtained a copy of it and among points raised are that Marshall bragged on the air about a Hawaii vacation "while many of us hadn't been paid in weeks.'' And it says he had "the audacity to tell his employees that he couldn't pay us yet was posting pictures (on Facebook) from Blues playoff games in Chicago."
It also said Marshall had "the audacity to brag about driving a Bentley and his frequent trips to the Lake of the Ozarks. All of this while many of us were wondering if we could afford our mortgages, child's tuition, insurance premiums, summer vacations and camp for our kids."
Again, there is a divided camp on the issue. Slaten said he hasn't seen the letter but knows of some of its content.
"From what I've heard of it, whoever did it should never work again because that is a low class scumbag of a human," he said.
The letter may have had the intended impact, at least to a degree.
"It precipitated the actions to get things caught up,'' said Mike Calvin, Grand Slam's sales manager who early this year also was made operations manager by ownership and given the task of trying to get things back by handling the day-to-day operations.
But Marshall said the timing was merely coincidence.
"Me and my wife were trying everything we could to get these people paid,'' he said. "That's the truth of the matter. The letter actually had nothing to do with it, and that ticked me off when I saw it. During the course of my time at Grand Slam Sports, I've always reached into my wallet to cover shortages and I'm the only one that's taken care of those people. So that was kind of a slap at my wife and me, mostly at me."
He bristled at the content, which lashed out in many areas.
"Someone with a third-grade education wrote it, a lot of it was all BS,'' he said, adding whoever wrote it "obviously don't know how the company runs. It sounds like (it came from) a disgruntled ex-employee. But this is America, people can write whatever they want."
He particularlywas agitated about the remark about one of his trips.
"I took a vacation to Hawaii but that was planned a long time ago, it was my 20th anniversary,'' he said. "That's personal."
Other complaints against Marshall's approach is that he had no experience in radio other than buying advertising for his Marshall Wireless business and didn't know what he was doing, plus they say he has no business being on the air — which he occasionally does.
He sometimes is on with Slaten, who said he enjoys their time together on the air.
"When I have him on, he has a lot to say,'' Slaten said, adding that Marshall is wel any time. "He'll jump in for a while, he's not going to monopolize the show. He does fine when he's been on, but he's not on very much with me. He gives you the voice of the fan, that's Dan, and sometimes that's a good perspective."
Calvin takes a diplomatic approach when addressing Marshall's airtime.
"He does take place in an awful lot of the shows, which is his prerogative,'' Calvin said. "As operating manager, I don't put myself on the stations because I don't believe I'm a radio guy. I think you need to know what your best at and stick to that."
Of concern to some is a Facebook posting Marshall made in April in which he was pictured rinkside in Chicago with the accompanying message: "Let's go blues I am putting a personal bounty of $100 for the first blue that lays out that loud mouth Keith or toews" — two Blackhawks players.
Several Grand Slam employees, current and former, called that vastly unprofessional conduct for someone running a station.
"Can you imagine Steve Moore (of KMOX) or John Kijowski (of WXOS) or Mark Dorsey (at KTRS) doing something like this?'' one employee asked. "He makes us look like a bunch of rubes."
Marshall scoffs at such conclusions.
"I was just joking, it was no big deal,'' he said. "People can't take a joke any more, like I'm really putting a bounty on Chicago's heads with the Blues players. That was joke from 'Slapshot,' if you ever saw that movie."
Robbins, Grand Slam's lead investor, said Marshall still has the owners' backing.
"We still have a very solid investment group that is continuing to put our faith and confidence into the management agreement we signed with Dan Marshall,'' Robbins said Thursday. "We basically gave him exclusivity to run the company. We still are standing by it."
But that doesn't mean the investors are happy with the strife.
"Yes, it is troubling that there have been some issues at the stations, it's well documented,'' he said. "But I always used this analogy — I own stock in Ford and if I don't like the color of the paint chips they have, there's not much I can do about the management other than vote my proxy."
Robbins said one of Marshall's key duties is trying to find a buyer for the stations, and that's one of the reasons Calvin was put in charge of daily operations.
"There's also a time that the individuals in the investment group are just ready and willing to do other things with their money,'' Robbins said. "Maybe it just hasn't panned out the way that we all wanted it to. (There has been) much more involvement than anyone ever anticipated as an investor. Especially from my perspective, when I invest I just want to invest. I don't want to be involved operationally and having these kind of conversations (about turmoil).
" ... I think the investors are ready to say, 'OK we've given it a shot. Let's take our monies and if we can find a solid buyer let's move the properties and do something else.'"
Calvin acknowledges that major problems remain.
"I open the bills and hand them off, I can't do anything about them,'' he said, adding that the company's financial troubles have included being behind on rent at the station's studios in South St. Louis.
"Over the course of the five years I've been there, and then since I took over, we are probably about $300,000 in debt,'' he said recently, adding that the figure includes past due amounts, judgments and bills that existed before Marshall arrived.
He said that his shifting from the "Marshall Plan'' of programing to the current lineup — with 590 back in sports and the guy-talk format shifting to 1380 — has helped the bottom line because most hosts now buy their own airtime, or have a co-op deal with the company, instead of being paid a straight salary.
"We've lowered our expenses and payroll by 75 percent," Calvin said
Marshall acknowledges it "probably was a mistake on my part'' to switch to the salary structure last year.
"You're betting on the come there," he added, saying things are on the upswing. "We've got the day-to-day expenses to where they need to be, revenues are catching up. For the first time in a long time, it's a real positive sign — though we've still got some backlog'' on bills.
Despite the format changes, KFNS still is known as "590 the Man." And a recreational vehicle that Marshall unveiled last year still tools around town with large advertising signage touting the "man" and "woman" stations. Also, KFNS' website is outdated and Calvin said those situations exist because there has been a more important priority.
"My main goal was getting people's pay caught up, not to spend on anything that didn't (involve) payroll,'' he said. "I refused to do it for that reason only."
He added that the marketing and website components might eventually be updated.
"If and when everything is caught up,'' he said. "Making sure people are paid, and paid on time, is the No 1 goal. Then you want to get your (transmitter) bills and monthly expenses caught up. Once your paying those on time, you can start talking about bigger-picture expenditures."
"I believe we have a serviceable product,'' he added. "I think we can bill more than our expenses are and use some of that profit to pay some of the back-due bills. The problem is this — can we bill enough money to keep the wolves from shutting us down? If you ask me, I'm going to tell you, 'Yes I can do it' because I always plan on winning. But the reality is that $300,000 to get caught up on is an awful lot of debt."
When Marshall decided last year to put a lot of money into Grand Slam, one of his key requirements was that he would have control of programming.
"We spend a lot of money," on advertising, he said at the time, so buying into the stations is "one way to invest in yourself. If you create a good station you get a good return for your money. That's what made me start looking at radio stations."
But there is a difference between investing in something and running the operation, as "Tuna" Edwards points out.
"I'm puzzled,'' Edwards said. "I can't go run a wireless company, I don't know how to do it. I can't coach a football team, never have done it. And you can't run a radio station if you know nothing about running a radio station, you just don't know what goes on."
Calvin concurs, to a degree.
"I do believe you have to have some type of radio background to be successful in this business,'' Calvin said. "… I think you have to have knowledge of the product. His enthusiasm was fantastic about what he wanted to do, I just don't think there was a well-thought out plan from A-Z on how we were going to get to Z. I totally believe he thought from the get-go that within three months he was going to be profitable and I don't think that's a good business model for anyone, let alone a radio group in these times. These are tough times for radio.
"I'm not going to say a person should lack confidence coming into a situation, but there should be realistic expectations and maybe leading on some people with some professional experience to do so. But I love his confidence level."
Like Marshall, local bar and restaurant owner Trupiano came to Grand Slam without experience in the radio business and now is on afternoon drive-time on 1380.
"It seems to me like Dan did everything he could,'' Trupiano said. "He comes in as a man with an idea, (lots) of ideas. He was as new in the business as I was, so I kind of liked that. He bought radio (advertising) for a long time, like I did with all the bars. He pretty much thought he knew the business, he's in sales so he figured he knows what people want to listen to. I feel like he did everything he could. I feel like he took over thinking he was going to have the backing of everybody else and pretty much everybody said this is your baby, run with it. I don't know if he was necessarily prepared for everybody to jump ship if it went bad, but I feel like when he felt everything was defeated he felt a little defeated himself."
Marshall had several people on the air who had been prominent at one time locally but had dropped out of the spotlight, including Asher "Smash'' Benrubi, J.C. Corcoran, Katie Cruz and Victoria Babu,
"I feel like he took a bunch of people who were pretty much out of radio and on 'radio life support' and gave them a new chance to build names for themselves and make money,'' Trupiano said.
"Dan was like the scientist in Jurassic Park. He built an island for all the dinosaurs to come back to life. It's kind of like a lot of these people were almost extinct. You take Smash, he was almost extinct. Take (Brian) McKenna, as beloved as he is, he wasn't doing much in radio. Take Jeff Burton, take me, I wasn't doing a damn thing. He gave people opportunities.
"What I like about him is that he wasn't narrow minded or closed minded."
And Slaten, who had been at odds with Marshall in the past, is firmly in his corner now.
"I couldn't be more optimistic,'' Slaten said. "Things are going great guns."
Talk of trying to sell the stations remains rampant.
"It's a mixed atmosphere (at the station), he said. "When the employees come see me, I'm, 'Let's go, let's go!' ... I think from the investors' side it's, 'How can we make this viable be enough to sell?' We have thin walls, so both of those messages are being heard so it's very confusing to the staff as to how much effort should they put into the product. I think anybody would feel that way in any work situation. If you don't know if your job is going to be there in a month, why would you want to go out and sell to clients or put your name on something that might or might not be around very long? With that being said, I also believe everything is for sale — KMOX is for sale for the right price, not that they are in the market. But there is a tone in the office that you just don't know what your viability is there from day to day."
In fact, several sources said a group of Grand Slam workers met this week to plan strategy for making an offer to the company to proceed without Marshall, and that would include paying ownership about $30,000 a month for control of the stations.
Robbins sounds very much as if the owners will be glad when they no longer have the stations.
"(We) have a very influential investment group that is prepared to go do other things because we just don't need the headaches, we don't need the bad press, we don't need any of the things going on from an investor (standpoint),'' Robbins said. "If I was sitting behind a desk every day and operating it and managing it, it would be a different story."
He was asked if the melodrama is taxing on the investors.
"I think that is very accurate reflection,'' he said. "You don't want that in any of your life, no mater if it's business or family or anything. That's very accurate."
Marshall, meanwhile, said he remains committed to the company.
"I could easily walk away, but I haven't because I believe in the stations and in radio,'' he said, adding that he has spent a "very substantial'' amount of money on Grand Slam. "I make zero dollars at the stations, I don't take any money out of there. All I do is put money in there."
Is there a point when, as they say in gambling and the stock market, it becomes unwise to throw good money after bad money?
"It's a hard decision because it's probably past that point,'' Marshall said. "If you believe in something, you've got to try to keep it going till you've turned over every last rock. I've put in a whole heck of a lot of money. I didn't take over a rose garden. ... I've been trying to make sure we do everything the right way and run the business the correct way. That's all I can really try to do.
"We got hit (financially) back in November and December, but right now me and my wife are very confident. We've caught up with a lot of bills — we still have a few more of course, we're trying to catch up with everything — but I feel the best about it right now that it can be a viable strong company going forward because we have our costs under control. But it took a little while to get those costs under control.''
And Marshall is very aware that he has staunch supporters as well as vocal detractors.
"If there is anything I made a mistake in doing, it's not cleaning house when I first took over,'' he said. "There were a lot of cancers, a lot of people who no matter what you did they didn't like. I don't know if there's anybody in there still that's not in the pro-Marshall camp, but if there is we'd like to know so we can get rid of them.
"The people in the not-so-pro Marshall camp probably are the people who do not know how business is run,'' he said. "Those in the pro-Marshall camp are probably all the people who understand and realize all the efforts and things I have tried. Some people you just can't make happy."
(A more extensive version of this column