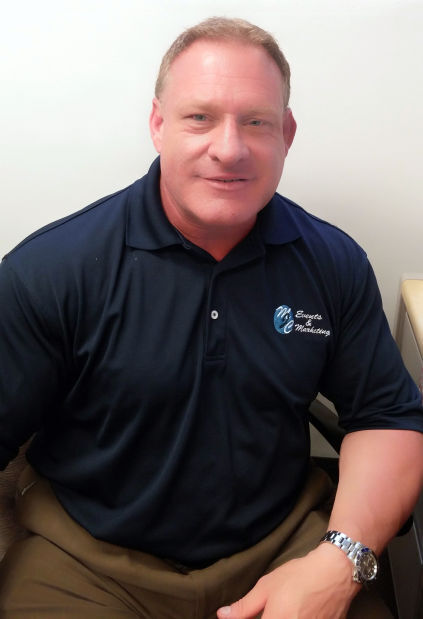 Dan Marshall, the man who had been steering Grand Slam Sports though one of the roughest times in the last two decades of St. Louis radio, turned in his resignation on Thursday from overseeing the operation.
That follows a week of massive turmoil, which began last Friday with a fist fight in the station's offices in south St. Louis that sent Marshall to a hospital for treatment and Brian McKenna — who had been doing mornings at KFNS (590 AM) — to jail for the night. McKenna was arrested and police presented their case to prosecutors, but as of Thursday no charges had been filed. Authorities have been conducting interviews this week with people who were on the property at the time of the incident.
That fight came shortly after McKenna was ridiculed on KXFN (1380 AM) — Grand Slam's other station — on Nick Trupiano's show that included racially-charged comments and the use of a vulgar word, a program that a company official said probably went to a level even well-known shock-jock Howard Stern wouldn't go.
Marshall acknowledged Thursday that he has resigned after about 15 months as Grand Slam's managing partner and president, but did not want to comment further. But Grand Slam operations manager Mike Calvin said Marshall "didn't resign from being an investor."
Calvin, who had been in charge of several aspects of the operation, now is in charge of them all. And he faces a daunting task.
"I consider it a massive project," he said. "A total overhaul of 590 is needed. We've lost a lot of good talent in the last week that needs to be replaced somehow, with zero to little budget."
The latest departure is Jay Randolph Jr., who has been on at middays. He also does golf shows on Thursdays and Sundays but is moving those to KTRS (550 AM) in early July.
McKenna also is gone, having been fired last week after coming to the station to confront Trupiano but being intercepted by others, including Marshall before their fight. And Calvin now isn't ruling out McKenna returning.
"There's a chance that every single person who has worked here in the past could come back," he said. "There isn't anybody who has been let go since I've been here for five years that I'm closed-off to."
And Trupiano went after some of those who commented, including Edwards — who is black.
"He's a scumbag and I hope he dies of ... sickle cell, cancer, whatever, I don't care,'' he said on 1380.
Trupiano also said that he thought Edwards was on the air as "that token black guy. ... What did he contribute to the station?" He also suggested the only reason advertisers have sponsored Edwards' show was for "that minority tax write-off."
And Trupiano called Edwards "droopy-dog looking" and said "I can't stand him. I hate him."
Much of the show contained words and terms many would consider at least extremely off-color, if not profane. And one word that was uttered certainly crossed the line, the most vulgar term for a part of the female anatomy. That came when Trupiano was discussing McKenna during a commercial break, apparently not realizing his microphone was open.
Trupiano also went after Ken "Iggy" Strode, who was on 1380 but also was ousted last week, saying: "You know what he should invest in now, a gun and one bullet. And then call Brian McKenna and see if he can talk him down from doing it,'' a reference to McKenna one time on the air talking someone out of suicide.
A sound effect of a gun firing played during those comments.
Trupiano, in an interview, said such "humor" merely is his style, that he has a no-holds-barred approach that isn't for everyone.
"I wasn't trying to enrage anybody, I was just trying to have some fun," he said.
"Not everybody's going to like the same style or brand of comedy," added Trupiano, who was hired by Marshall last year when he converted KFNS from a sports to a "guy-talk" station. (KFNS recently returned to sports, with Trupiano then moving to 1380 along with the "guy" approach.) "I love Don Rickles. Some people might not like him. A lot of people liked Lenny Bruce, I didn't.
"Some of the (stuff) I say is going to offend people. Some of the (stuff) anyone says is going to offend people. Does it matter? That's the beauty of this country. I'm not a huge advocate of first-amendment rights, but now I know what it means. You can say whatever you want."
Well, maybe not. Calvin said Trupiano has been put on notice.
"We've had conversations the last two days, reading through line by line what the FCC regulations are and what he can and can't do moving forward,'' Calvin said Thursday. There is "zero tolerance moving forward of making fun of or talking (negatively) about on-air or any of your own teammates in the Grand Slam building in general."
Calvin said he wasn't tuned in to Trupiano's show last Friday, when the remarks in question were made, but would have taken action had he been listening.
"As an operations manager, if I had been listening I would have gone down and stopped that," he said in an interview early this week. "First of all, there's 368 million people in the world. Can you find somebody besides your own teammates to pick on, for God's sakes? Second of all, I don't think that's the humor I'm going for anyway. I don't think even Howard Stern says stuff like that.
"There were some horrible things said — that's not unlike Nick's show," Calvin added. "I will preface this by saying that I don't condone this, but we're talking about a guy who made fun of his own wife's miscarriage the day after it happened. It's not like he picks on just other people, he picks on himself and his own family. That being said, I don't think there's anything that's off limits to Nick (in his mind). He did make fun of Brian's cancer, there was some comment made about his girlfriend. There were comments made about Charlie getting sickle cell. There also was the comment of 'Iggy' putting a bullet in his head."
The stations' websites have audio archives of past shows, but Trupiano's program last Friday quickly was removed.
"I pulled that off the blog not because I didn't think that was appropriate to be up there, not because I was (trying) to save Nick,'' Calvin said. "It's because I didn't think it was appropriate. The tape does exist, it wasn't destroyed or any conspiracy theory like that."
Calvin said he doesn't plan any significant lineup changes in the next week. That's because Grand Slam lead investor Todd Robbins is on vacation and Calvin will wait until he returns so they can consult before making moves. But he made it clear he wants to be in charge of the financial end of the operation as well as the on-air side.
"I'm not willing to take on that responsibility if I'm not in charge of the checkbook,'' Calvin said.
"Everybody's going to get a contract who didn't have a contract so they have something in writing as to what they should be billing or doing,'' he said, adding he wants to re-do the budget and have his name on the company checking account.
Calvin is cautiously optimistic, calling those big-picture financial situations his "problem No. 1" to solve. And he acknowledges major hurdles are ahead — one very soon, because he has concerns about hitting payroll on time next Tuesday.
"Last but not least (among the problems are) the wolves at the door, the back-due bills,'' he said. "I have to get a handle on that."
Then there is programming, which includes syndicated NBC Sports Radio fare now running in McKenna's old morning drive-time slot at KFNS.
"We have to make our bills before we can do anything,'' Calvin said. "We have to figure out how we can put a staff together that's going to be able to push some billing on the books. But I believe we can make this work, that we can get things back to the way they used to be."