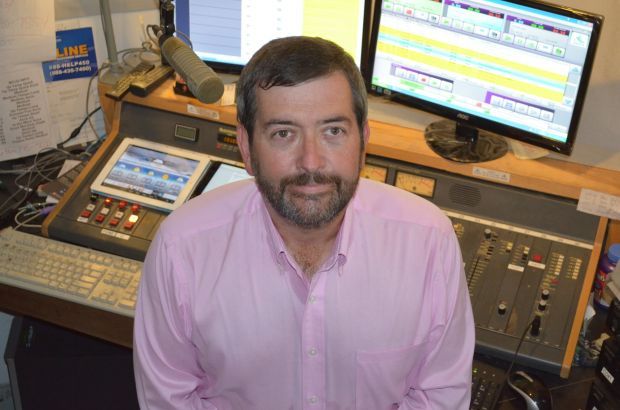 First, St. Louis sports radio went insane — last year, Insane Broadcasting changed WQQX (1490 AM) to a Fox Sports Radio affiliate.
Now area sports radio has taken another twist thanks to Brad Hildebrand, who owns two stations in the far west St. Louis suburbs. One broadcasts sports and Hildebrand is taking a poke at the format by adopting the call letters KRAP — and that's not K-RAP, as in the musical sense. Here's how he describes the operation:
"There are lots of sports stations called The Fan, The Ticket, The Score, and tons of those ESPN stations, but there's only one station that's talking sports KRAP 24 hours a day,'' he writes on the station's website (sportskrap.com). "It's Sports KRAP. Yeah, we know what you're saying. 'Dude, is this for real? A radio station named KRAP? You're probably some internet-only station broadcasting from the basement of some guy's mom's house.' No, we're for real. We're an FCC licensed radio station broadcasting (1350 AM) pounding out a whopping 500,000 milliwatts. But we do realize that we're KRAP. In fact, our transmitter is KRAP. Our signal is KRAP. Our studios are KRAP. Our staff is KRAP.
"What makes us different is that we're not bragging about how great we are. We know we're KRAP. We're just working harder to be more than just another sports radio station by being more than just a radio station. ... We're not just talking KRAP, we're talking SPORTS KRAP!"
It's a small-time operation based in Washington, Mo., that airs amateur sports of interest in the region it serves — parts of St. Charles, Franklin and Warren counties — and also reaches some extreme western areas of St. Louis County. The station, which was KWMO before recently being renamed, also carries syndicated shows from CBS Sports Radio and is an affiliate of the Blues and Kansas City Chiefs networks.
Hildebrand said he had been interested in having a station called KRAP since he and some buddies were about 12 years old and listening to Johnny Rabbit (Ron Elz) on KXOX.
"We used to kid that some day we would grow up and own KRAP,'' he said. "We used to pretend we were on KRAP."
When he finally began exploring the possibility of obtaining those call letters, he discovered they were assigned to an oil rig in the Gulf of Mexico. But it was inactive, so after his inquiry KRAP was released to the FCC and he pounced.
He acknowledged there has been some griping about the name, but said the upside is big.
"When I tell people my call letters are KRAP, nobody forgets that,'' he said.
Its website mixes live and archived coverage of amateur athletics in that area with St. Louis pro sports, and Hildebrand's goal is to eventually become a significant factor through the entire market.
He's been in the broadcasting business in a variety of capacities over the last four decades, since the day after he graduated from Southern Illinois University Edwardsville in 1976.
He was the first TV traffic reporter for Channels 2 and 4 and in 1984 started Computraffic, which produced driving reports for many radio stations. He eventually added an operation that provided news reports for multiple stations before selling those in 1994. He ended up in Washington, where he bought what currently is KRAP as well as KSLQ (104.5 FM) in 1998 and has had them since.
Among those who have worked for him are Cardinals broadcaster Dan McLaughlin and MLB Network host Greg Amsinger. But he said he has been unable to get qualified hosts now as he wants to add local sports talk to the lineup.
"I just can't find people," he said.
Meanwhile, he said his broad background gives him a perspective that combines old-school values with the modern technology.
"I'm a 42-year veteran of the business but I see the writing on the wall,'' Hildebrand said.
That writing was illustrated in bold letters by the recent implosion of former sports-talk stalwart KFNS (590 AM) under the guidance of Dan Marshall — whose only previous connection to broadcasting had been in buying ads for his wireless communicationscompany.
"I know the radio business from all sides, unlike some so-called experts,'' Hildebrand said.
He's exploring the possibility of buying a St. Louis station, or becoming a partner with someone to do so. And although his focus has gone from being 95 percent oriented to the on-air product five years ago to being 90 percent geared to the online side now, he said it's necessary to obtain a station that covers the entire market.
"A broadcast signal ... adds legitimacy," he said.
"I'm 59 and not ready to retire," he said. "I have ideas that can take me to the next level. I may be crap, but I'm trying hard."
St. Louisan Graham Bensinger has begun the fifth season of his nationally syndicated sports interview TV show, and for now can put his monetary worries to rest.
He said "In Depth with Graham Bensinger" has stabilized financially after some rough times last year, when he greatly expanded the operation by adding staff and affiliates. That came after he was a one-man show in the early days, when he not only was conducting the interviews but also was selling advertising and lining up outlets to carry the program plus booking travel and guests. Now he has nine full-time staffers.
"Everything's going in the right direction,'' he said Thursday. "It's been a bit of a battle. There's been financial pressure in growing it."
That sounds like an understatement. Bensinger, 28, said after making a small profit the first three seasons when the show was on a smaller scale, last year was a loser. That's when he syndicated the show, which had been on cable and the internet, to over-the-air stations across the country.
Last year he said he funded the expanded business with "the money I had made to that point plus my life savings. I said, 'What the hell, I want to give this a shot.'''
"Without a doubt this past year has been the toughest of my life,'' he said. "I don't think I ever realized how much the financial pressure would impact me. I'd go to bed thinking about it, get up thinking about it. That was pretty much the life I lived the last year.
"It was entirely self induced. I made the decision to invest every last dollar I could into the show, whether it be in production quality or hiring additional people. I believe that was necessary to grow it. If I had reined it in slightly, there wouldn't have been the financial pressure. But looking back, I'm glad I made the decisions I made. But it definitely taught me a valuable lesson in that I never want to have to go through that again."
He was on vacation with his parents this summer when he finalized a sponsorship deal that would not only put him into the black for the coming season, but assure that he also would cover last season's losses. It was an emotional experience.
"Never in a million years would I have expected this reaction, but I just went down to tell my mom and burst out crying because it's just been a long path to get to this place,'' Bensinger said.
He is in a more prominent time slot locally this season, at 10:35 p.m. Sundays on KTVI (Channel 2) after being on at 6:30 a.m. Saturdays last year.
Basketball personality Charles Barkley was the subject last week in the season debut of the half-hour program, with tennis' Caroline Wozniacki the focus this week. Among topics she discusses is golfer Rory McIIroy recently breaking off their engagement. Football's Emmitt Smith and Ray Lewis follow next.
It's been a prominent — albeit different — path for Bensinger, who at one time seemed to be gliding on the fast track to a network reporter's role. At age 19, he scored a big interview for ESPN with receiver Terrell Owens, who in the conversation talked his way out of a job with the Philadelphia Eagles. He also did other reports for the network.
But he always had wanted to try to make his mark on his own, not by working for someone else.
"Had I looked for an opportunity where I would have been employed by a media outlet, it would have been more financially lucrative the past several years,'' he said. "So it has been exciting to get (the show) to the place where it is now.
"It's still far and away the most satisfying work I've ever done. In prior roles, I'd only conduct an interview or book an interview. Now I've had the opportunity to be involved in every facet of building this."
And there is a key bottom line.
"It's exciting that there's no longer the day-to-day financial pressure that there has been in the past,'' he said. "It's been a long five years."
The only clunker for the Rams on Sunday wasn't their performance on the field. They also were a bust in the TV ratings, drawing the second-worst figure for a season opener in their 20 seasons in St. Louis.
The Nielsen Co. reports that 16 percent of home with a TV in the market tuned in to see the team's 34-6 loss to Minnesota. The only other opener to draw worse was in 2008, when the Rams produced a 12 rating for their game at Philadelphia.
The rating Sunday is 50 percent lower than the 24.1 figure the Rams drew for their opener last season, against Arizona. The average rating for the team's last four openers, before this year, was 23.1.
This Sunday, the Rams play at Tampa Bay and Fox is sending the game to just 7 percent of the nation, the smallest number of the six games it is showing regionally that day.
That makes the Rams two for two at the bottom of Fox's heap. Last week, their game went to 6 percent of the country — ranking last among the network's six contests then.
Broadcast assignments this weekend for the major area football teams:
Missouri, vs. Central Florida, 11 a.m. Saturday (SEC Network) • Dave Neal (play-by-play), Andre Ware (analysis), Laura Rutledge (reporter).
Illinois, at Washington, 3 p.m. Saturday (KTVI, Ch. 2) • Joe Davis (play-by-play), Joey Harrington (analysis), Kris Budden (reporter).
Rams, at Tampa Bay, 3:05 p.m. Sunday (KTVI, Ch. 2) • Dick Stockton (play-by-play), Kirk Morrison (analysis), Kristina Pink (reporter).
Stay tuned in
Get the latest information on hit TV shows and more with our weekly newsletter!