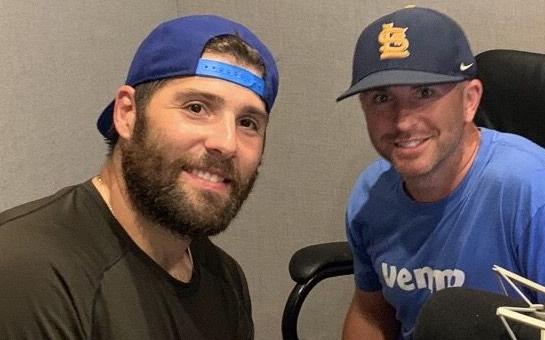 The deadline for a decision on Tim McKernan's bid to buy KFNS was supposed to have arrived Wednesday. But there are no fireworks regarding a sale, at least not yet, as Fourth of July weekend arrives with no resolution about the proposed transaction.
"We're still talking," said Randy Markel, who owns the mostly sports station that airs on 590 AM. "Right now we're grinding away. Other people have interest, too."
Potential suitors are believed to also include a pair of Metro East businessmen that Markel said in January had agreed to purchase 50% of the station, a deal that never was finalized. Markel attributed that to the coronavirus-fueled economic slowdown. Another party also could be in the mix.
But in-depth recent negotiations have been with the group headed by McKernan, who not only is a key cast member of the station's morning drive-time show but owns "The Morning After" program via his insideSTL.com Enterprises company.
Markel and McKernan had entered into a letter of intent for the KFNS ownership transfer, the agreement that had the Wednesday deadline.
"We just ran out of time," Markel said. "There are a lot of things that need to be agreed on, and we hope to have a deal done in a week or two. I feel very confident we will get a deal done."
But he wouldn't say with whom that that deal would be made, though indications are that McKernan's group is the front-runner because Markel and McKernan have had personal and business relationships for more than four years — including a previous plan for McKernan to owning the station. Former Blue Pat Maroon has expressed interest in joining McKernan's current group.
"There is no deal-killing hang-up" with McKernan, Markel said. "We still have a lot of little things to be done, though."
McKernan's take
McKernan has not said much publicly about the situation during the negotiations, and maintains that approach now.
"We are hopeful that we can come to terms with Randy and look forward to continuing these discussions," he said.
But he did express some frustrations on the air Monday but those were much more about personnel moves with "The Morning After" show, which has had six regular cast members, than negotiations to buy the station.
The furloughing of longtime co-host Jim Hayes, as well as comparative newcomer Darin Atkins, sparked a long conversation.
"The goal has always been to keep the six of us together," McKernan said on the air in a discussion that sometimes sounded cryptic about the survival of the program as he touched on losing a third of the cast.
"We've had an incredibly long run, incredibly long for this business," co-host Doug Vaughn said on that show.
"Sixteen years," McKernan added.
"We should be thankful for that, I guess," Vaughn added.
McKernan also alluded to navigating trouble spots over the years.
"We've been through it," he said. "But I will say this time is different. And I don't say that lightly."
But KFNS' cutbacks affect more than that one show. There also have been salary reductions, and Markel attributes those moves to the financial slowdown that has hit so many businesses worldwide.
He said he received a loan of $173,000 from the federal government under the Paycheck Protection Program, which requires 75% to be spent on payroll. (That would be $129,750 for a $173,000 loan). Markel said he had used that as of the end of June and "now we're into my money.
"We're at the mercy of what's going on," he said, adding that things are showing signs of improving. "We've done a hell of a job of not furloughing anybody till now. We haven't laid anybody off" as FM sports-talk station WXOS (101.1) did two months ago with Bernie Miklasz.
"I hate it, but have got to do it," Markel said of what he called "temporary cutbacks." He added: "I'd like to bring (those furloughed) back as soon as possible."
Markel said the furloughs probably will last two-to-four weeks. Hayes declined to comment and McKernan said on the air that Atkins, who has been known as "Plowhawk" and "Plowboy," does not plan on returning (at least under current management). That appeared evident as Atkins posted an image on social media of John Hadley, who oversees programming and finances at the station, with a red dot over the center of Hadley's face that appears to be a clown nose. Atkins also had that as his Twitter profile picture.
The bottom line
Some close to the situation have speculated that Markel, who has made numerous overtures over the years about selling the station he and a partner brought out of bankruptcy a little more than 4½ years ago, enjoys running a radio station so much that he really does not want to give that up.
But Markel, who previously owned two area Chuck's Boots stores and never had been in the media business before getting KFNS, insists he is ready to move on and concentrate on youth baseball fields he has been building near the Lake of the Ozarks and other endeavors.
"If the deal's right, I want to sell," he said. "The deadline expired but that doesn't mean the deal is off."
He said this week he has not recently calculated how much money he has spent on operating the station, though last winter he put that figure at least $3 million since reviving it in late 2015. And that was before the pandemic hit.His latest effort to sell dates to January, when the agreement to transfer 50% of the operation to the Metro East businessmen was announced, before McKernan's bid surfaced.
"As long as this thing is taking, you'd think we were trying to sell Google," Markel said.
Stay tuned in
Get the latest information on hit TV shows and more with our weekly newsletter!