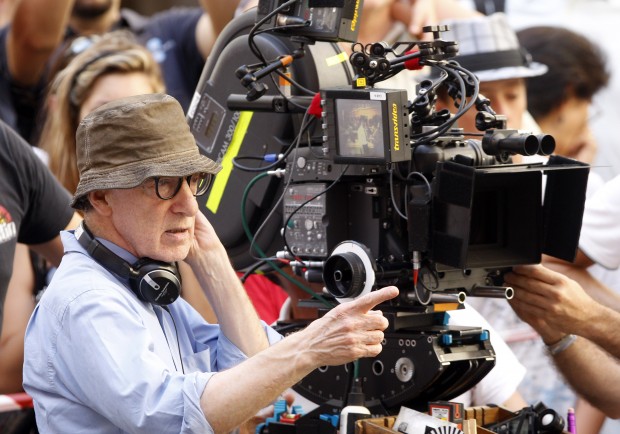 Early in PBS' "Woody Allen: A Documentary," a two-part film made with the subject's cooperation, the young comic is seen on a variety of talk shows, doing a falsetto voice on a game show, boxing a real kangaroo and dueting with a talking dog. "Nothing was beneath me," recalls Allen.
Fans may consider Allen one of the most consistent, entertaining filmmakers ever to pick up a camera. Others may have dismissed him as a creep after he married his girlfriend's adopted daughter.
But the Allen in this 3 1/2-hour piece, directed by Robert Weide, is a comic who would once do anything to get to the top, even if it meant getting clobbered by an angry marsupial.
Weide's running theme — as he explores Allen's canon and interviews dozens of big names, including Diane Keaton, ex-wife Louise Lasser, Martin Scorsese and Mira Sorvino — is that Allen is always looking for the meaning of life.
In the early days, he thought he could come closest by getting laughs, either as a gag writer for New York newspapers while still in high school, or by doing rapid-fire bits on "The Dick Cavett Show."
The film suggests that Allen changed tactics after the first film he wrote, "What's New Pussycat?" He was dismayed by the finished product, and vowed to direct — and control — his own work after that. For better or worse, that's exactly what he's done.
Sean Penn talks about being petrified that Allen was going to fire him after his first week on "Sweet and Lowdown." Penn kept his job, and nabbed an Oscar nomination.
Weide, best known as a regular director on "Curb Your Enthusiasm," doesn't sugarcoat the disasters, most notably "Stardust Memories." He even explores Allen's relationship with wife Soon-Yi Previn.
The result is a film that will give Allen fans whole new reasons to gush — and detractors some fresh ammunition.
---
'Woody Allen: A Documentary,' 8 p.m. Sunday and Monday on PBS