The Go! List 2019: Around town
There's a lot to love about St. Louis. In our seventh annual edition of the Go! List, we feature some of our favorite things. And we tallied the votes in our reader poll in more than 160 other categories. Check out the list — maybe it will help you discover something new to love.
By Post-Dispatch staff
Most anticipated new attraction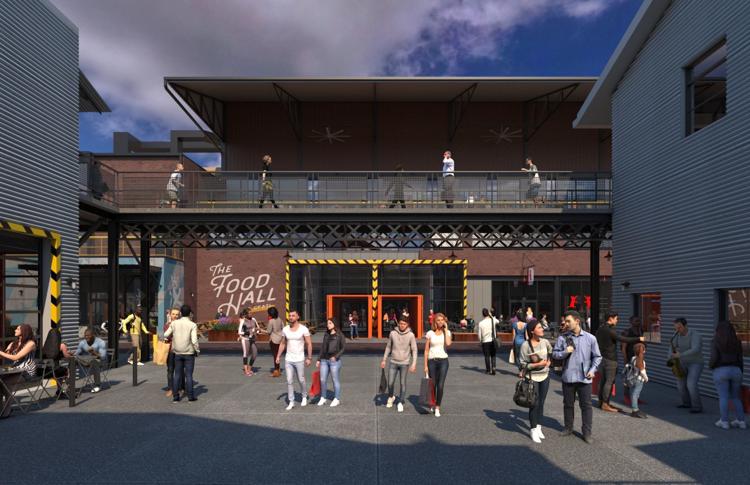 City Foundry STL
Where 3700 Forest Park Parkway • More info cityfoundrystl.com
Every time we take a trip to Ikea or Goodwill Outlet, we crane our necks to see what's happening on the swath of land that will be City Foundry STL, slated to open in spring 2020.
The former Century Electric factory complex will be home to a 10-screen Alamo Drafthouse Cinema, retail and office space, a gaming and dining venue, and a food hall with space for 20 vendors that so far include Buenos Aires Cafe, Chela Tapas, City Taco Shack, Natalie's Cakes & More, Murf's Deli, CropCircle, Lost & Found: A Burger and Pizza Joint, and Sumax: Hummus & Wraps. — Gabe Hartwig
Most anticipated new water-based attraction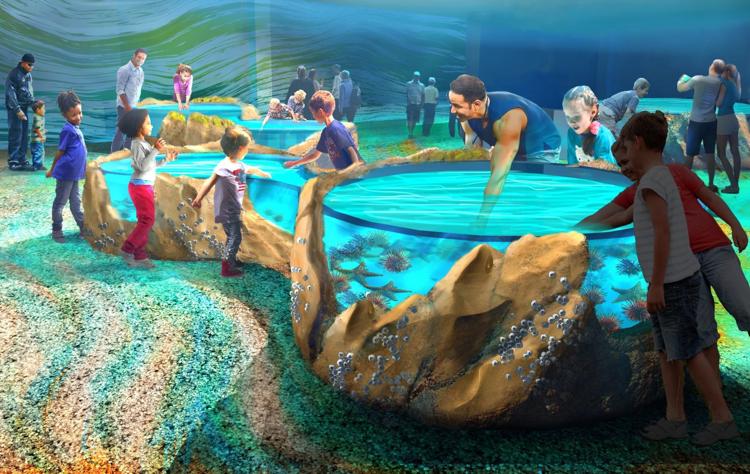 St. Louis Aquarium
Where Union Station, 201 South 18th Street • More info 314-923-3900; stlouisaquarium.com
We've been talking about an aquarium in St. Louis for how long?
In 1923, voters approved an aquarium at the St. Louis Zoo, but zoo commissioners balked. In 1993, Donald Trump came to town and proposed a riverfront casino development that would include an aquarium, and, well, we know how that turned out.
We don't have enough fins or fingers to count the other proposals, but now the St. Louis Aquarium is actually under construction at Union Station. It will have otters to aww at and stingrays to touch and a 3D virtual-reality train ride to begin your fishy adventure. The aquarium will open this year. — Valerie Schremp Hahn
Favorite underrated new-ish attraction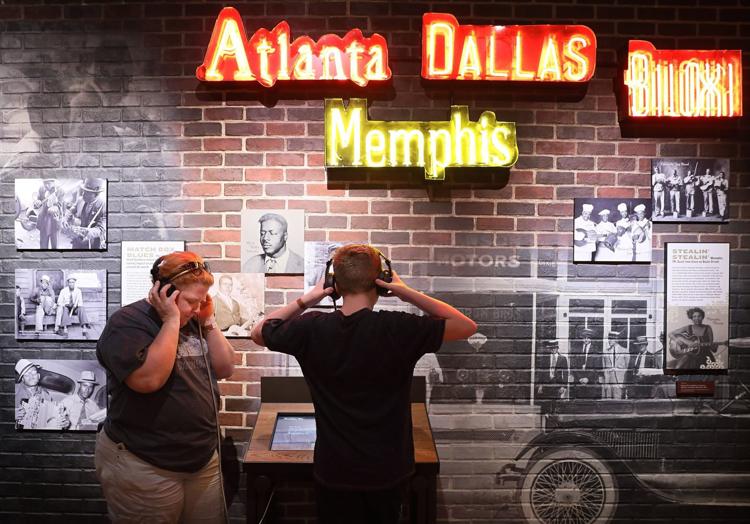 National Blues Museum
Where 615 Washington Avenue • More info 314-925-0016; nationalbluesmuseum.org
The history of the blues, from the first call-and-response songs of the American slaves to the latest electric wizardry of, say, Marquise Knox, is meticulously and entertainingly laid out in the handsome National Blues Museum.
When the wind is easterly, you can even get a whiff of barbecue from Sugarfire Smoke House next door, and nothing goes with the blues like barbecue. For the full experience, visit on a day when there is a concert or a lecture in the intimate theater that faces Washington Avenue.
A museum of blues is fine for what it is, but to really experience it, you have to hear it live. — Daniel Neman
Attraction that we wish would get a costumed mascot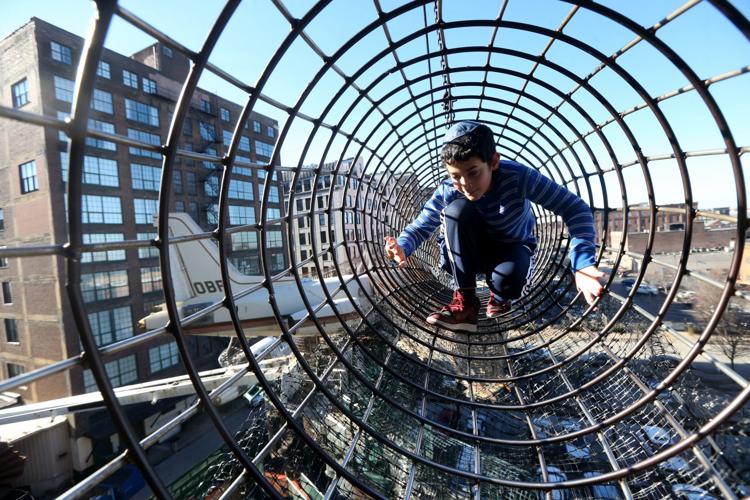 City Museum
Where 750 North 16th Street • More info 314-231-2489; citymuseum.org
City Museum announced in January that it was sold to Oklahoma City-based Premier Parks LLC. Leaders of both companies promise no major changes to the attraction — just behind-the-scenes improvements to things like scheduling systems and the website.
At the time, museum director Rick Erwin said he loathed the idea of a corporate mascot. "If we see something going in the wrong direction — if I had a dancing bear out there with a (corporate) logo — I'd toss it off the roof."
Now it's spring, and there's no sign of dancing bears, Erwin says. But we secretly hope something wonderfully wacky emerges from the cave tunnels, like a 1980s-era Mayor McCheese-type creature or a distant, even more misguided cousin of Gritty, the Philadelphia Flyers' new furry, orange mascot. VSH
Favorite parade floats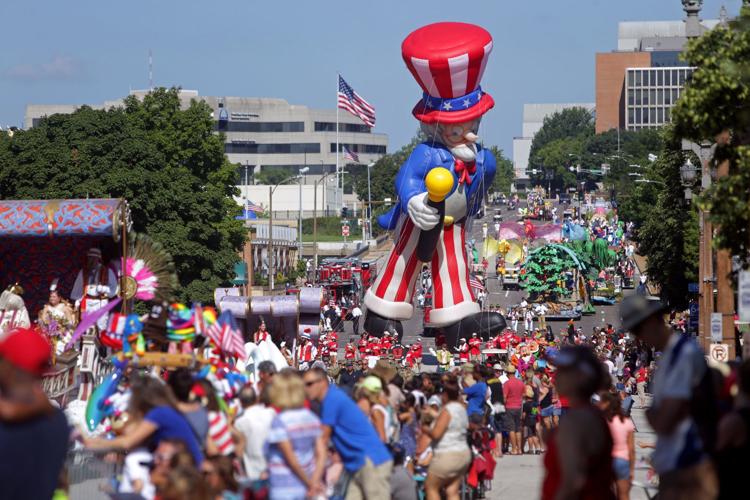 America's Birthday Parade
More info americasbirthdayparade.com
America's Birthday Parade, formerly (or still, stubbornly) known as the V.P. Parade, has a long and intriguing float history: The parade started in 1878, and in its early years used Mardi Gras floats brought here by steamboat from New Orleans.
It was a nighttime parade then, and floats were lighted by torches and lanterns and eventually electricity from the city's street rail system. Today's floats still have a vintage feel, though the oldest float, the Circus Float, was built in 1991.
Clever craftspeople repurpose design elements from year to year. Who knew painted wood and Styrofoam could take us back in time? — Valerie Schremp Hahn
Favorite 40-year-old parade where you can act like you're 21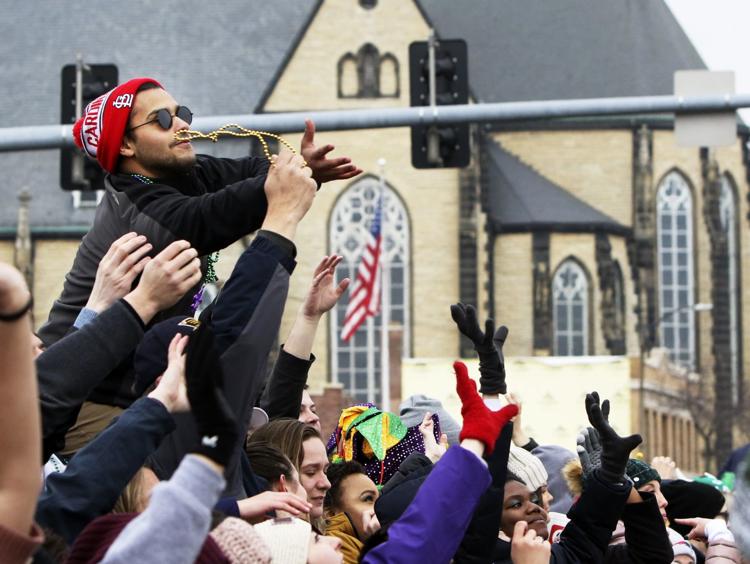 Mardi Gras Grand Parade
More info stlmardigras.org
What started as a party among friends at a Soulard rowhouse apartment has since grown into what many say is America's second-largest Mardi Gras celebration — behind New Orleans, of course. Yes, a few clashes with police marred its adolescence. Yes, growing crowds have caused growing pains. Soulard Mardi Gras — and its Grand Parade — turned 40 this year, but the event is determined to stay young. The 2019 event had its first regina, or queen of Mardi Gras, instead of the traditional rex, or king: Missy Kelley, CEO of Downtown STL Inc. And the Bacchanalian Ball replaced the usual Wine, Beer and Whiskey Taste event. Here's to 40 more years of good times. VSH
Most adorable, 'Brady Bunch'-iest place for a visit with Santa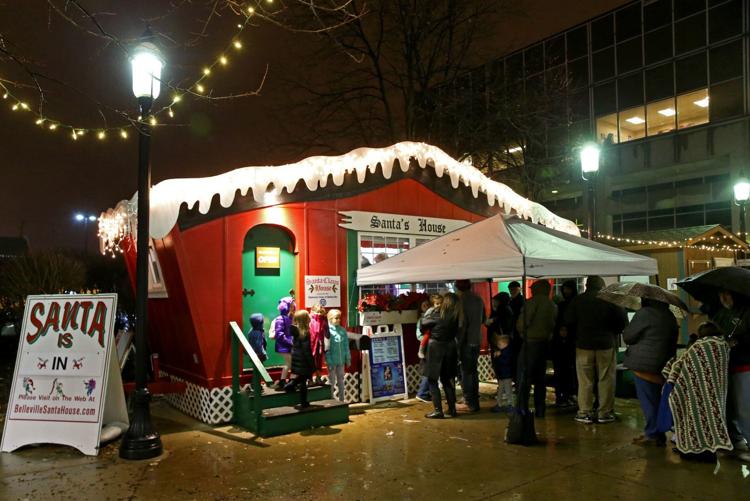 Santa's House
Where Belleville's town square • More info bellevillesantahouse.com
Belleville brewer Alan Bott designed Santa's House in 1963, and every year since, it's sat in the Belleville town square for the month leading up to Christmas.
Its slanted red walls and plywood snow dripping from the eaves evoke the aluminum Christmas tree era, and families have made a tradition of standing in line outside for a chance to visit Santa inside. The Optimist Club of Belleville runs the tiny house, which is really only big enough to hold a couple of families, a photographer, a helper and Santa himself.
Proceeds from photo sales help children and teens, ensuring that the magic made inside the house spreads far and wide. — Valerie Schremp Hahn
Cringiest photo op now that we have more information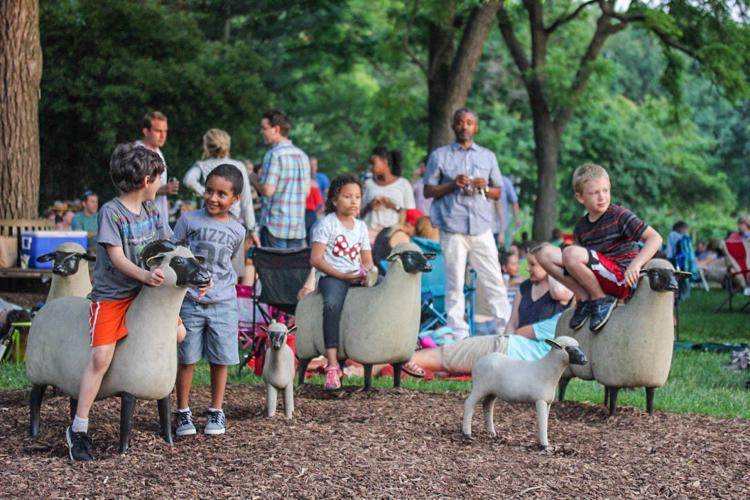 Sheep at Missouri Botanical Garden
Where 4344 Shaw Boulevard • More info 314-577-5100; mobot.org
Pretty much everyone who has chased kids around the Missouri Botanical Garden has gotten them to pause for just one dang minute for this adorable photo op: astride one of the eight sheep sculptures that stand near the children's and Chinese gardens.
The sheep were created by French artist François-Xavier Lalanne, who died in 2008. In December, eight similar sheep were auctioned at Sotheby's auction house in New York City for more than $1.9 million, or about $243,000 per sheep. Garden officials knew their sheep were worth something, and they say it's still OK to get those cute pictures.
They just might turn out a bit blurry; now that we know what those sheep are worth, our hands are still shaking. — Valerie Schremp Hahn
Favorite form of public transportation since the disappearance of Lime Bikes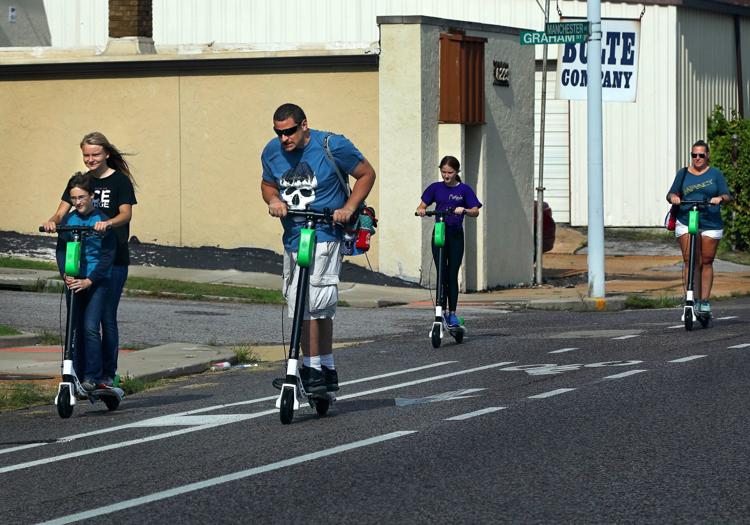 Lime Scooters
More info li.me
When Lime Bikes began to multiply across the city a year ago, they were a good way to squeeze in a little cardio.
The bikes since have been replaced by Lime electric scooters, which don't so much get your blood pumping as they do make you paranoid about hitting uneven pavement. The scooters don't seem as omnipresent as the bikes were, but it's still fun to hop on one and zip through the city like Pee-wee Herman at the end of every episode of "Pee-wee's Playhouse."
Just make sure to wear a helmet. (Bird also has scooters here; in our experience, Lime's are more consistely operational.) — Gabe Hartwig
Readers' picks
Favorite attraction to show St. Louis visitors • St. Louis Zoo, 1 Government Drive, Forest Park
Favorite Blues player • Vladimir Tarasenko
Favorite boutique store • Juju B's, 48 Four Seasons Shopping Center, Chesterfield
Favorite Cardinals player • Yadier Molina
Favorite casino • Ameristar Casino, 1 Ameristar Boulevard, St. Charles
Favorite casino for dining • Ameristar Casino, 1 Ameristar Boulevar, St. Charles
Favorite dog park • Willmore Park, 7200 Hampton Avenue
Favorite escape room • Mastermind Room Escape, 3900 Old Highway 94 South #1, St. Charles
Favorite festival or fair • Dogtown Irish Festival
Favorite Forest Park attraction • St. Louis Zoo, 1 Government Drive, Forest Park
Favorite free attraction • St. Louis Zoo, 1 Government Drive, Forest Park
Favorite haunted Halloween attraction • Fright Fest at Six Flags St. Louis, 4900 Six Flags Road, Eureka
Favorite hidden gem • Laumeier Sculpture Park, 12580 Rott Road
Favorite historic site • Cahokia Mounds State Historic Site, Collinsville
Favorite ice skating rink • Steinberg Skating Rink, 400 Jefferson Drive, Forest Park
Favorite July Fourth fireworks display • Fair St. Louis
Favorite kids attraction • City Museum, 750 North 16th Street
Favorite kids attraction for adults • City Museum 750 North 16th Street
Favorite neighborhood for shopping • Kirkwood Bonhomme Township
Favorite neighborhood for sightseeing • Soulard
Favorite outlet mall • St. Louis Premium Outlets, 18521 Outlet Boulevard, Chesterfield
Favorite parade • Ancient Order of Hibernians St. Patrick's Day Parade, Dogtown
Favorite park • Forest Park
Favorite place for a selfie (tie) • Boathouse, 6101 Government Drive, Forest Park; Citygarden, 801 Market Street
Favorite place for an animal encounter (tie) • Grant's Farm, 10501 Gravois Road; St. Louis Zoo, 1 Government Drive, Forest Park
Favorite place to experience flora and fauna • Missouri Botanical Garden, 4344 Shaw Boulevard
Favorite place to learn something new • St. Louis Science Center, 5050 Oakland Avenue
Favorite place to see holiday lights • Missouri Botanical Garden, 4344 Shaw Boulevard
Favorite pool/water park • Six Flags St. Louis, 4900 Six Flags Road, Eureka
Favorite recent addition to St. Louis • Museum at the Gateway Arch, Gateway Arch National Park
Favorite Six Flags ride • Screaming Eagle
Favorite St. Louis clothing designer • Arch Apparel
Favorite St. Louis Instagrammer • @hereliesmoon
Favorite St. Louis tweeter • @patrico1057
Favorite St. Louis Zoo animal • Kali the polar bear
Favorite stadium/arena concessions • Busch Stadium, 700 Clark Avenue
Favorite traditional shopping mall • West County Center, 80 West County Center Drive, Des Peres
Favorite trivia night • Action for Autism, 265 Steamboat Lane, Ballwin
Read more Go! List picks