The Go! List 2019: Food & Drink
There's a lot to love about St. Louis. In our seventh annual edition of the Go! List, we feature some of our favorite things. And we tallied the votes in our reader poll in more than 160 other categories. Check out the list — maybe it will help you discover something new to love.
By Post-Dispatch staff
Favorite accidental restaurant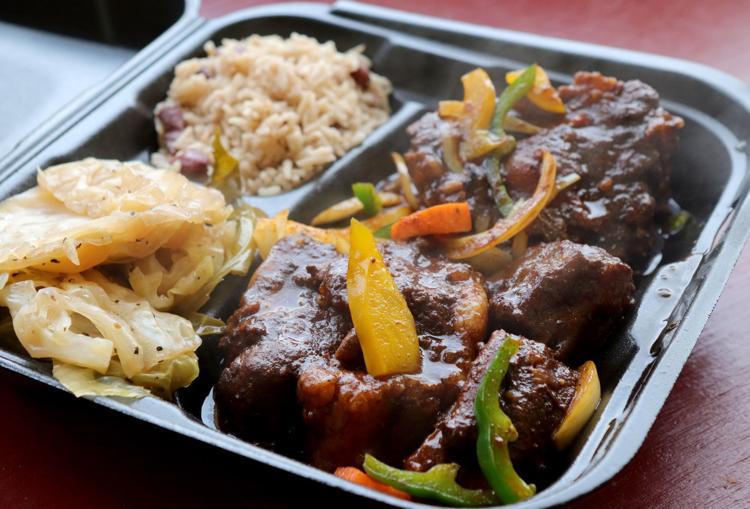 Jerk Soul
Where 2016 Salisbury Street • More info 314-601-3871; jerksoul.com
The small, takeout-only Hyde Park restaurant Jerk Soul is only a year old, but its story already feels like part of St. Louis dining mythology.
To recap, though a few sentences can hardly do it justice: Zahra Spencer and Telie Woods planned to open a restaurant in St. Thomas in the U.S. Virgin Islands. Hurricanes Irma and Maria redirected them here.
"That (restaurant) dream didn't get swept away with the storm," Woods told the Post-Dispatch this year. Their dream is now Jerk Soul, turning out top-notch Caribbean fare — the jerk chicken and oxtails vie for the title of signature dish — and such fusion fare as jerk-chicken pizza. — Ian Froeb
Favorite restaurant spinoff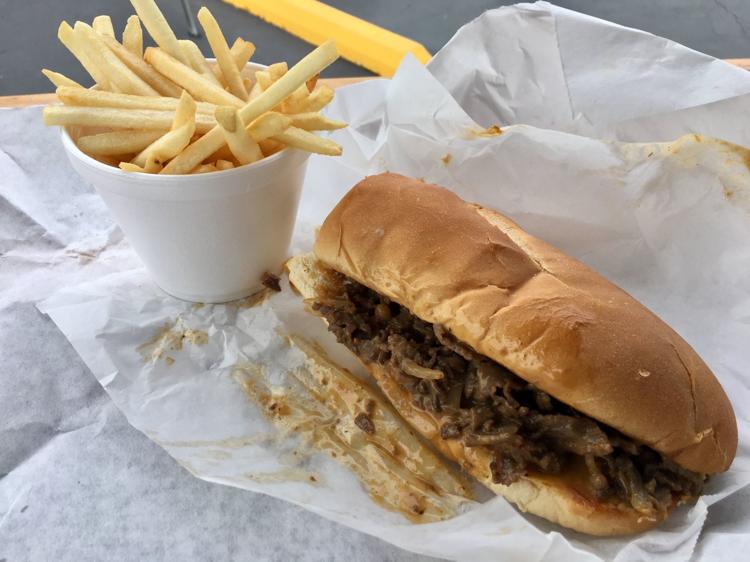 Gordon's Cheese Steaks
Where 518 Bailey Road, Crystal City • More info 636-933-9192; gordonsstoplightdrivein.com/cheesesteaks.html
Gordon's Stoplight Drive In has been a Crystal City treasure since 1948. Its nearby satellite, Gordon's Cheese Steaks, opened only two years ago, but it evinces a quirky, timeless charm. There is no indoor seating. You order your cheesesteak from a to-go window in the front of the small standalone building.
There are a few outdoor seats if you can't wait to tear into your food, which is quite possible. With all due respect to Gritty, the cheesesteak is the most glorious hot mess Philadelphia has produced, and Gordon's serves the finest I've encountered in St. Louis. Order it "Whiz wit'" for the fullest tangy, cheesy experience. — Ian Froeb
Favorite restaurant revival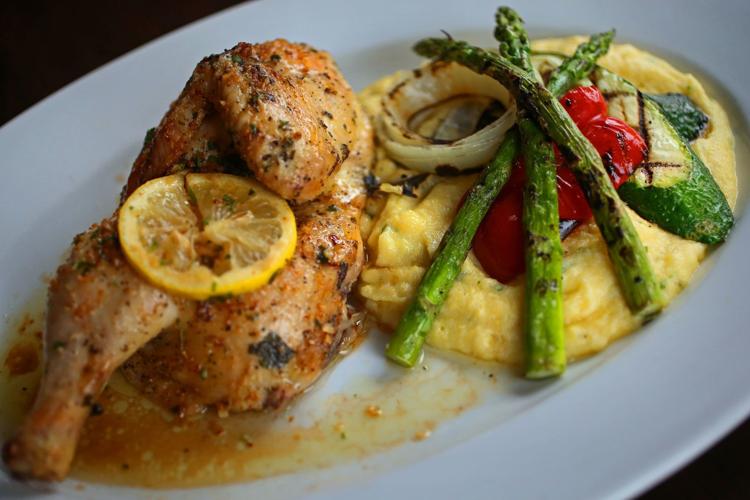 Del Pietro's
Where 1059 South Big Bend Boulevard, Richmond Heights • More info 314-224-5225; mikedelpietros.com
Michael Del Pietro didn't try to recreate his parents' iconic St. Louis Hills restaurant at the new Del Pietro's in Richmond Heights.
"Times have changed," he told the Post-Dispatch in 2017. What he has captured — or recaptured — is a spirit of communal, even familial dining.
Gather around the table for hearty plates of housemade tagliatelle in a veal-and-beef ragu or crisp veal Milanese over spaghetti. (In that latter dish, arugula is the vital modern accent lightening the dish.)
For the full throwback experience, keep an eye out for Del Pietro's mother, Mary Rose, saying hello to diners. — Ian Froeb
Favorite beer name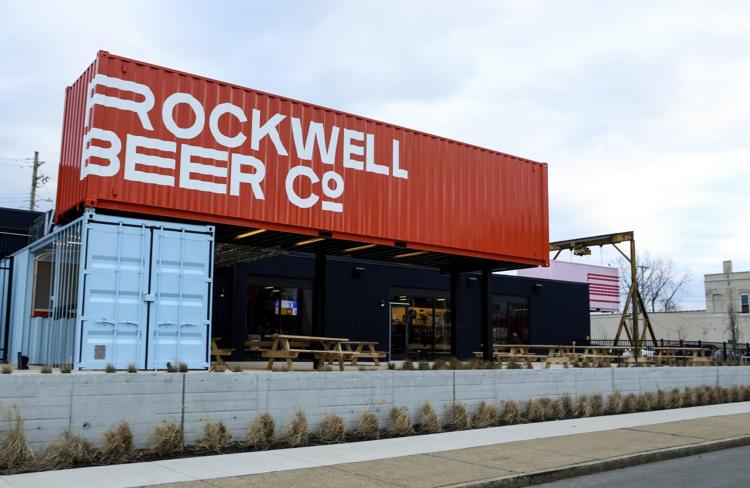 Rockwell Beer Co. Oxford Llama
Where 1320 South Vandeventer Avenue • More info 314-256-1657; rockwellbeer.com
The llama is the mascot of the new Botanical Heights craft brewery Rockwell Beer Co. Oxford Llama is Rockwell's low-ABV English-style mild beer. Please don't make us explain this very good dad joke any further. — Ian Froeb
Favorite St. Louis-style pizza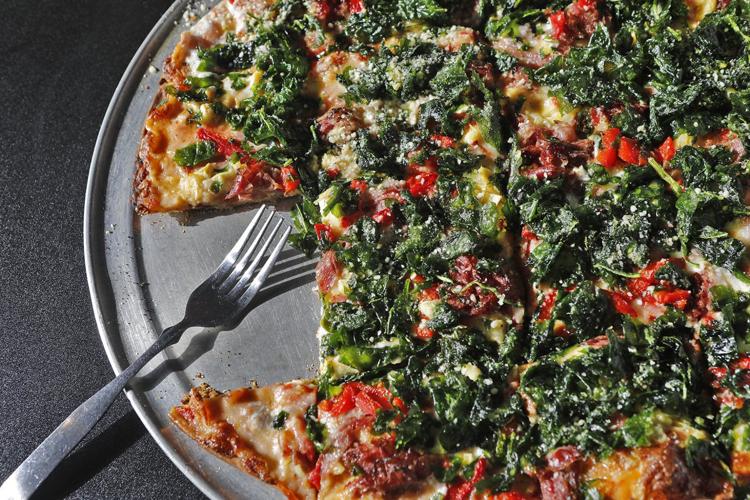 Liliana's Italian Kitchen
Where 11836 Tesson Ferry Road, Sappington • More info 314-729-1800; lilianasitaliankitchen.com
Liliana's Italian Kitchen serves St. Louis-style pizza for the devoted fan and the nonbeliever alike.
The devoted fan won't question the crisp crust and gooey cheese (Provel or a Provel-mozzarella blend, depending on your order). The nonbeliever will appreciate how the crust, while still quite thin, carries a bit more heft and chew than usual, while choosing the Provel-mozzarella blend will help the nonbeliever ease into St. Louis' most distinctive and divisive culinary tradition. — Ian Froeb
Favorite restaurant as community partner
Bloom Café
Where 5200 Oakland Avenue • More info 314-289-4371; thebloom.cafe
Individuals with disabilities need employment opportunities. Restaurants need employees. (Ask your favorite chef about the tight labor market.) And you always need a go-to spot for a good, affordable breakfast and lunch.
Enter Bloom Café, which the local organization Paraquad opened last year. The program provides individuals with disabilities with 12 weeks of training in restaurant work, a paid internship at Bloom Café or one of its partner restaurants and assistance with job placement.
"The most exciting thing about Bloom Café, I never realized how responsive the public would be," Paraquad CEO Aimee Wehmeier told the Post-Dispatch last year. "It's a place you can go and there's seniors, college students, other people with disabilities, families. It's an eclectic group." — Ian Froeb
Favorite introduction to a restaurant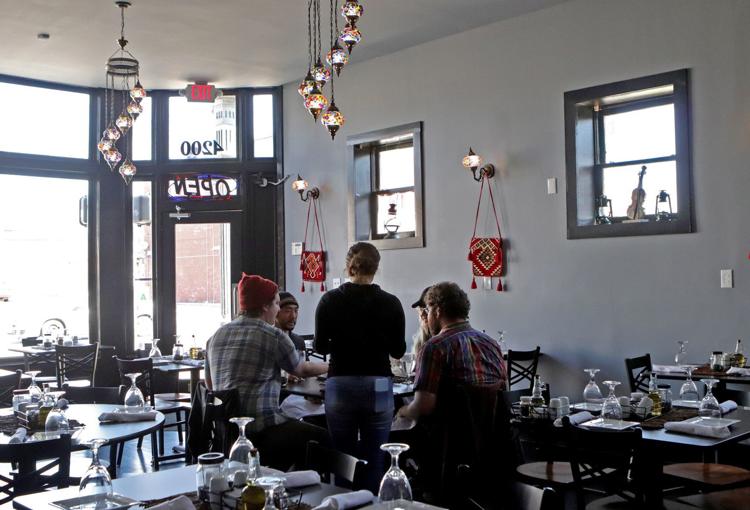 Lentil soup at Sultan Mediterranean Restaurant
Where 4200 Manchester Avenue • More info 314-390-2020
On my first visit to Sultan Mediterranean Restaurant, which opened in January in Forest Park Southeast's Grove district, I tried to order a bowl of lentil soup as a first course.
The soup arrived, but not because I ordered it. Chef Jenar Mohammed, who owns Sultan with her husband, Akram Saeed, sends every diner a bowl of the lentil soup as a welcome to the restaurant.
It is also an introduction to Mohammed's remarkable cooking, soothing you with warm curry spices and then jolting you with chile heat.
Carry on with your meal — I highly recommend the lamb shank or the Sultan Pilau — and you will soon be welcoming this vital new restaurant to St. Louis. — Ian Froeb
Favorite fried chicken
Goody Goody Diner
Where 5900 Natural Bridge Avenue • More info 314-383-3333; goodygoodydiner.com
You can order Goody Goody Diner's fried chicken by itself, and you would be happy. Goody Goody is a St. Louis institution for many reasons, its crisp, juicy and perfectly seasoned fried chicken chief among them.
But would you be as happy as you could be? No, of course not.
You must order Goody Goody's signature combination of fried chicken and a big, airy Belgian waffle to add the just-right note of sweet to the chicken's savor, salt and spice.
Are you still as happy as you could be, though? A friend and I recently ordered the chicken and waffles with an additional side of Goody Goody's hotcakes, and let me tell you: We were really happy with our decision.
(Goody Goody is closed until further notice because of a fire; we're hoping it's back in business soon.) — Ian Froeb
Favorite concrete concoction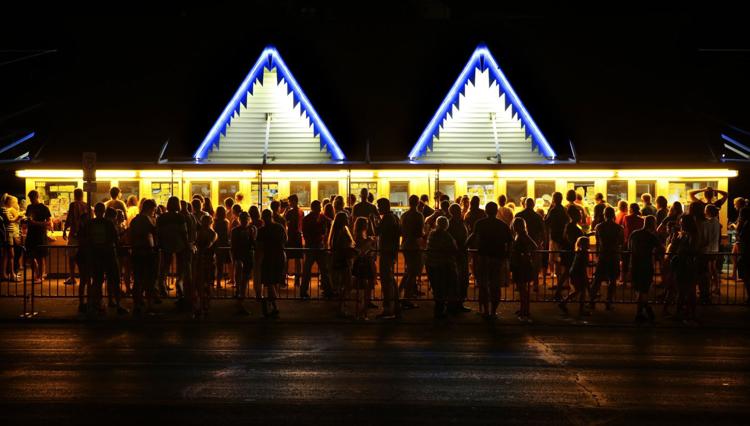 Ted Drewes' Muddy Mississippi
Where 6726 Chippewa Street; 4224 South Grand Boulevard (seasonal) • More info teddrewes.com
At Ted Drewes Frozen Custard, the options can be overwhelming. Just take our advice, and try the Muddy Mississippi.
It begins with peanut butter custard. (We know, right? Peanut butter custard!) Into that gets mixed pieces of ice cream cones and chocolate chips. It's peanut butter, chocolate and a malty crunch all at once.
Just don't hold it upside-down for too long. Eventually, it really will fall onto the ground. — Daniel Neman
Favorite downtown takeover by two restaurant empires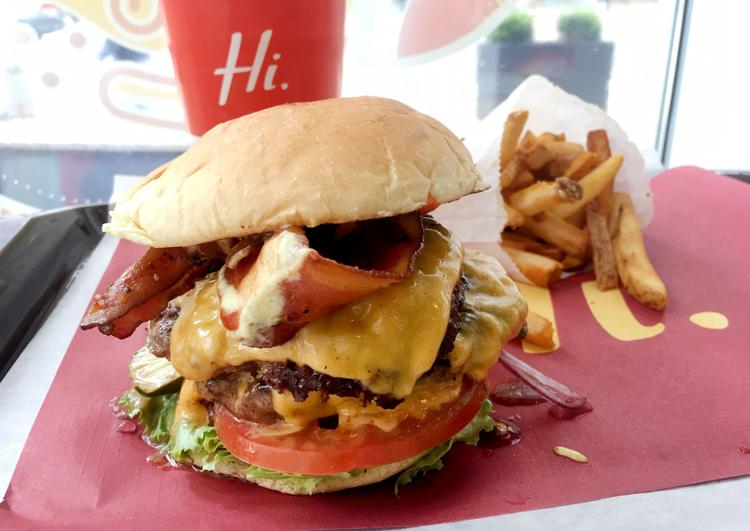 600 block of Washington Avenue
Where Pi Pizzeria, 610 Washington Avenue, pi-pizza.com; Gringo, 635 Washington Avenue, gringo-mx.com; Sugarfire Smoke House, 605 Washington Avenue, sugarfiresmokehouse.com; Hi-Pointe Drive-In, 634 Washington Avenue, hipointedrivein.com
St. Louis is fortunate to have lots of really great restaurants. We're even more fortunate when those restaurants spin off into multiple locations.
Downtown, there's a single block where you can sample four different concepts by two high-profile local restaurateurs. On opposite corners: Pi Pizzeria (pizza, obviously) and Gringo (Mexican) by Chris Sommers. On the other corners: Sugarfire Smoke House (barbecue) and the recently opened Hi-Pointe Drive-In (burgers) by Mike Johnson.
If you're not sure what you're in the mood for, take a gamble at one of these spots; it'll pay off. — Gabe Hartwig
Favorite reason to visit Laclede's Landing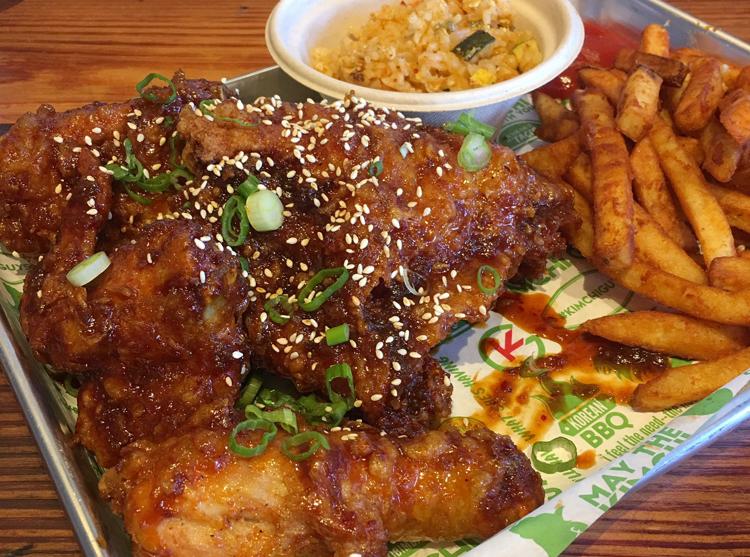 Kimchi Guys
Where 612 North Second Street • More info 314-766-4456; kimchiguys.com
While Gateway Arch National Park was undergoing its extreme makeover, getting to Laclede's Landing was a real pain. (Now the biggest obstacle is finding a parking space. Baby steps.)
But the historic district is on its way back, evidenced by the February opening of Kimchi Guys, located in the Cutlery Building. The Korean fried chicken joint started making our mouths water in 2017 with "opening soon" posts on social media, but the spicy, double-fried chicken was worth the wait. — Gabe Hartwig
Favorite grab-and-go addition to North St. Louis
GreenLeaf Market
Where 1400 North 13th Street • More info 314-449-1140; facebook.com/greenleafstl
We took interest as a supermarket sprouted within view of the north windows of our downtown newsroom, its neon-green facade beckoning like an H&R Block-hued oasis. Now in full bloom, it's a welcome addition to the neighborhood.
GreenLeaf market, part of developer Paul McKee's NorthSide Regeneration plan, opened in April. Inside you'll find all the grocery basics, but we're particularly taken with the rotating selection of prepared dishes on the buffet, perfect for grabbing at lunch or on the way home for dinner — fried chicken, wings, meatloaf, stewed cabbage, creamed greens and more.
There's a well-stocked salad bar, too, if you have the self-control to resist all those hearty, homestyle favorites. — Gabe Hartwig
Readers' picks
Favorite bakery • Ahne's Bakery, 201 West Mill Street, Waterloo
Favorite barbecue • Sugarfire Smoke House, multiple locations
Favorite breakfast • Uncle Bill's Pancake & Dinner, 3427 South Kingshighway
Favorite brunch • Rooster, 1104 Locust Street and 3150 South Grand Boulevard
Favorite buffet • Ameristar Casino, 1 Ameristar Boulevard, St. Charles
Favorite burgers • O'Connell's Pub, 4652 Shaw Avenue
Favorite Chinese restaurant • LuLu Chinese & Dim Sum, 9737 Manchester Road
Favorite cocktails • Planter's House, 1000 Mississippi Avenue
Favorite contemporary American restaurant • Eleven Eleven Mississippi, 1111 Mississippi Avenue
Favorite craft brewery • Hopskeller Brewing Co., 116 East Third Street, Waterloo
Favorite deli/sandwich shop • Amighetti's, 5141 Wilson Avenue
Favorite desserts • Ted Drewes Frozen Custard, 6726 Chippewa Street and 4224 South Grand Boulevard
Favorite diner • Courtesy Diner, multiple locations
Favorite dog-friendly restaurant • The Doghaus, 1800 South 10th Street
Favorite doughnuts • Old Town Donuts, 508 South New Florissant Road, Florissant
Favorite farmers market • Soulard Market, 730 Carroll Street
Favorite fine-dining restaurant • Trattoria Marcella, 3600 Watson Road
Favorite food truck • Seoul Taco
Favorite food truck destination • Tower Grove Park
Favorite french fries (tie) • Mac's Local Eats, 1227 Tamm Avenue; Urban Chestnut Brewery and Bierhall, 4465 Manchester Avenue
Favorite French restaurant • Vin De Set, 2017 Chouteau Avenue
Favorite fried chicken • Gallagher's Restaurant, 114 West Mill Street, Waterloo
Favorite Indian restaurant • House of India, 8501 Delmar Boulevard
Favorite Italian restaurant • Charlie Gitto's, 777 Casino Center Drive
Favorite Japanese/sushi restaurant • Nobu's Japanese Restaurant, 8643 Olive Boulevard
Favorite kid-friendly restaurant • Seamus McDaniel's, 1208 Tamm Avenue
Favorite late-night dining • Mission Taco Joint, multiple locations
Favorite Mediterranean/Greek restaurant • Olympia Kebob House and Taverna, 1543 McCausland Avenue
Favorite Mexican restaurant • Chava's Mexican Restaurant, 925 Geyer Avenue and 217 East Vandalia Street, Edwardsville
Favorite neighborhood for dining • The Hill
Favorite pizza • Hopskeller Brewing Co., 116 East Third Street, Waterloo
Favorite pub grub • Frankie G's Bar & Grill, 4565 Chestnut Park Plaza
Favorite restaurant for impressing out-of-towners • Good Buddy's Tasty Soups & Sandwiches, 1115 Pine Street
Favorite restaurant patio • John D. McGurk's Irish Pub and Garden, 1200 Russell Boulevard
Favorite restaurant wine selection • Sasha's on Shaw, 4069 Shaw Boulevard
Favorite restaurant/bar craft-beer selection • Hopskeller Brewing Co., 116 East Third Street, Waterloo
Favorite retail craft-beer selection • Randall's Wines & Spirits, 1910 South Jefferson Avenue
Favorite retail wine selection • Randall's Wines & Spirits, 1910 South Jefferson Avenue
Favorite seafood restaurant • Broadway Oyster Bar, 736 South Broadway
Favorite soul-food restaurant • SweetArt, 2203 South 39th Street
Favorite beer festival • Oktoberfest St. Louis
Favorite coffee roaster • Kaldi's Coffee, multiple locations
Favorite coffee shop • Kaldi's Coffee, multiple locations
Favorite St. Louis Lenten fish fry • St. Ferdinand School, 1735 Charbonier Road, Florissant
Favorite St. Louis-based restaurant chain • Sugarfire Smoke House, multiple locations
Favorite steakhouse • Citizen Kane's Steak House, 133 West Clinton Place, Kirkwood
Favorite Thai restaurant • King and I Restaurant, 3155-3157 South Grand Avenue
Favorite toasted ravioli • Anthonino's Taverna, 2225 Macklind Avenue
Favorite vegan/vegetarian restaurant • Lulu's Local Eatery 3201 South Grand Boulevard
Favorite Vietnamese restaurant • Mai Lee, 8396 Musick Memorial Drive, Brentwood
Favorite winery • Grafton Winery & Brewhaus, 300 West Main Street, Grafton
Favorite wings • DB's Sports Bar, 1615 South Broadway
Read more Go! List picks