When you walk in the Up-Down Arcade Bar, you are immediately greeted by the electric buzz of the pinball machines and shouts from behind the glow of a sleek bar as hundreds of people mill about the '80s, '90s arcade games and disappear behind black-and-white wallpaper. 
"It becomes this experience that people are just wowed by when they walk in," General Manager Joey Akers says. "This has been a project that we've worked really long and really hard on so it means a lot to us. I'm just really excited for people to see what we've done to the building."
Up-Down Arcade Bar opened June 14 in the Central West End, at 405 North Euclid Street. The location was formerly the Balaban's and then Herbie's space.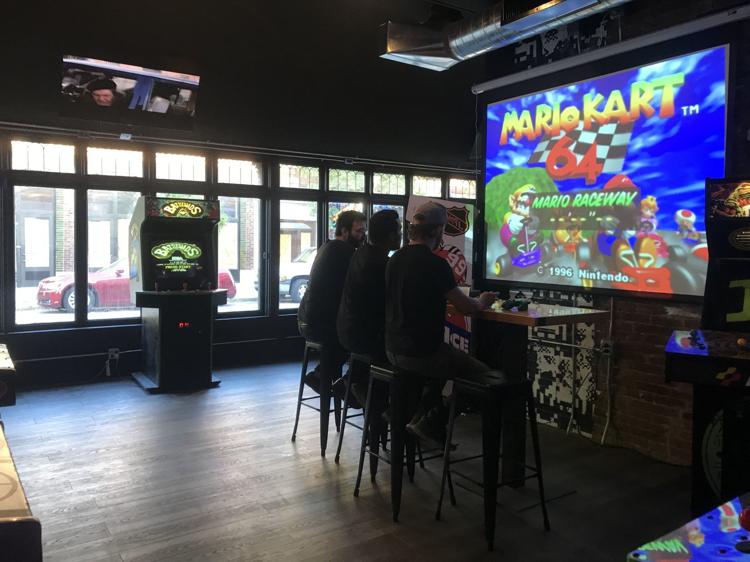 Structured like the old arcade bars of the '80s and '90s, Up-Down Arcade has more than 50 arcade games, such as Indiana Jones pinball and Killer Queen, each costing only 25 cents. The bar also includes more  pinball machines, four Skee-Ball alleys, Nintendo 64 console gaming, life-size Jenga and Connect Four. Up-Down Arcade Bar serves an extensive craft beer selection and has 60 beers on-tap. If you're hungry, you can buy pizza by the slice and enjoy the bar's unique toppings, such as the Mac'n'Cheese.
"People might just go for the bar, they might just go for the games, they might just go for the pizza," Akers says, but there are other great elements to the bar such as the eclectic wallpaper, neon signs and outdoor patio.
During the soft opening last week, hundreds of people flowed through the bar, filling up every inch and crevice to chow down on pizza, order from the extensive bar menu and play both arcade games and outdoor patio games. 
"It's a different environment," Up-Down employee Travis Thomas says. "You have a lot of games and movies playing from the '80s, '90s and you don't get that feel anywhere else because it's just original, so I like it because it brings an older crowd."
Up-Down Arcade Bar has two floors of arcade games, handicapped accessible and an outdoor patio lighted by globe string lights.
"It's way bigger than a lot of the places I've been to in Kansas City, and it's a lot bigger than the one they had in Edwardsville (Kansas)," Weston Burger, 29, of Creve Couer says. "I'm seeing machines here that I haven't seen in years."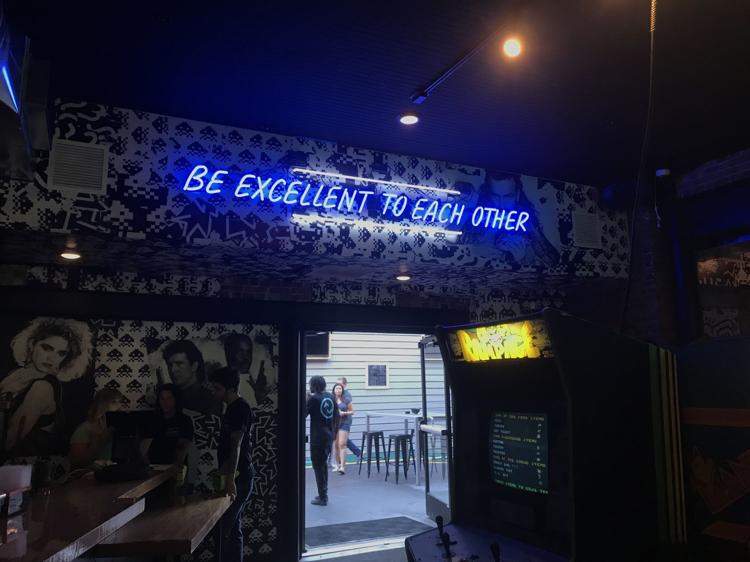 Due to neighborhood complaints regarding worries of noise, garbage and parking, the business had initial struggles in getting the project going.
"I think that what they were concerned about was that they didn't think it was the right fit for the neighborhood," Akers says. But now, he says, there has been more support for the venue than there has been controversy.
"I have had people who have gone out of their way to help us out and really encourage us so we're incredibly grateful to the neighbors that have been open and discussed issues and concerns with us and who have gotten us to this point," Akers says. "We look forward to being here as a good neighbor and a successful business for a long time."
Up-Down Arcade has several locations around the country in Des Moines, Iowa; Minneapolis; Milwaukee; Kansas City; and Nashville, Tenn.
Up-Down Arcade • 405 North Euclid Street • Hours 3 p.m. to 2 a.m. Monday-Friday and noon to 2 a.m. Saturday and Sunday • More info updownarcadebar.com/st-louis/