Can a rabbit ever be as cool as Mischief the raven?
Last weekend, he sold 42 of his paintings at an art auction, making more than $1,000 for his home, the World Bird Sanctuary in Valley Park. And this week, a video of his trainer Paige Davis petting him went viral.
In the video, he looks like a rabbit. No, a raven. No, a rabbit.
"It's not the first time he's really gone viral, so it's not too unusual," Davis said, in between fielding emails from news outlets such as CNN, the "Today" show, Time and more. "But it's been busy."
Davis, the facility's curator of bird training, took the video in 2017 and posted it to her Instagram page. At first, people commented that the animal in the video looked like a rabbit. She noticed as well but didn't think much of it. This week, a scientist from Norway named Daniel Quintana found the video on an image-sharing website and tweeted it with the caption, "Rabbits love getting stroked on their nose."
He's referring to the famous rabbit/duck optical illusion first published in 1892 in a German magazine. Shift your gaze one way, you see a duck. Shift it another, you see a rabbit.
Shift your gaze at Mischief in the video one way, and you do see a rabbit. Even though he can hoot like an owl, he's all raven. An 18-year-old African white-necked one, to be precise.
"He is kind of a particular bird," Davis said. "He doesn't really make friends with humans very easily. It took me like a year before he started giving me body language asking me to pet him, which is really special."
Davis explained that many birds will groom one another that way. It's a natural behavior called allopreening. "He's kind of chosen me as his flock member," she said.
In addition to sometimes looking like a rabbit, Mischief can say "hi," "hello," "go to your perch," and "hey, Misch" ("I call him Misch a lot so that's kind of cute," Davis said.)
Mischief also coughs like a man. Videos of him talking have gone viral.
He paints by dipping a sponge in paint and dragging it across a canvas. The sanctuary often sells his art online to make money for its conservation work.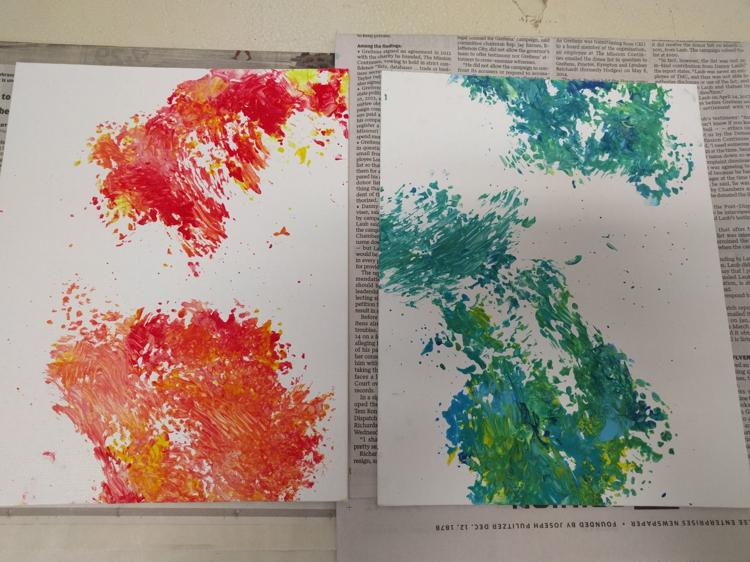 He was born in another facility and trained to be an education bird, and one of his talents is recycling — during the sanctuary's educational shows, he puts bottles and cans into a trash can, and the trainers tell the audience, "recycling is so easy, even a bird can do it!"
One of his favorite jobs is collecting money from audience members and putting the bills into a donation box. Davis thinks he likes that job because he gets to sit on the box and not fly around.
Davis, 27, grew up near Pittsburgh and studied wildlife science in college. She joined World Bird Sanctuary about five years ago.
It didn't take long before she and lead eagle trainer and assistant director Daniel Cone met and fell in love. Cone had Clark the bald eagle bring her the engagement ring. They hope he will be the ring bearer at their spring 2021 wedding.
She has a job in mind for Mischief, too.
"I was hoping to maybe train him to be the flower girl, because he loves throwing things," Davis said, laughing. "I thought, he could just throw flowers."