Originally published on May 16, 1999, in the Post-Dispatch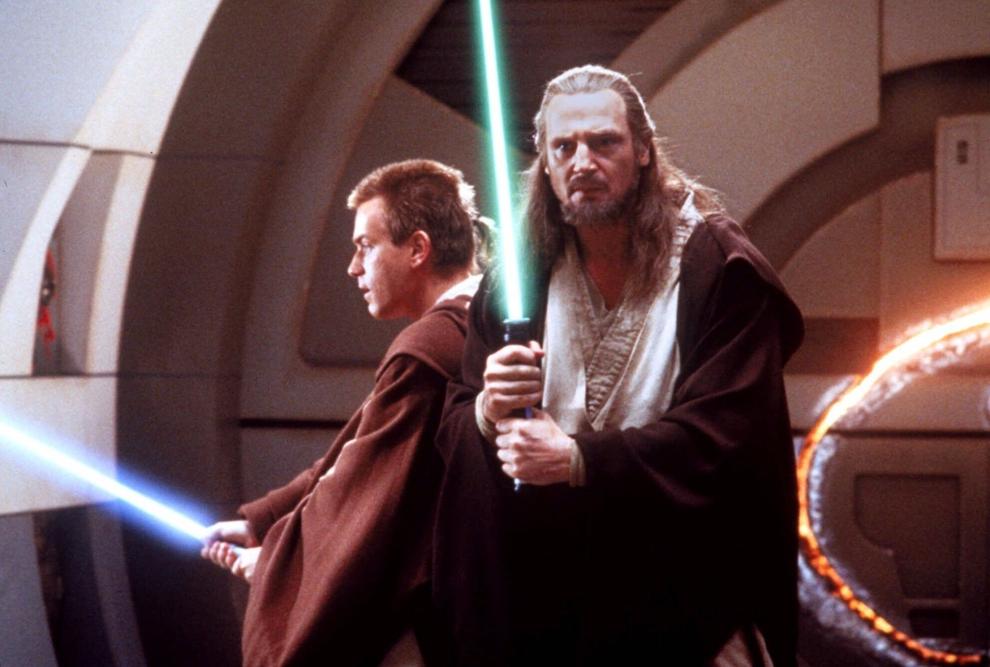 The new "Star Wars" episode is a good movie. But I had to see it twice to reach that conclusion.
This installment, a prequel to the three movies released from 1977 to 1983, serves as the beginning of George Lucas' serial about good and evil in a galaxy far, far away. But until Lucas saves the movie with a rip-roaring conclusion, the film is close to being far, far too long and emotionally detached.
The movie is fun, for the most part, and several scenes — especially a breathtaking "pod" race and a long lightsaber battle — are as good or better than anything Lucas created in the original films.
The human characters, however, are not nearly as interesting as those in the earlier episodes and too often take a back seat to the special effects.
Taking a cue from Lucas' love of trilogies, let's divide "Star Wars: Episode I — The Phantom Menace" into three parts, each lasting roughly 40 minutes.
The first section is a standard scene-setter. Viewers are introduced to the crisis and players: Soldiers from the greedy Trade Federation have thrown a blockade around the planet Naboo. Two Jedi — master Qui-Gon Jinn (Liam Neeson) and his apprentice, young Obi-Wan Kenobi (Ewan McGregor) — act as emissaries to solve the conflict.
But they, and Naboo's 14-year-old Queen Amidala (Natalie Portman), don't know that two evil Sith lords, Darth Sidious and Darth Maul (Ray Park), plan to kill the Jedi and take control of peaceful Naboo.
The two Jedi escape the blockade and land on Naboo shortly before the federation attacks. Inadvertently, Qui-Gon (pronounced Kwai-Gonn) saves the life of a Gungan, a race of people who live on Naboo.
This particular Gungan, Jar-Jar Binks, is a bit of a rogue and none too courageous. But he does pave the way for the Jedi to escape Naboo and whisk the queen to safety for a meeting with Naboo's Senator Palpatine (Ian McDiarmid).
The Jedi land on Tatooine — the land run by the Hutts, where Han Solo had to blast Greedo in the classic space saloon scene of 1977's "Star Wars" — and discover a very precocious, 9-year-old Anakin Skywalker (Jake Lloyd). We all know this little guy has a real dark side.
This set-up, on first viewing, was distracting, but necessary to introduce the characters that will now weave their way through the next episodes (two more movies are planned). There is some good action and it already becomes clear that Lucas has taken the already brilliant effects from Industrial Light and Magic to a new level. Give this first section three stars.
Now, if Lucas would have just stepped up the action. Instead, the second part is consumed by computer-generated characters; fuzzy, muddled psychocelestial babble; and a painful lack of human spirit.
When Lucas goes for the human touch, it is often stilted and ponderous. Coupled with the exposition-laden first section, the second section drags the movie down close to the point of boredom — except for the pod race, the movie's special-effects highlight. Give this section two stars.
The last third is pure action, also in three parts: Queen Amidala goes into battle with her guards; the Gungans square off against federation droids in a massive battle scene; and Qui-Jon and Obi-Wan go saber-to-saber with Maul. It rocks. It screams. It's fun. Give this section four stars.
Simply put, the movie lacks a character like Han Solo or Luke Skywalker, someone to provide some human excitement, emotion and humor. Qui-Jon is an example of honor and duty, but the talented Neeson underplays this role too much. McGregor's Obi-Wan is not in the movie enough to develop any following; and Maul, a potentially great villain, is lost in the shuffle.
As for Jar-Jar, he is a Disney-like lovable creature aimed at entertaining 6-year-olds. I found him distracting at first and irritating by the end.
Seeing a movie twice to understand it better is fine, but it is not a plus when two viewings are needed to enjoy it. But I did enjoy it, kids will love it and this episode develops interest in the next movie, set for 2002.
Here's hoping that next movie has a little more heart and a little less hard drive.
---
'Star Wars: Episode I — The Phantom Menace'
Three stars (out of four)