Originally published on May 22, 1980, in the Post-Dispatch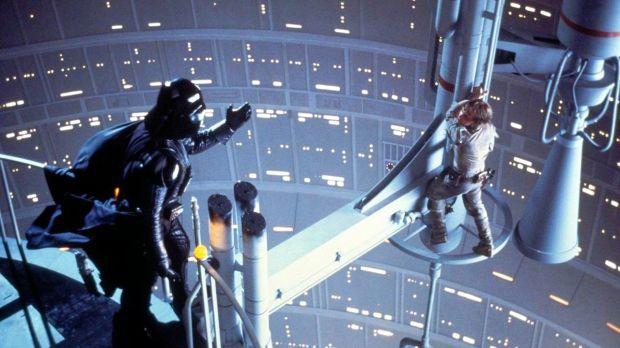 "The Empire Strikes Back," the first sequel to "Star Wars," has arrived in all the glory of its special effects and the genius of George Lucas. And it's certainly a spectacular motion picture with exciting technical work and remarkable, gripping display of space hardware and the magic that can be created in film.
On the other hand, it's a sequel, and it has the drawbacks that all sequels possess — too much familiarity with the people and the special effects — and there wasn't enough new material, or expansion of the old, to keep my attention as riveted as it was the first time around.
Lucas passed his director's chair to Irvin Kershner and his typewriter Leigh Brackett and Lawrence Kasdan, but as executive producer he obviously remains in control because the rather light, tongue-in-cheek approach to inter-galactic strife remains, and it is a charming constant that runs through both films.
There also are a couple of new characters, an entertaining real one portrayed by Billy Dee Williams, and a marvelous miniature created by Frank Oz, who, as everyone knows, also is responsible for the creation of Miss Piggy and several other Muppet characters. It must have been a strain for him not to try to persuade Lucas to include a "Pigs in Space" sequence.
Oz's handiwork is Yoda, a small creature with a large head and immense, pointy ears who is a messenger of sorts from Ben Kenobi, delivering wisdom and information about the Force to Luke Skywalker. Kenobi was killed in the first film, so Sir Alec Guinness makes only a couple of brief, ghostly appearances. 
The creature's speech isn't always easy to understand, but when Oz's expertise is combined with that of Lucas, it becomes a marvel of technical handiwork. It's fun to speculate on how it works. I would guess that there are really several creatures, with a radio-controlled one for long shots and perhaps even some animation techniques used for close-ups along with the standard puppetry wizardry that Oz possesses.
Williams portrays Lando Calrissian, a man of unknown background who is something of an outer-space hustler and an old friend of Han Solo. He's a pilot, a soldier of fortune and a gambler, among other things, and he serves both as a betrayer and a rescuer of our heroes along the way. It's nice, too, that while most people are in rather formal military garb, Williams wears a pink shirt.
It's a charming character, and we can probably look forward to seeing him again in future episodes.
Mark Hamill and Harrison Ford are back as Skywalker and Solo, respectively, and so are the other regulars, David Prowse (and the voice of James Earl Jones) as Darth Vader, Anthony Daniels as C3PO, Kenny Baker as R2-D2 and Peter Mayhew as Chewbacca, the Wookiee, whose part also has been expanded and who adds some moments of delightful humor. He also proves that lines are not necessarily vital to an actor's art.
Oops, I almost forgot her, but Carrie Fisher is easy to forget as Princess Leia, a part that calls for — and receives — minimal acting ability. Of course, as the daughter of Eddie Fisher and Debbie Reynolds, all her shortcomings are naturally acquired.
There are a few other new, imaginative creations, too, such as a strange, giant kangaroo-type animal that inhabits the frozen planet of Hoth and is ridden like a horse, and a device that looks like a cross between a military tank of the future and a walking Trojan horse.
When it comes to the battle scenes, Lucas re-creates a lot of World War II, with the new devices, of course. But a skirmish in the snow, with trenches, infantry, those surrealistic tanks and attacking fighter planes, is right out of many old war films, and the aerial dogfights show a similar heritage.
Despite a couple of drawbacks, "the Empire Strikes Back" is an immense amount of fun — big and splashy and breathtaking in its display of cinematic genius by a huge group of marvelously talented people such as Stuart Freeborn, in charge of makeup and special creature design, and Leslie Dilley, Harry Lange and Alan Tompkins, who are the art directors. Another sequel is already in the works, and it will be as eagerly welcomed as its predecessors.