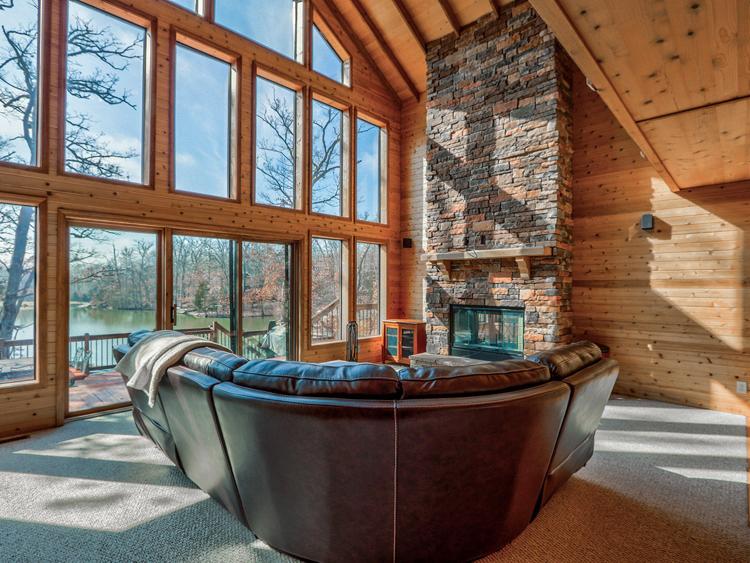 Innsbrook Resort is made for getaways – for a weekend or forever - with more than 100 lakes, sandy beaches, nature trails, a fitness and aquatics center with a lazy river, a restaurant, a championship 18-hole golf course, a historic village and family events for all ages. But in this new era of social distancing, the resort community is stepping up to meet the needs of families who'd rather isolate in paradise, relaxing lakeside or overlooking the vast woodlands, instead of holed up in the suburbs.
Nature is never closed: social distancing at Innsbrook comes naturally 
Innsbrook's timeless community offers solace from life's stressors and makes social distancing effortless and enjoyable. Whether fishing, kayaking, swimming, hiking or relaxing on the beach or in a hammock, residents and guests can soak up nature while maintaining serene solitude. And, when public health restrictions are lifted, Innsbrook offers countless opportunities for social connections, from classes and workshops to cultural events, concerts and festivals. In the meantime, the resort has a full roster of fun virtual events for property owners and guests, from art contests to online cooking competitions and even a virtual dog show! 
The peaceful lakeside resort community – just a 30-minute drive from St. Charles, or Chesterfield – is already so appealing for families who want more quality time spent together in nature. But lately, Innsbrook is also focused on upgrading its amenities, including both their golf course and restaurant, so that property owners and guests are sure to experience all nature has to offer, but with a touch of elegance and luxury not found at other area lakeside destinations. 
Renovations and expansions upgrade the getaway experience 
Innsbrook's 18-hole championship public golf course recently received a facelift – to the tune of $3 million in course renovations. The resort's investment in tees, greens, fairways, equipment and management aims to provide golfers with an exemplary golf outing. The entirely new golf experience lets golfers tee-off while enjoying plush Zoysia fairways, kept fresh by the course's new state-of-the-art irrigation system boasting 87,000 linear feet of pipe and 133.5 miles of wiring. 
Golfers will enjoy all brand-new Club Tempo golf carts, boasting USB ports, sand bottles for fixing divots and extra-comfortable seats, perfect for driving or riding smoothly along the sleekly repaved cart paths. Course management recently acquired 25 additional carts, allowing more guests to ride alone, to maintain a safe social distance from other players.
"Customer reviews are better than ever, which is directly attributable to the projects completed, and the hard work of our maintenance staff who work wonders at keeping the golf course in fantastic shape!" said Innsbrook Golf Pro, Kevin Corn. 
Like the golf course, Innsbrook's popular Clubhouse Bar & Grille restaurant recently underwent renovations. The upscale restaurant and bar now features an open-concept design, expanded dance floor, mounted big-screen televisions in the dining room, recessed, adjustable ambiance lighting and a speaker/sound system for performing bands.
"Our remodel makes the Clubhouse more versatile, and we look forward to hosting a wider variety of entertainment, such as open mic nights, trivia and standup comedy shows, along with larger bands," said Clubhouse director Kimberly Robinson. New menu items, drink specials, festivals and themed buffets are also in the works for 2020 once the CDC guidelines allow for group gatherings and dine-in seating.
Innsbrook's community of getaway homes and permanent residences is growing too, and its newest hamlet, Frieden Lake, is a prime spot for those seeking a wooded or lakefront chalet with an expansive wall of windows, or a treehouse model that brings nature directly into the home. Tucked into the beautiful 1,500-acre Tyrolean region of rolling hills and forests, Frieden means "peace" in German. The apt moniker captures the tranquil peace of mind that comes with knowing that kids can discover nature safely and families can simply relax, within the boundaries of a gated community. 
Property owners can retreat to their secluded private dock or their wrap-around deck overlooking the forest or lake. The kids can skip stones, roast marshmallows, track wildlife or build forts – harkening back to the days when having fun meant freedom to get hands dirty while exploring all nature's wonders. It's the best of both worlds for those who want to be in sync with nature, but with all the comforts of home within reach. 
Schedule a tour of one of the beautiful properties listed by Innsbrook. To speak with an Innsbrook expert agent today about finding the perfect lake house (without going too far), check out innsbrook-resort.com, call 636.928.3366 x9199 or email property@innsbrook-resort.com.
Be the first to know
Get local news delivered to your inbox!