"Window treatments do more than just make a room look warm and inviting. They also provide insulation, keeping your home cool in the summer and warm in the winter," the owners of Windo Van Go explained while discussing some of the best ways to insulate with window treatments. Philippe and Julie Tolmais started Windo Van Go in 1991, serving the St. Louis area for 29 years. They have taken great pride in their personal, friendly service and expert installation. Philippe personally installs the window coverings and guarantees the clients' satisfaction.
Windo Van Go makes selecting and ordering custom window treatments easy and efficient. Their experts will come to your home at no charge to discuss window covering choices, take measurements, show samples and will follow up with a price quote. "Making a selection from home is convenient and it allows the customer to see how the window treatment will really look in their space" says Julie. Windo Van Go sells major brands like Alta Window Fashions, Skandia, Graber and Hunter Douglas with deeply discounted prices. Measuring and installation are always free. They offer a wide variety of plantation shutters, blinds, shades, upholstered cornices and draperies.

Window Treatments can dramatically increase the energy efficiency of your home saving money on utility bills. Window treatments create a pocket to stop the hot and cold air. Products like the honeycomb shades add another layer of insulation by trapping the air inside the cell. Shutters are an excellent insulator because they tightly seal up the window keeping the heat and cold out. To find out more call and schedule an in-home consultation with the professionals at Windo Van Go.
Shutters are one of Windo Van Go's most popular products. They provide so many aspects to your window--great decor, superb insulation, flexibility of light control from room darkening to light and open. Composite/vinyl shutters come in white and off-white and are easy to clean and care for, and are more cost efficient. Wood shutters come in a variety of paints and warm stains. All of their shutters come with a variety of frame styles that work with your window.
Like shutters, blinds give you the flexibility to control your light with just the tilt of the louvers. Still popular and maintenance free, they come standard with a decorative valance to finish off your window and are cost friendly.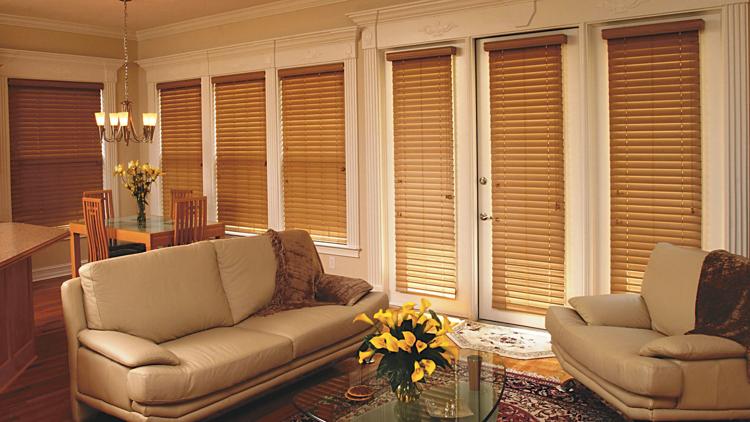 Honeycomb shades offer a soft, light look to your window and give you excellent insulation and privacy at the same time. There are many configurations to honeycomb shades: standard raised from the bottom or a top down/bottom up gives the choice of stacking the shade at the bottom or the top or anywhere in between. These are great for bathrooms and bedrooms where many would like privacy at the bottom and openness at the top. Cordless shades are a great option to keep the cords away from the children, and motorized are great for the hard to reach windows.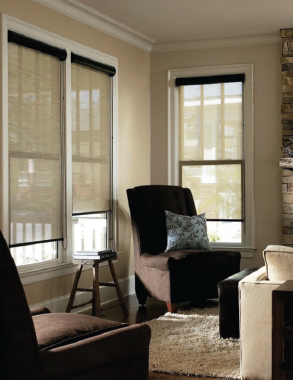 Roller screen shades are a popular option for shielding out sun when you don't need privacy. They are also a great exterior option for screen porches as they are able to withstand the elements.
Now serving parts of Illinois!
(636) 394-3411 St. Louis/ IL
(636) 926-8171 St. Charles Area