Finding a job that combines good pay and strong growth potential is a dream come true. Add in the possibility of helping others, and it's almost too good to be true. Or maybe not. Fitness jobs are popular throughout health care, which means you can generate a strong career for yourself.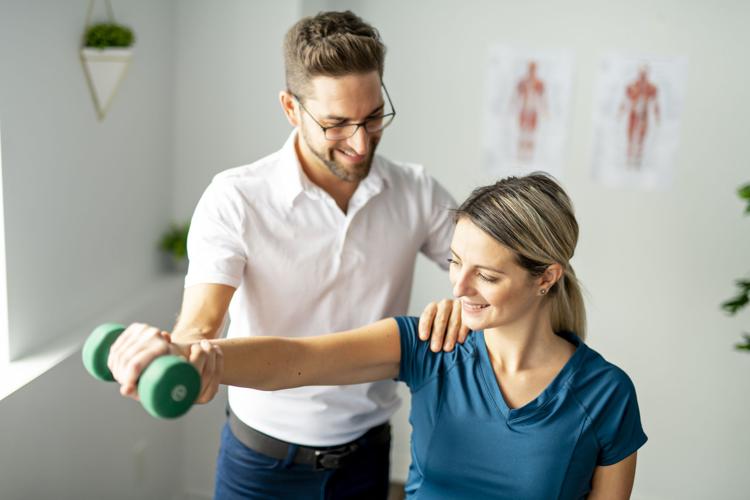 According to the Bureau of Labor Statistics (BLS), the health care indus- try is projected to grow a whopping 18 percent through 2026. Using BLS data, Monster identified seven health care jobs that are dedicated to helping set patients on the path to well-being while offering great job growth and some pretty awesome salaries too.
What you'd do: Athletic trainers work with professional athletes but also with non-athletes—from young children to soldiers—to prevent, diagnose and treat muscle and bone injuries and illnesses. They also create comprehensive programs for athletes to prevent injury and illness, and rehabilitation programs for injured athletes.
What you'd need: A bachelor's degree is needed, but master's degrees have become more common. State requirements vary, but most require athletic trainers to be licensed or certified.
What you'd make: $46,630 per year
What you'd do: Exercise physiologists develop fitness and exercise programs to improve cardiovascular function, body composition and flexibility to help patients recover from chronic diseases and disorders. They make individualized fitness regimens for each patient depending on an individual's goals and medical history.
What you'd need: A bachelor's degree in science or health-related courses is needed. Currently, Louisiana is the only state that requires exercise physiologists to be licensed.
What you'd make: $49,090 per year
What you'd do: Massage therapists treat clients by using touch to manipulate the muscles and other soft tissues of the body. With their touch, therapists relieve pain, help heal injuries, improve circulation, relieve stress, increase relaxation and aid in the general wellness of clients.
What you'd need: Massage therapists typically complete a postsecondary education program of 500 or more hours of study and experience, although standards and requirements vary by state or other jurisdictions. Most states regulate massage therapy and require massage therapists to have a license or certification.
What you'd make: $39,990 per year
What you'd do: Occupational therapists treat the injured and disabled to improve their ability to perform skills needed for daily living or working. They evaluate a patient and recommend different exercises, equipment or changes to a patient's environment to help them live a more independent life.
What you'd need: Occupational therapists must have a master's degree and be licensed to practice. In the degree program, occupational therapists go through 24 weeks of supervised fieldwork to gain clinical experience.
What you'd make: $83,200 per year
What you'd do: Physical therapists work with patients during rehabilitation from chronic conditions, illnesses or injuries. A physical therapist assesses each patient's needs and develops a plan consisting of exercise, functional movement training and/or the use of canes, wheelchairs, etc. The goal is to increase the patient's range of mobility.
What you'd need: A Doctor of Physical Therapy (DPT) degree is required. The program lasts about three years and students usually need a bachelor's degree before they enter the DPT program. All states require that physical therapists be licensed.
What you'd make: $86,850 per year
What you'd do: Recreational therapists work with people who are disabled, ill or injured to help improve their physical, social or emotional well-being. They develop and coordinate recreation-based treatment programs for patients, often including activities such as dance, art, sports, aquatics or drama. For patients with limited mobility, the recreational therapist may offer lessons on how to perform tasks by emphasizing the functional parts of their body.
What you'd need: Recreational therapists need a bachelor's degree in recreational therapy or a related field, such as recreation and leisure studies. Most employers require their recreational therapists to be certified.
What you'd make: $47,680 per year