What's the biggest predictor of job happiness? Hint: It's not about how large your paycheck is (though a healthy salary never hurt anyone!) What job satisfaction really boils down to is whether or not you fit in with the company culture.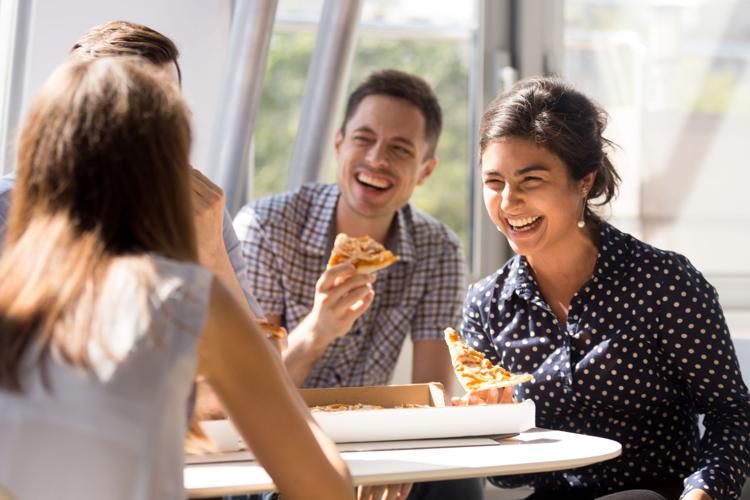 What exactly is cultural fit? It more or less refers to whether or not your values and work style match up with those of a company. If you value work-life balance, having fun and an easygoing office environment, you're probably not going to do well working the floor of the New York Stock Exchange. On the flip side, if you work best under pressure, are results-driven and thrive in an atmosphere of hustle and bustle, massage therapy likely isn't an appropriate career path.
When evaluating a company or job offer, it can be tempting to bump company culture to the back burner when you're faced with the potential for a fat paycheck or killer benefits. But more and more, workers are looking for jobs where they feel a connection. Case in point: Online learning site Udemy surveyed 1,000 workers and found that 62 percent would accept a pay cut to work for a company with a mission that mirrored their values (that figure leaped to 78 percent for millennials polled).
Here are three reasons why workplace culture is so important for job seekers to consider when evaluating prospective employers—as well as some tips on how to assess company culture to find the right fit.
Employers often weigh cultural fit over skills
Cultural fit isn't just important for you the job seeker—it matters to employers, too. In fact, nearly all (96 percent) of the HR leaders recently surveyed by ThriveMap said recruiting for cultural fit is crucial. That echoes a Randstad analysis of 200 workplace studies that found cultural fit is more important in predicting an employee's commitment to their employer than any other factor, including skill, talent or experience.
Moreover, a whopping 94 percent of executives recently surveyed by Deloitte said they believe a distinct culture is important for success. "Employers know that cultural fit has a tremendous impact on an employee's stress level, optimism and productivity," says Chris Edmonds, author of The Culture Engine: A Framework for Driving Results, Inspiring Your Employees, and Transforming Your Workplace.
When you're applying to a job, make sure your cover letter and resume give some insight into your values and work style, not just your skills and experience.
You'll feel connected to something bigger than yourself
Whether you're a diehard fan of a certain sports team, have a passion for arts education or can recite every song lyric by your favorite band, there are real emotional and mental benefits that come with belonging to a community of likeminded people.
If a company's culture is in tune with your own, going to work every day will feel more like you're part of a team and contributing toward a common goal.
Cultural fit drives career success
Not only are you likely to feel better about going to work, you're also more inclined to be better at what you do when the workplace culture is a good fit and you feel comfortable there.
"A good company culture makes you work harder," says Edmonds. "It also fosters a sense of community that gives you a sense of cohesion and better collaboration, which enables you to hone your skills."
Obviously, you still have to put effort into your job in order to be successful. "An unprofessional, non-team player with low drive won't be a better employee because the culture is great," says Lizz Pellet, author of The Cultural Fit Factor: Creating an Employment Brand That Attracts, Retains, and Repels the Right Employees.
How to gauge company culture
Now that you know why cultural fit is a key ingredient to job happiness, it's something you'll want to measure when assessing a potential employer.
Many companies have a mission statement on their website that spells out their culture. Read the "about us" section to identify the organization's core values.
Down the line, use the job interview as an opportunity to ask these five pointed questions that will help reveal how the company ticks.
How does your company celebrate success?
What do you do to encourage camaraderie and collaboration among co-workers?
How do managers provide feedback to employees?
How does the company extend its mission to the community?
Are there opportunities for additional training and education?