For more than 50 years, Cambridge Engineering has been committed to enriching the lives of its people, representatives, customers and suppliers through the design, manufacture, and application of heating, ventilation and air-conditioning systems for commercial and industrial applications. A leader in the HVAC industry, Cambridge is a family-owned and operated company that encourages continuous improvement through formal training and autonomy to improve jobs.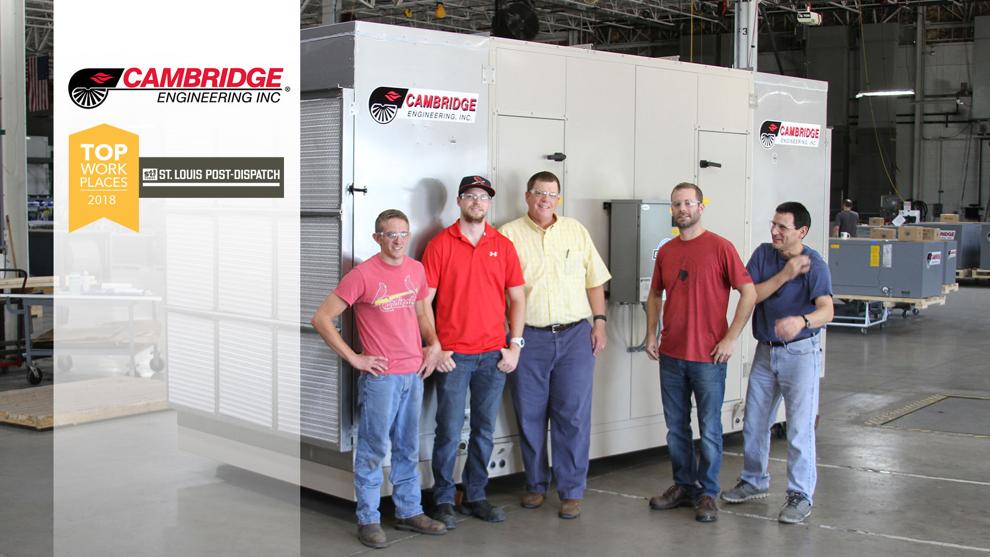 Creating a healthy, sustainable culture requires purposeful effort. This starts at the top with leaders of the organization; however, employees are the mainstay who must also take ownership of the culture and values of the organization. At Cambridge Engineering in Chesterfield, employees are doing just that. As an employer of choice, employees and leaders at Cambridge behave with courage, integrity, respect and caring for others. It's no wonder the mission of the company is to glorify God by enriching the quality of every life they touch.
Every morning at Cambridge Engineering, the entire company of more than 140 people gathers in the manufacturing shop. Each daily meeting is hosted by a different volunteer emcee that begins with any topic they wish to discuss. The meeting carries forward with routine physical stretching so as to help avoid workplace-related accidents.
There is a time of reflection where employees may share what they call 'Grateful Appreciations.' This could be something the employee is grateful for at work, home or in life in general. The brief meeting wraps up by celebrating birthdays or anniversaries, followed by an update on targeted sales, safety, quality and the delivery of key performance indicators. It is a culture so unique the company receives visitors who come to experience the daily morning meeting.
Employees want to work where they can find a sense of purpose and satisfaction in the position. After all, most people want to feel appreciated in life, but that's not always easily achieved. Cambridge Engineering gets it...the company considers developing and maintaining culture a wise investment. When the business goals and culture align, it equals success for everyone.
The company's most recent investment was the Dale Carnegie Leadership training. By the end of spring 2019, well over 140 Cambridge employees will have learned a variety of techniques including leading strong teams, ethical leadership with confidence and building a culture of engagement.
The top-workplace company also expects each employee to grow and learn continuously. Cambridge has been using Paul Aker's concept, 2-Second Lean as a foundational training tool for its teams. Through the 2-Second Lean process, employees are authorized to make changes to any work process as safety and quality standards allow. This empowers employees to use their own genius to fix what bugs them without needing approval from senior leaders. Cambridge Engineering enjoys celebrating the success of new processes or safety improvements shared by an employee, no matter how big or small.
---
This content was produced by Brand Ave. Studios in collaboration with Cambridge Engineering, Inc. The news and editorial departments of the St. Louis Post-Dispatch had no role in its creation or display. For more information about Brand Ave. Studios, contact tgriffin@stltoday.com.