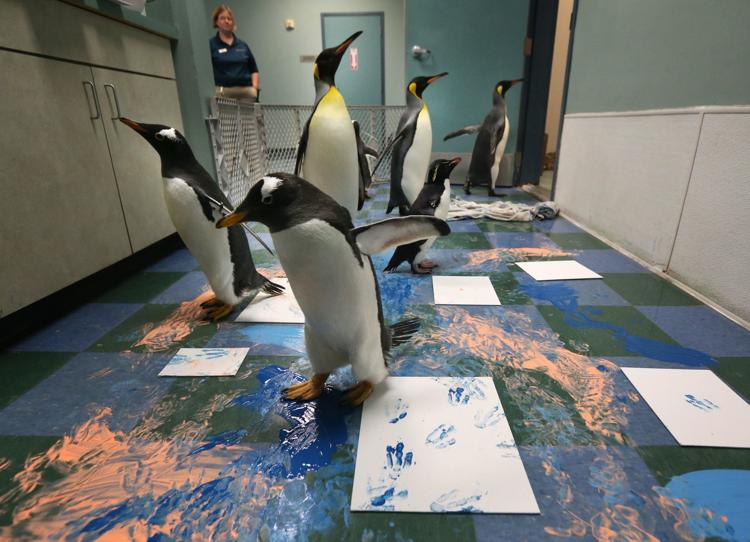 They say if you sit a monkey at a typewriter for an infinite amount of time, he'll eventually write a work of Shakespeare.
St. Louis animal keepers know that if you give a king penguin or a white-necked raven or an African elephant some paint and a canvas, they'll create a work of art.
"Come on, Woody, get those little feet moving," croons St. Louis Zoo penguin keeper KC Donaldson as the rockhopper penguin and her penguin pals pad around a back hallway in the penguin house. The penguins step through puddles of blue and peach paint on the floor and leave penguin footprints on white canvases placed among the paint.
Donaldson gives Woody a scritch under the wings. "Boy, I love this bird. I love this bird."
The penguins — and about 25 species of animals at the St. Louis Zoo — frequently paint as part of their regular enrichment and training. So do wolves and African painted dogs at the Endangered Wolf Center in Eureka. So does a white-necked raven named Mischief at the World Bird Sanctuary in Valley Park. So do the three African bush elephants at Grant's Farm. They all use nontoxic materials and are not forced to paint.
All of the institutions sell paintings or prints of their paintings and use the proceeds to benefit the animals. At the zoo, they go from $25 to $114. And for every painting hung on someone's wall, keepers hope it will prompt a conservation conversation.
Do the animals know they're painting? Do they deliberately choose where the paint goes on the canvas? How does this help them?
That depends on the animal, keepers say.
In the case of Woody and several other penguins, painting is more of a social experience and a chance to interact with their keepers. When keepers call penguins to get on an elevator behind their habitat, penguins know they get to do something special. They know that when an elevator door opens, they'll get to paint or have an encounter with people who have arranged for a behind-the-scenes tour.
"That interaction is part of their genetic makeup," explains Donaldson, who says that other penguins will often join in when they see another penguin walking through paint. "It's more fun for them. It's a party."
For wolves and other animals at the Endangered Wolf Center, painting is also part of their care and training. A few years ago the keepers accidentally discovered their animals could paint when workers knelt on the ground and got the animals to place a paw on their legs for a blood draw. The keepers noticed the animals would leave prints on their pant legs. Now, at least once a month, the animals get a chance to paint. Their "artwork" sells in the gift shop for $75. One recently went for $400 during a private tour and auction.
Keeper Danielle Rosenstein recently used a clicker to call maned wolves Nina and Nopal to the fence of their enclosure. She squeezed blobs of red, white and blue paint on a gray canvas and held it in front of the fence. The wolves poked their paws through the fence and scratched at the canvas she held on her leg. In between swipes, she rewarded them with morsels of meat.
"Their natural behavior is to paw, and they figure out they are trying to do a behavior to get a reward," says keeper Sarah Holaday. When it comes time for a real blood draw, the natural behavior is much a better option than sedating and moving them.
Sometimes canvases show scratch marks and paw prints. Sometimes, there are bits of leaves and dirt. "Sometimes, you get a meat dripping. It just happens," says Rosenstein.
Wolves are smart, and the painting serves as mental stimulation, as it does for Mischief, a 17-year-old white-necked raven at the World Bird Sanctuary. He loves to paint with a sponge in his beak. Kelsey McCord, an animal curator and one of Mischief's painting trainers, explains that Mischief has to go through a thinking process while painting, and it took time to learn the multiple steps: how to not tear apart the sponge, how to dip the sponge in the paint, how to rub or pat the sponge on the canvas.
"It's kind of cool to see how his style has changed," she says. "He used to barely touch (the sponge to the canvas), now he will touch and drag. When he started dragging it, I almost cried."
Crows, a type of corvid, will make and use tools in the wild. They've been known to straighten out paper clips to fetch or prod things. McCord cited one group of crows in Japan who dropped nuts onto a crosswalk, waited for cars to drive over and crush them, and then waited for the light to safely walk over and fetch them.
The sponge and paint are tools keepers have provided for Mischief to use if he chooses, McCord says. "I always tell people the only thing (preventing them) from taking over the world are thumbs," says McCord.
At Grant's Farm, audiences get to watch the elephants paint for food rewards during a show, one of a rotating group of performances designed to show off their natural behaviors and promote conservation. At one recent show, Max, the youngest elephant at 15, blew nontoxic paint through a plastic tube onto canvases, utilizing his natural blowing behaviors, and finished them each off with a "kiss" print from the end of his trunk.
Max knows 80 different verbal and visual cues, but he usually sticks to blowing paint because he likes to eat wooden paint brushes ("They like wood," Jenny Joyce, the farm's animal curator and elephant manager, says with a sigh).
Grant's Farm's other two elephants have their likes and dislikes. Toby enjoys picking up sidewalk chalk with his trunk and doodling on the floors — the ends of their trunks are so nimble they can pick up dimes, Joyce explains.
Mickey, who is "scary smart," says Joyce, can work through a puzzle feeder quickly but didn't see the point in making art. "She was in remedial art for a long time," jokes Joyce.
The elephants can reason at the level of preschoolers, she says, and they are given a choice on whether they want to make art. The keepers are constantly thinking of ways to stimulate and teach the elephants, such as adding scents in different parts of their living area, putting popcorn in the end of a PVC piping so they can blow it out and eat it, or even playing nature movies.
"It takes a lot of time and effort," says Joyce. "But when you find something they're really into, it's so worth it."
Penguins "paint" at the Zoo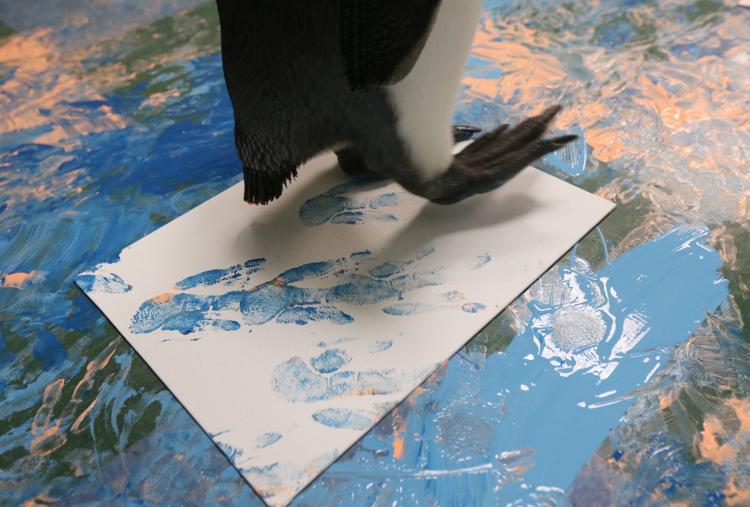 Endangered Wolf Center animal painting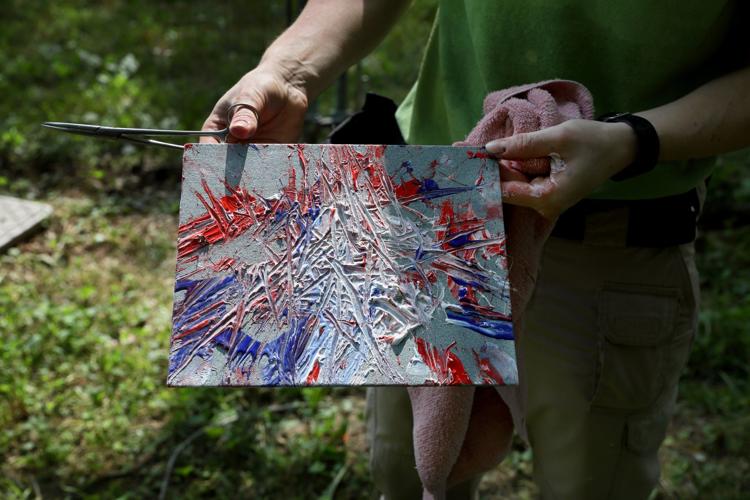 Elephant "painting" at Grant's Farm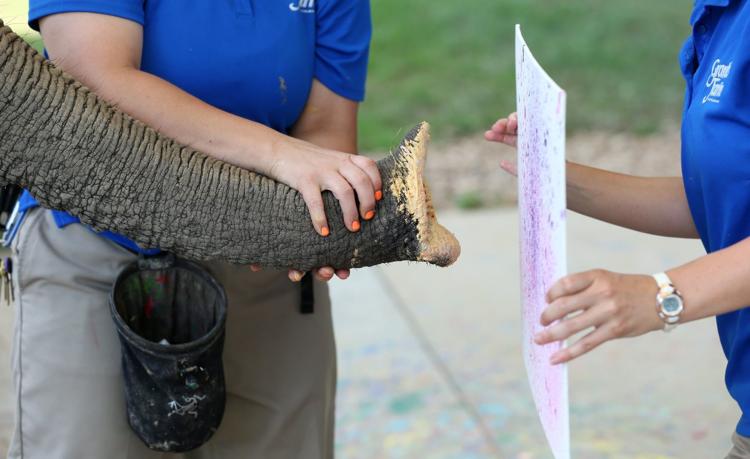 Penguins "paint" at the Zoo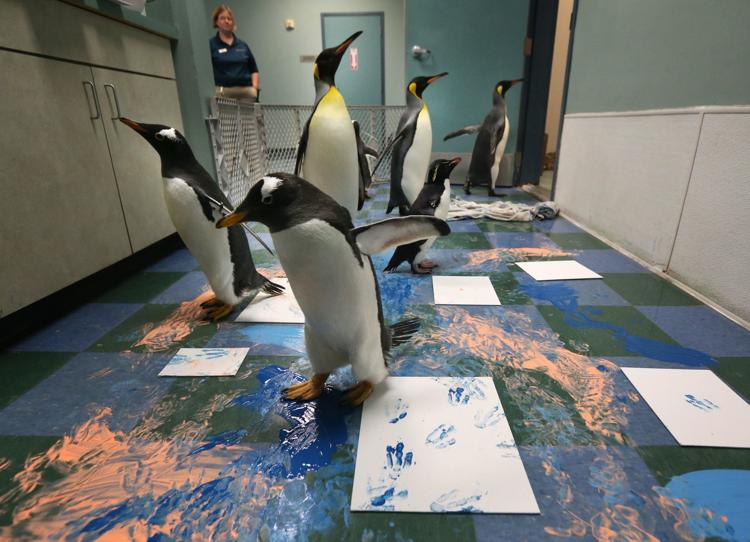 Penguins "paint" at the Zoo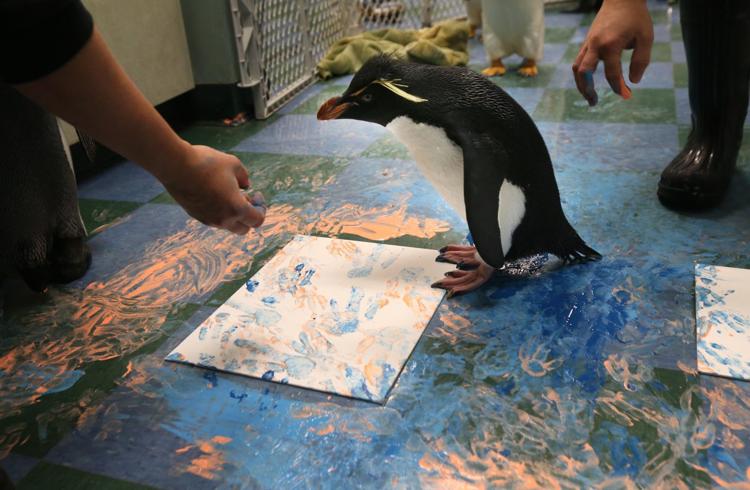 Penguins "paint" at the Zoo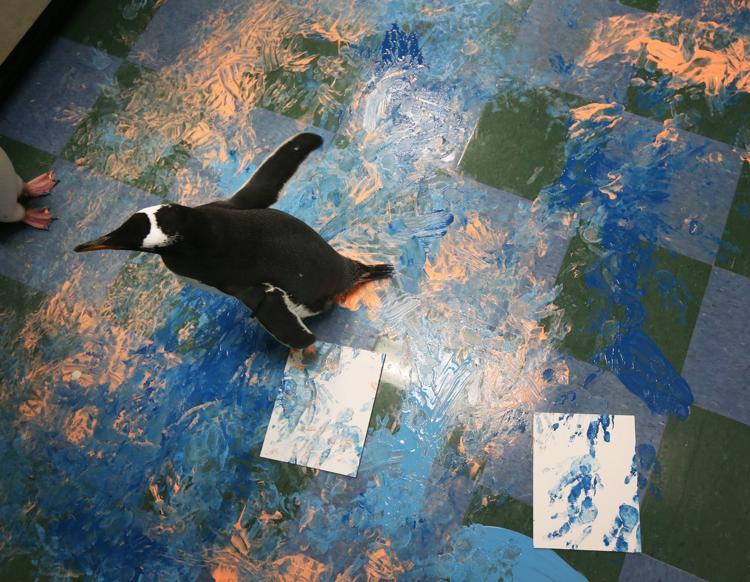 Penguins "paint" at the Zoo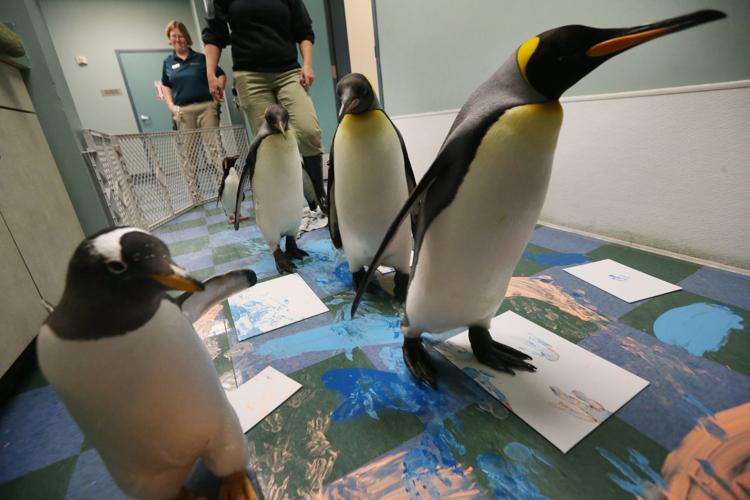 Penguins "paint" at the Zoo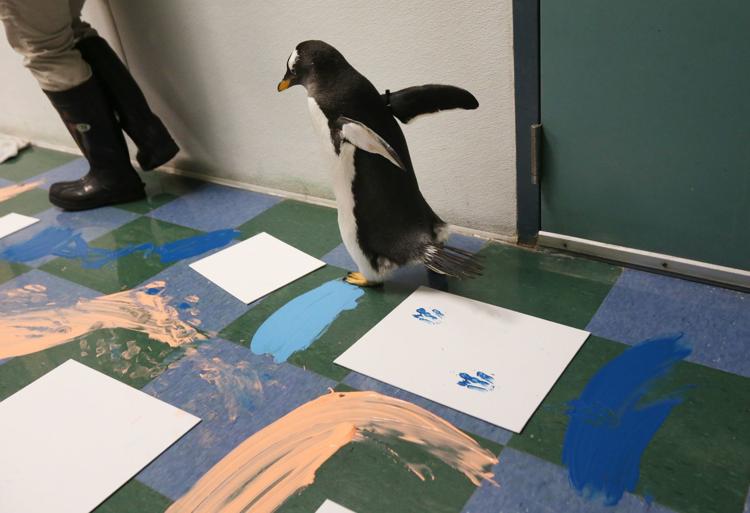 Penguins "paint" at the Zoo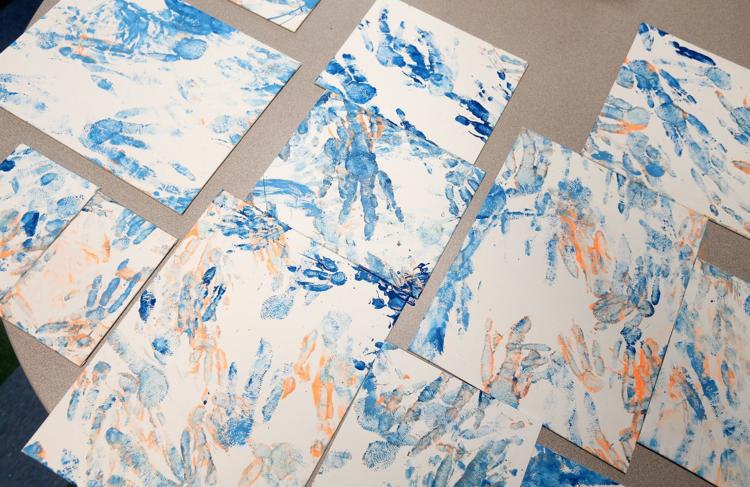 Penguins "paint" at the Zoo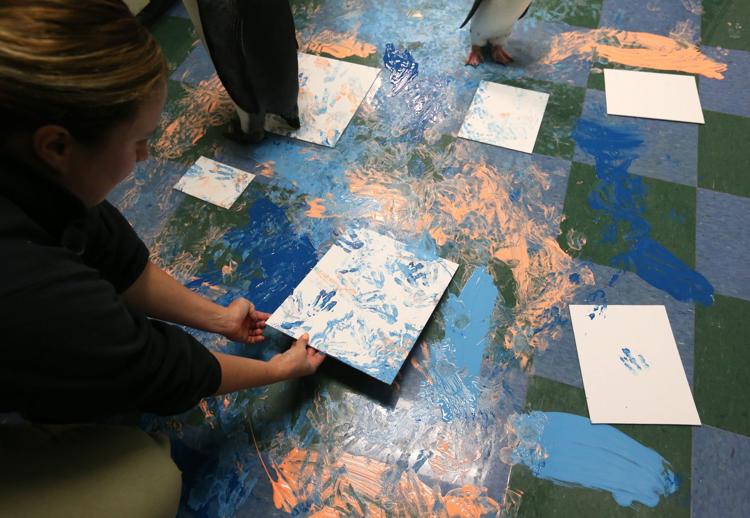 Penguins "paint" at the Zoo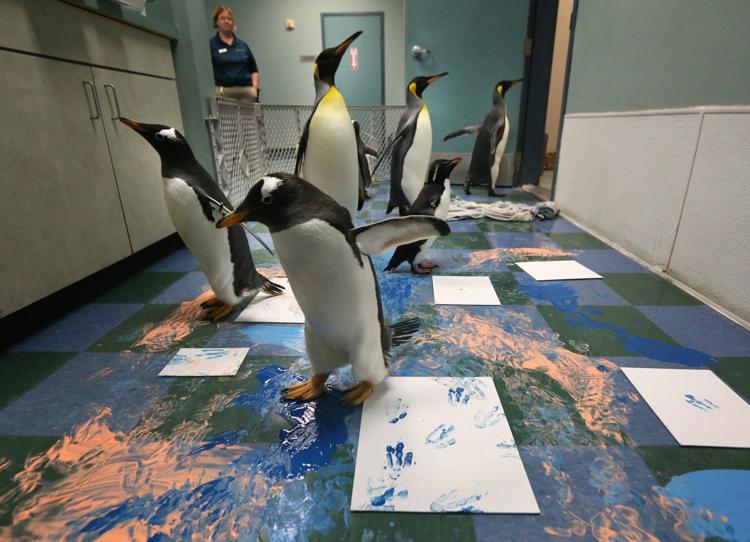 Elephant "painting" at Grant's Farm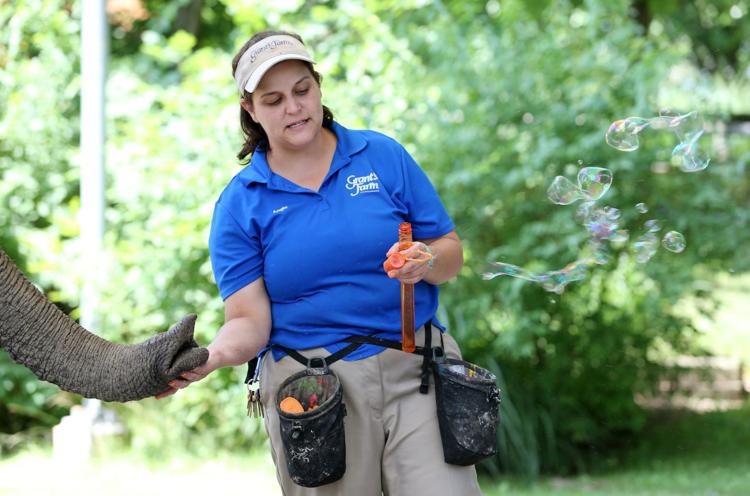 Elephant "painting" at Grant's Farm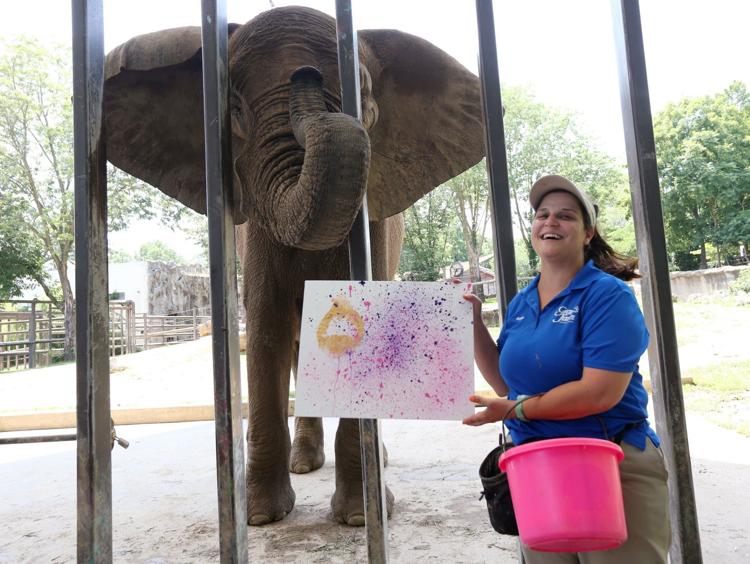 Elephant "painting" at Grant's Farm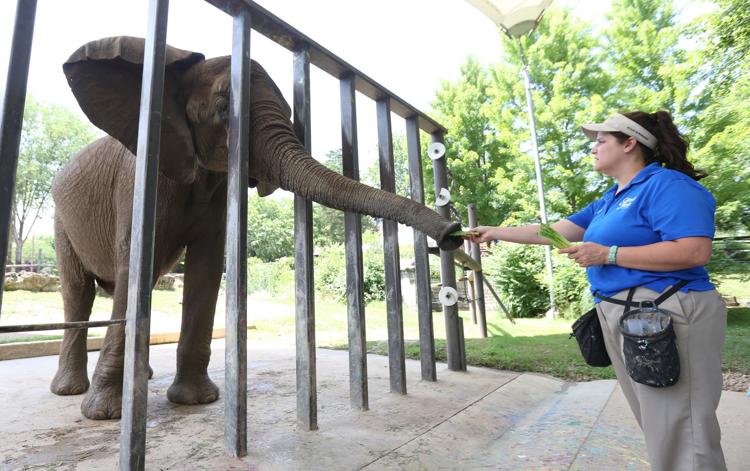 Elephant "painting" at Grant's Farm
Elephant "painting" at Grant's Farm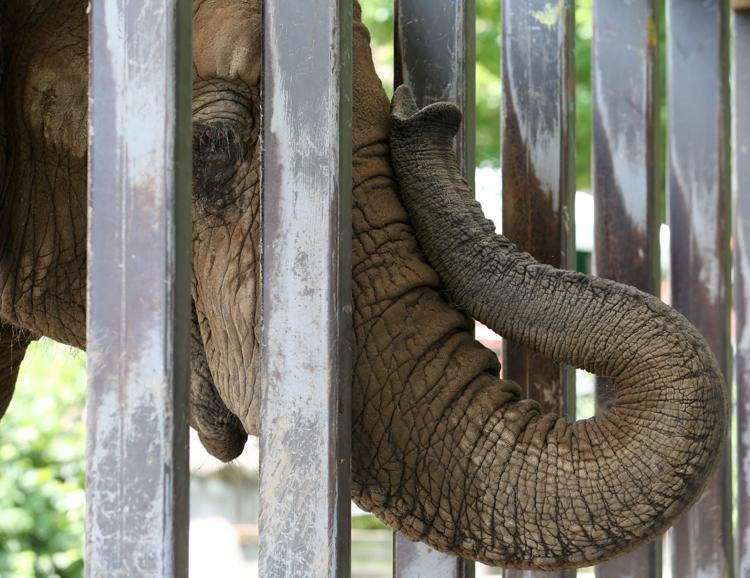 Elephant 'painting' at Grant's Farm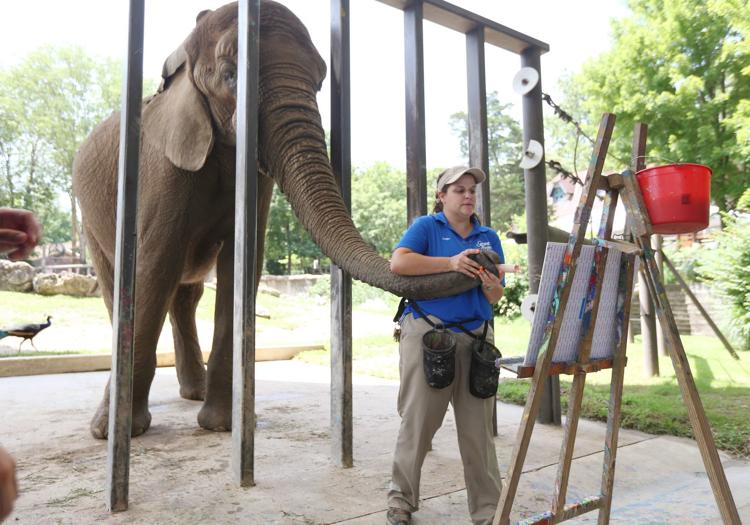 Elephant 'painting' at Grant's Farm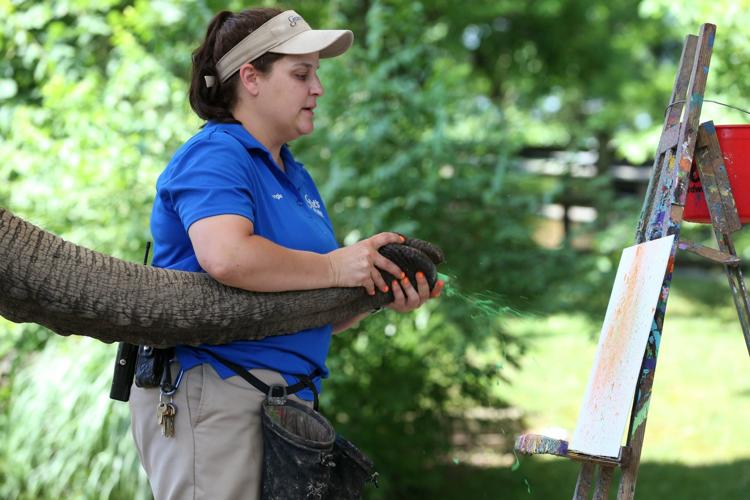 Elephant "painting" at Grant's Farm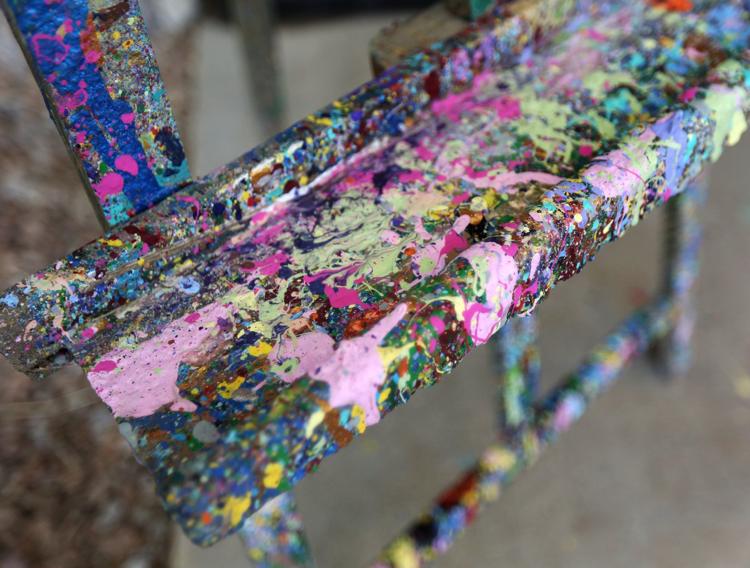 Elephant "painting" at Grant's Farm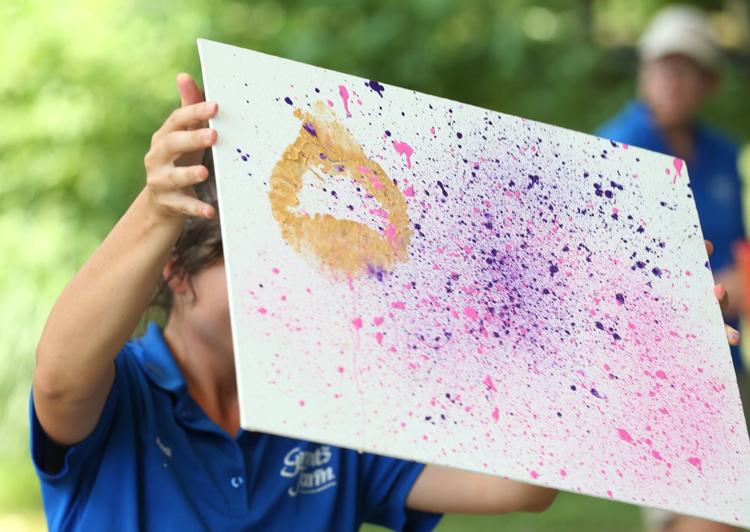 Elephant "painting" at Grant's Farm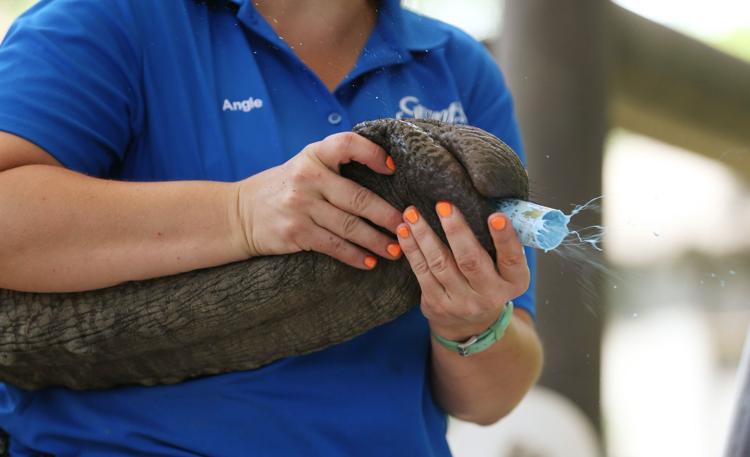 Elephant 'painting' at Grant's Farm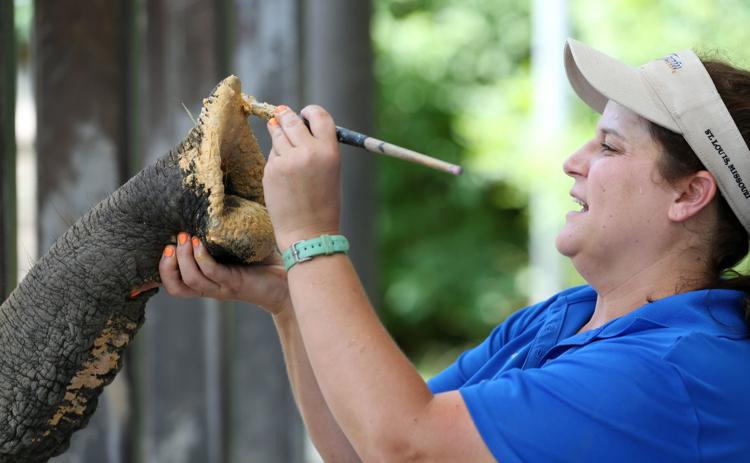 Endangered Wolf Center animal painting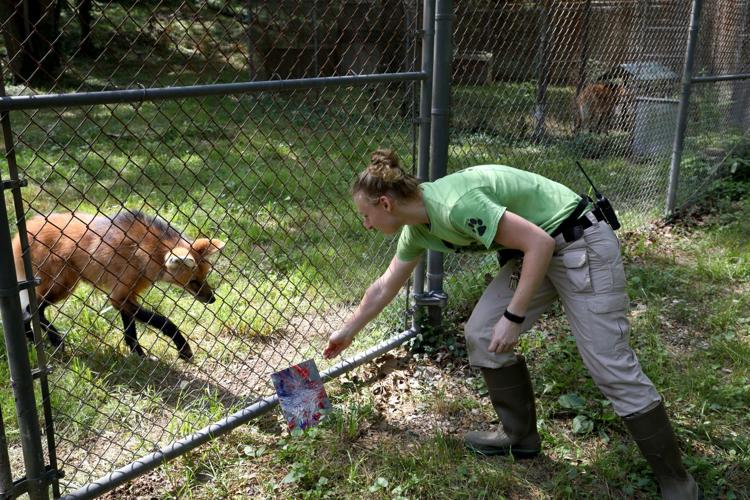 Endangered Wolf Center animal painting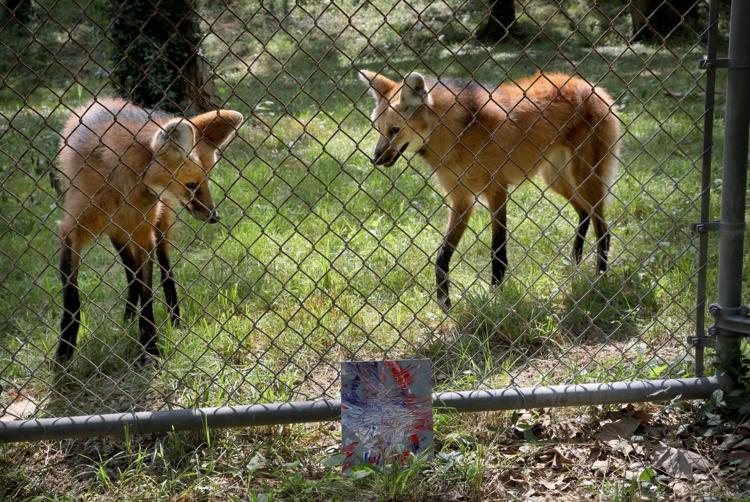 Endangered Wolf Center animal painting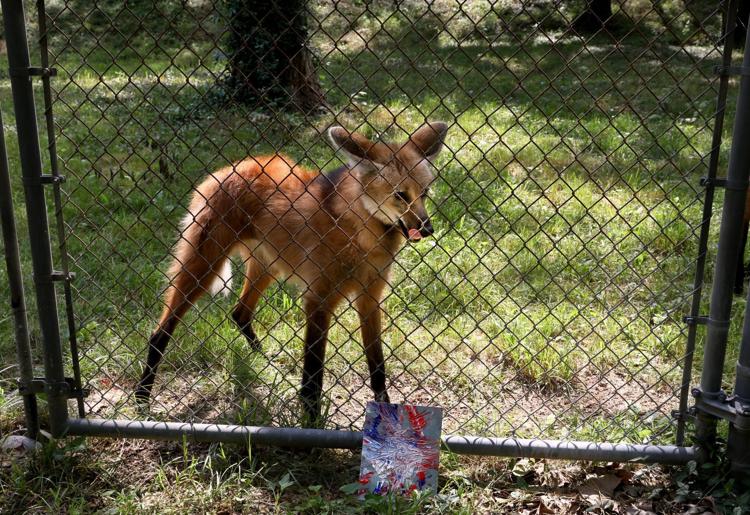 Endangered Wolf Center animal painting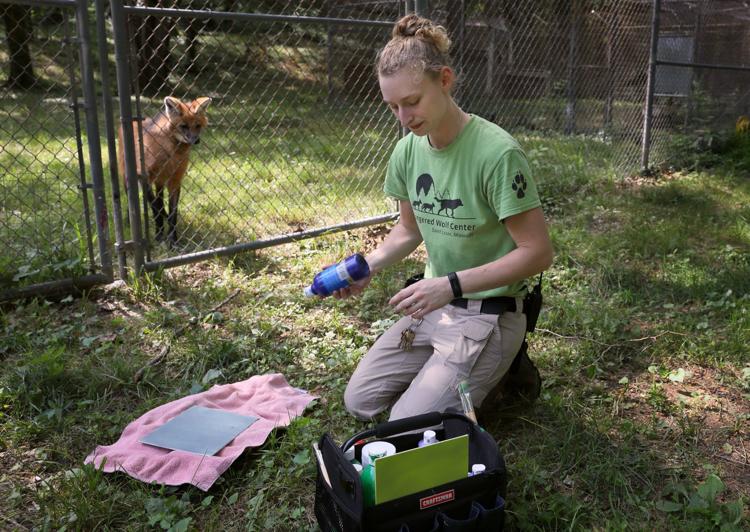 Endangered Wolf Center animal painting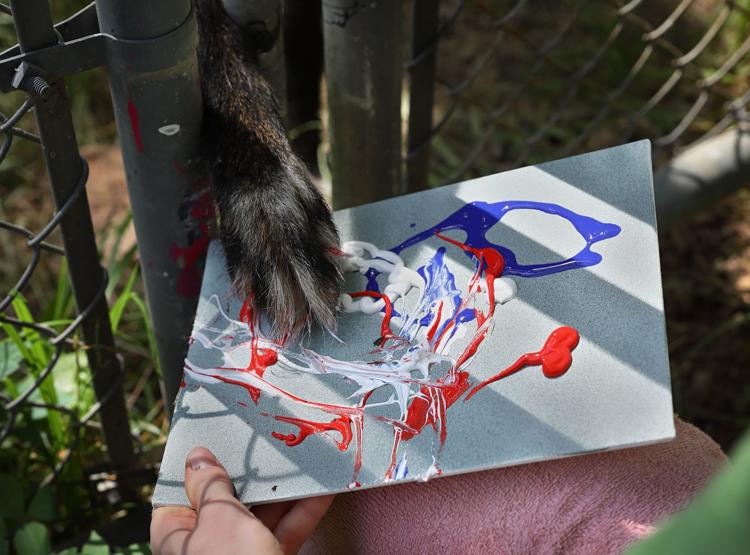 Endangered Wolf Center animal painting
Endangered Wolf Center animal painting