A lot of restless people worked puzzles during the pandemic, but artist Charlotte Fressilli took things one step further. She created puzzles of her own as she cut and pieced snippets of colorful magazine pages into vibrant art collages. Today, she sells her remarkable collage art as cards and artist prints, a process she began one arctic winter in New Hampshire.
"I grew up in a very, very cold place on a snowy mountain," Fressilli says. I remember a winter, around 2014, when it was so snowy and cold you couldn't go outside. We had all these old magazines, and I thought 'Maybe I could make something out of these.'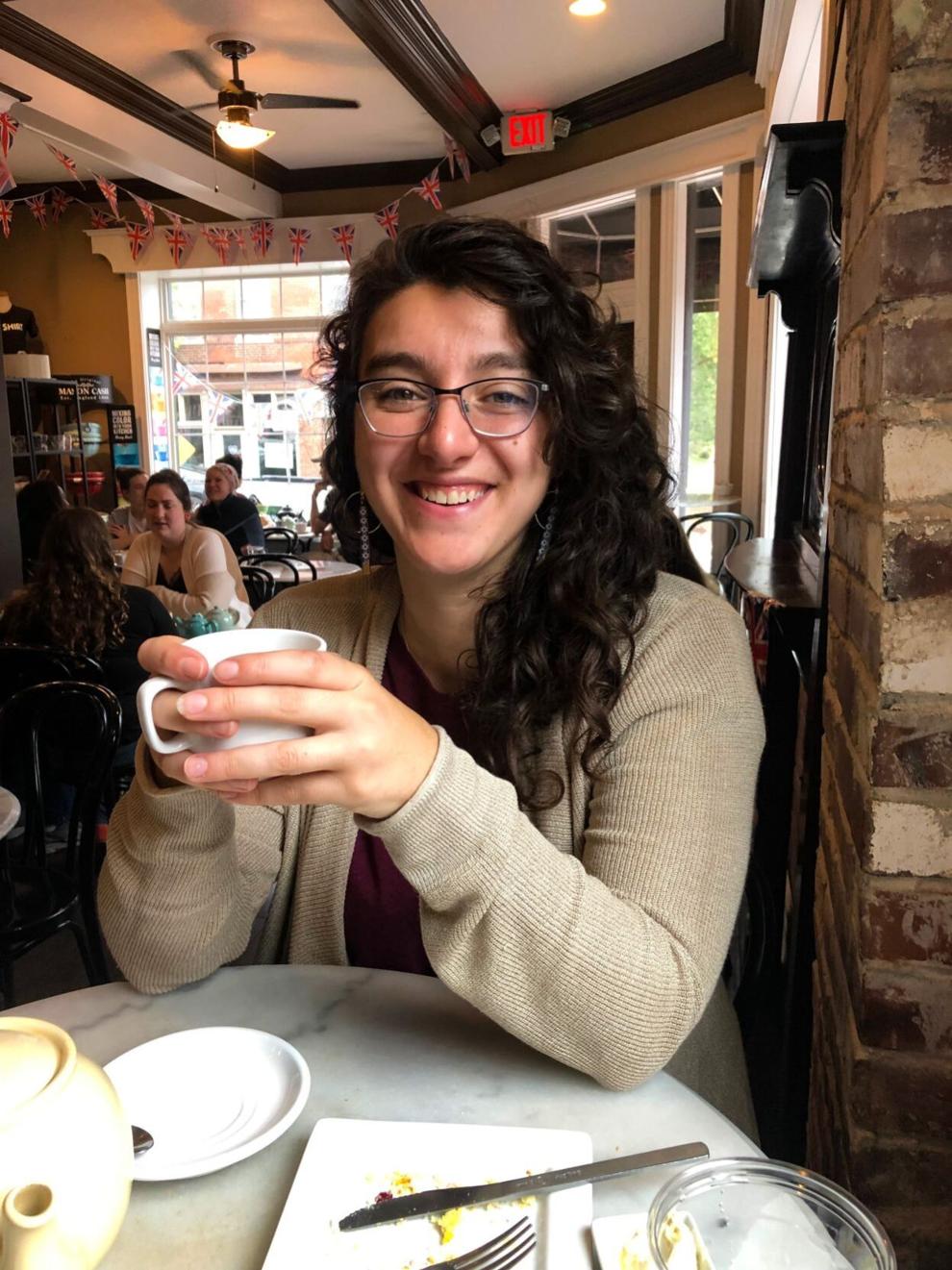 "I just started working with the colors. I made the fish dinner design first. Then I kept making different designs of all my favorite foods. and I would put them on cards and give them as gifts to my family and friends. A dear friend suggested I sell my cards — that I could make money doing it," Fressilli says. "I was so busy then I didn't do it."
When the pandemic took hold, the formerly frazzled Fressilli realized she had time to return to art making, and possibly sell her unique card designs. "I got everything set up and gave it a shot."
Language, literature, a three-legged dog and art • Making art hadn't been in Fressilli's career plan. She majored in Italian and English at Wheaton College. "In Massachusetts, a small liberal art college, not the big one in Illinois," she says.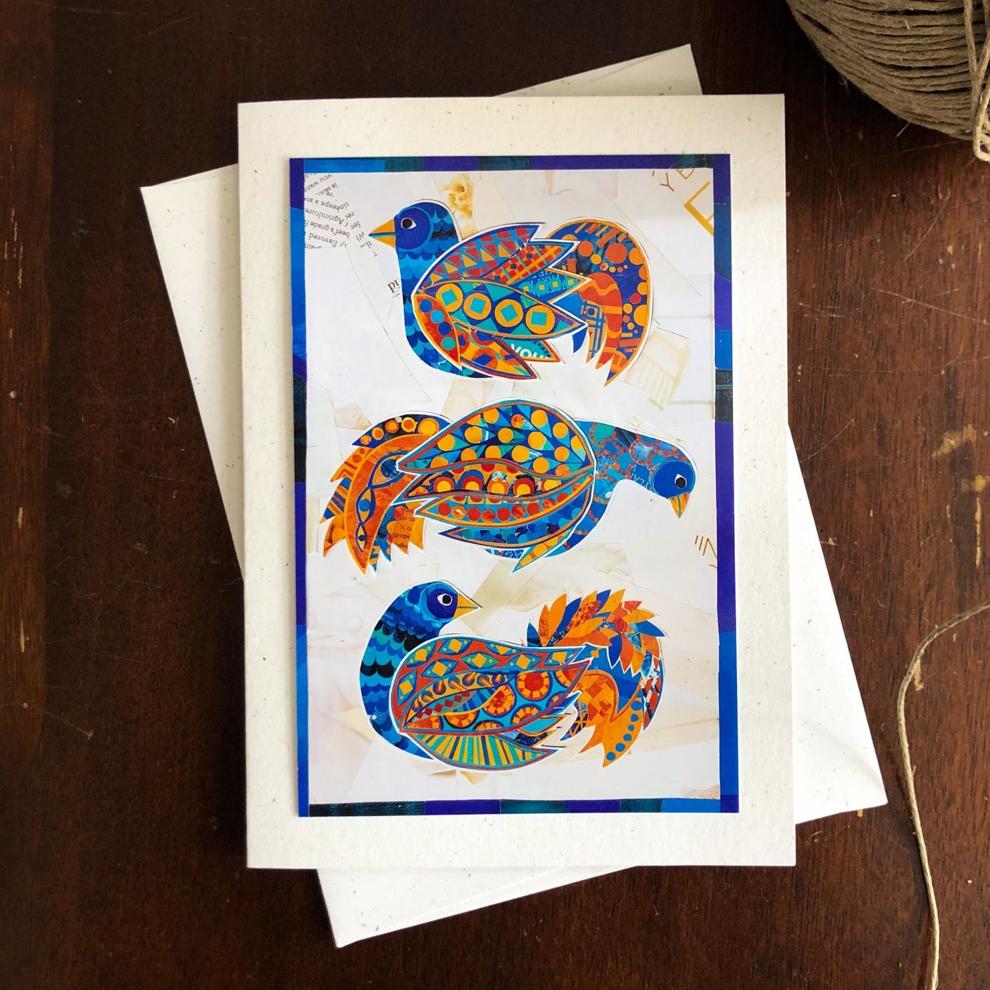 She moved to St. Louis a little over five years ago for graduate school at Washington University, majoring in English and American literature. "I'll probably be in the program for another year," she says. "My studies as a graduate student, a hopeful scholar of literature, work hand and hand with my artwork. The two fit really well together," she says.
In 2018, Fressilli and her fiancé adopted a three-legged pit bull from Stray Rescue they named Annabelle who rules the roost at home. She's a studio companion with strong opinions about break times for play and for walks. "She has a really strong personality and a very sweet nature," Fressilli says.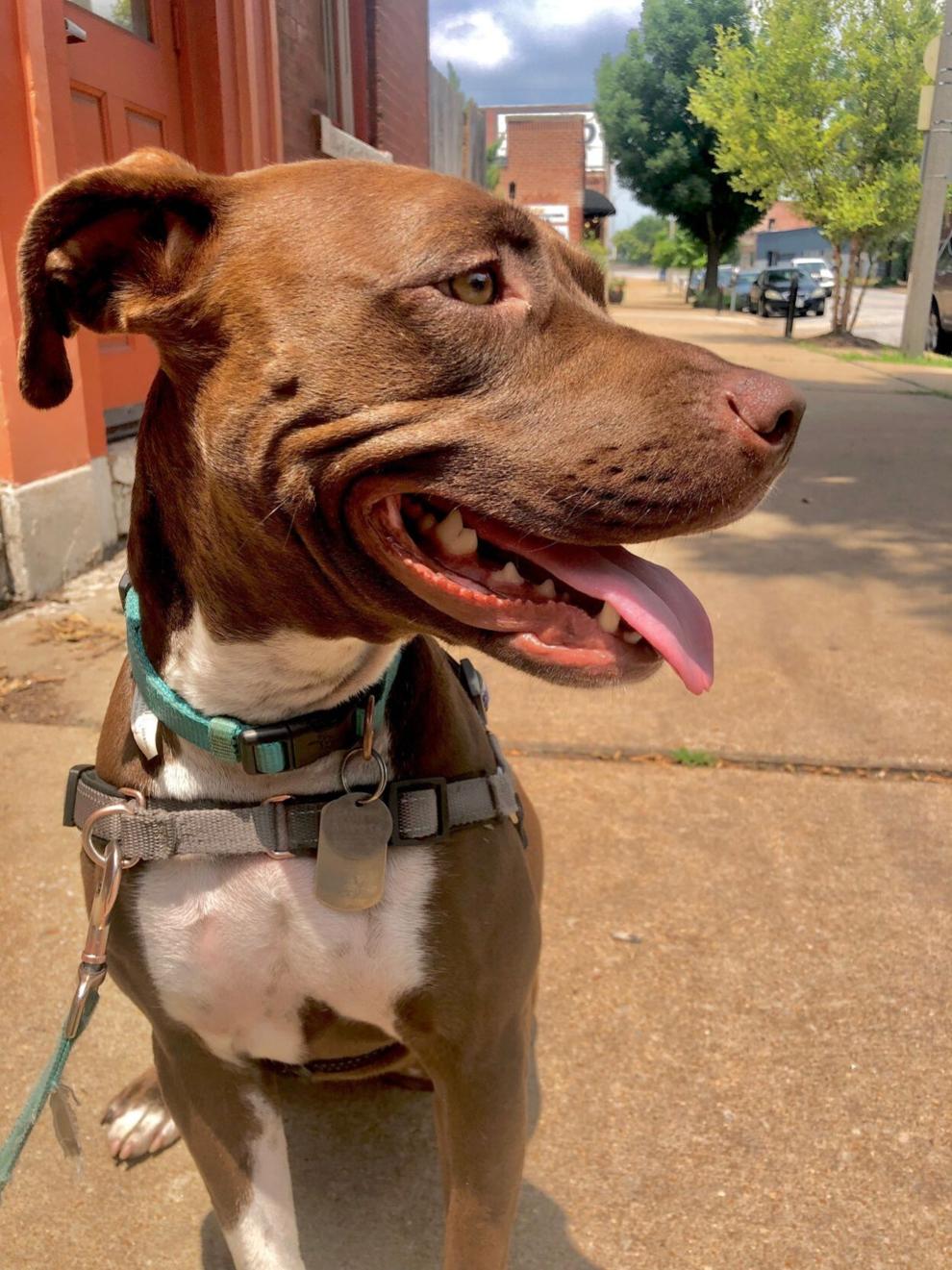 The magic of seeing objects clearly • Fressilli's masterful use of color and form in her art defines her cards. Her innate knowledge of how color shapes objects didn't come from art school training but from teaching herself to look closely at every aspect of an object.
She posts engaging stories on her Annabele Says Hello Facebook about her process, such as her obsession at a young age with the I Spy series of books with photographs by Walter Wicks and riddles by Jean Marzollo that marries narrative and images. She writes eloquently about her process in a post Dwelling in the Details, and articulates how she intuitively knows a design is "right."
Color hunting • Each of her designs takes several months to complete. The process starts with how she sees color. "I have an idea, then I go color hunting through a big pile of my old magazines," she says. "I love that part."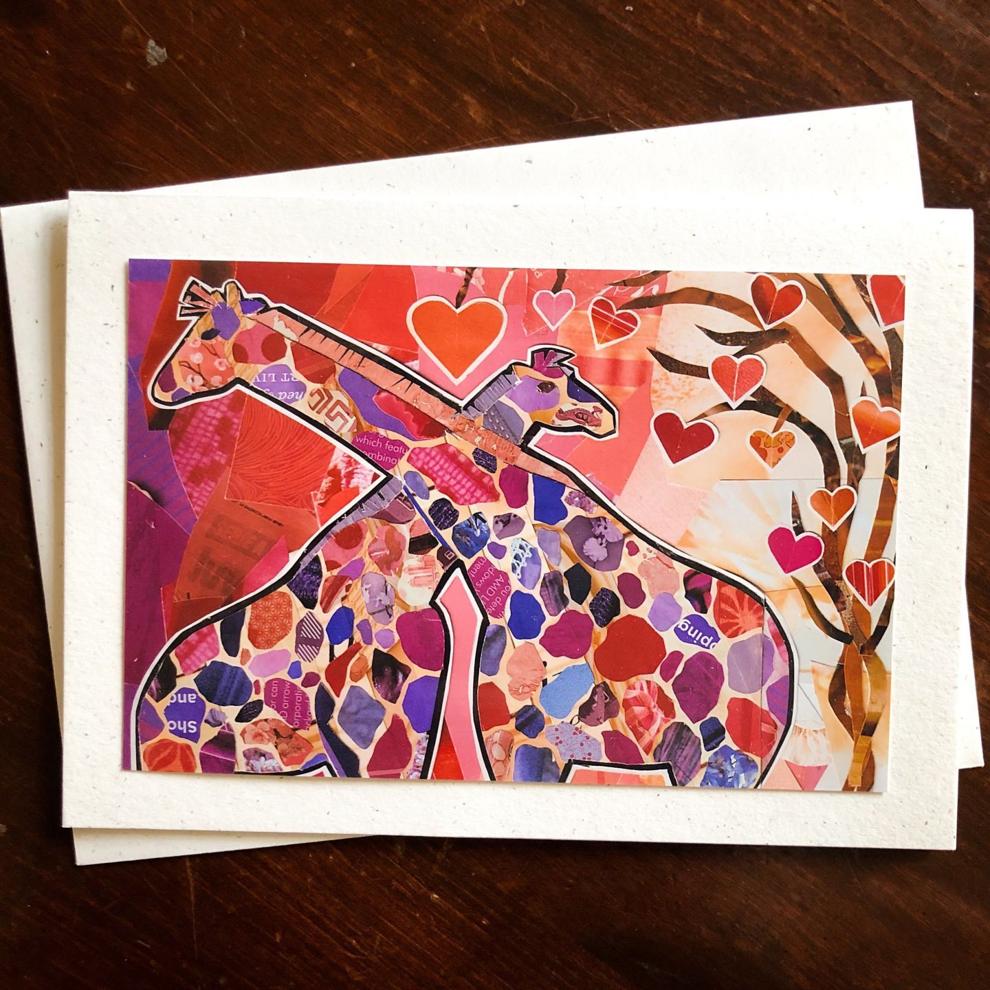 "I basically retooled my brain to change the way I look at images," she says. When she first started, to make a collage of a lemon, she would look for yellow objects, like an actual photo of a lemon, or a yellow taxicab, but she was surprised when those colors weren't necessarily right. "I realized our brains fill in so much color based on context, but when you isolate a thing, it changes completely." Her retooled brain now sees all the nuanced colors in an object — a yellow tinged green, a gray cast to gold, or a blue sky turned just the right shade of violet for a tiny snippet in an artwork.
She separates each subject into all its colorations, then goes through her clippings to find the proper colors.
Next, she concentrates on identifying shapes, starting with the bigger shapes of the background. She builds the central images from her sketches. "My tools? A pair of scissors and a glue stick. Once the design is set, I scan it into the computer, and order prints," she says.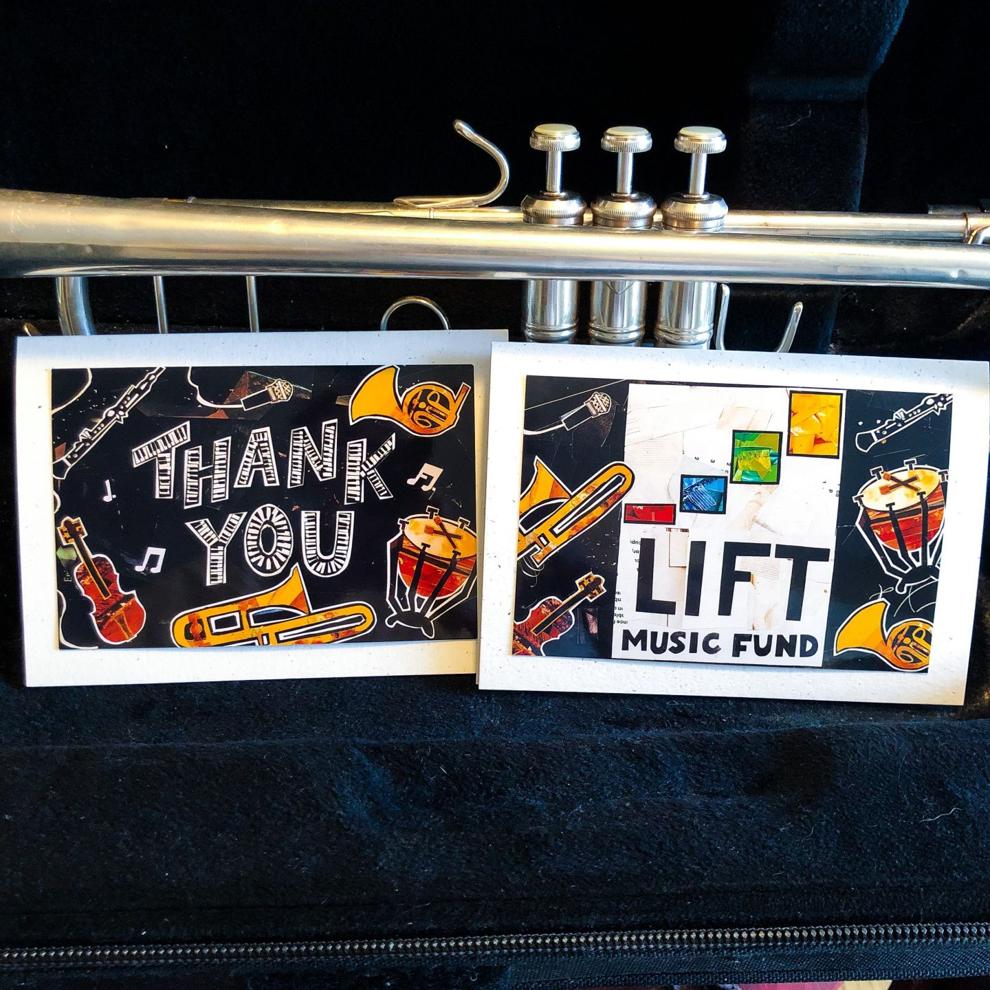 For our friends and for the earth. Love, Annabelle • Fressilli's emphasis on the sustainable in her art extends to supporting nonprofit endeavors of friends.  The Young Survival Coalition, St. Louis moderated by her friend Crystal Payne, purchases her cards to give as small gifts to hospitalized children. She also designed cards for the Lift Music Fund, a nonprofit organization that awards micro-grants to young Black, Latinx and Native American musicians founded by her friend and high school band mate Emily Eng.
Her methodology of recycling old magazines for her art materials for cards extends to shipping. All of her cards go out in recyclable packaging, a policy Annabelle supports, as a former stray who was recycled from the streets to a loving home.
Annabelle Says Hello Card Co.
Artist • Charlotte Fressilli
Family • Fressilli is engaged to Andrew Frechette. The eponymous Annabelle, a three-legged pit bull mix, lives with them.
What she makes • Fressilli repurposes old magazine images as one of her materials. She collects, color sorts and cuts them into tiny pieces that she assembles into collage artworks. She then prints the finished collages as greeting cards and art prints.
Where to buy • Fressilli sells through her Etsy store, annabellesayshello.etsy.com. She also sells at farmers markets, including Tower Grove Farmers Market. Her cards are also available at Union Studio in St. Louis. She also accepts bulk orders for her cards.
How much • Prints and cards are priced from $5 to $45