Whether you are abiding by a shelter-in-place order or just don't feel comfortable leaving home yet, you can still indulge your travel bug itch. It just takes some imagination — and if possible, a tent — to go on a not-so-far adventure.
There's no need to pack up the car or even go outside if that's not your thing. Build a pillow fort in your living room or go full outdoorsy and sleep under the stars in the backyard.
"It doesn't have to be a true blue camp out," said Fred Steinkuehler, 50, of Edwardsville. A backyard campout for younger kids is good because you don't have to worry about bathrooms, the kitchen is nearby for cooking and if someone freaks out, he or she can just go inside, said Steinkuehler, a dad who hosted campouts for his sons' Cub Scout troops when they were younger and now is involved with the Boy Scouts.
The Boy Scouts of America encouraged families — not just scouts — to hit the backyard when it hosted a national camp-in on May 2. Families participated online in campfire singalongs, outdoor cooking demonstrations, a 5K and more. April McMillan, the National Director of Program for the Boys Scouts, said it was a chance "to make memories proving you can still have fun learning and exploring, even while social distancing."
And waking up to birds or squirrels chirping over your head might be just what everyone's mental health needs — spending time in nature can relieve stress and anxiety, improve your mood and boost happiness, researchers say.
If your kids are old enough, backyard camping can also be a chance for some independence. When spring break plans to the beach in Florida were canceled in April, Jennifer Nottmeier's sons were disappointed.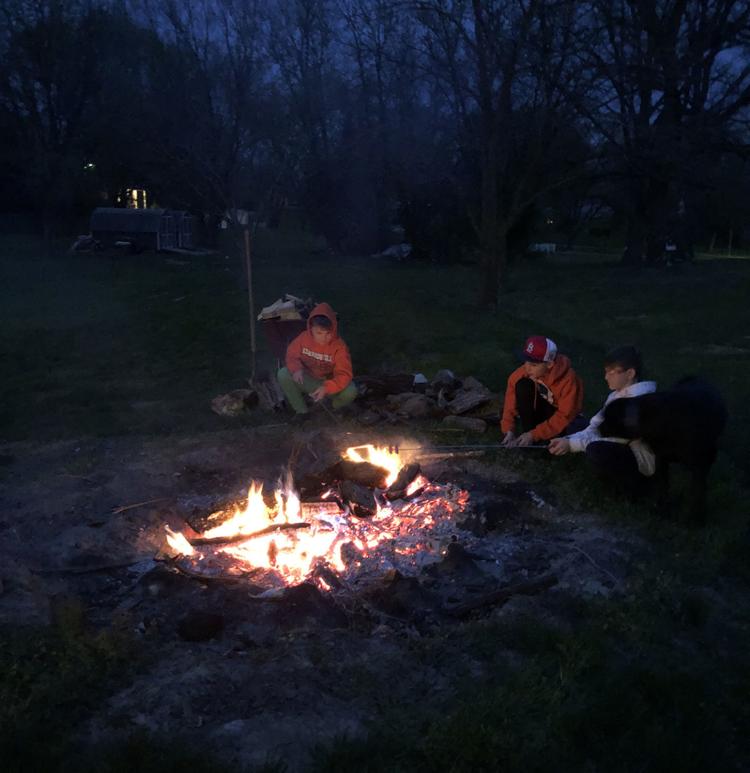 "They kept bugging my husband and me, saying they wanted to camp in the camper," said Nottmeier, 41.
She and her husband, Todd, backed up the camper on their acre in Edwardsville, and the boys, ages 7, 9 and 12, took over from there, setting up the camper, roasting hot dogs on a bonfire and pulling out glow sticks and Nerf guns for fun.
Nottmeier, her husband and the dog slept in the house. At 6 a.m. when the rain came in, so did the boys. It was the first time they were on their own camping, Nottmeier said. "It made me want to do it again."
Setting up camp
You don't need a camper or even a tent to plan a family campout. In fact, you really don't need a lot of equipment to hit the great outdoor patio.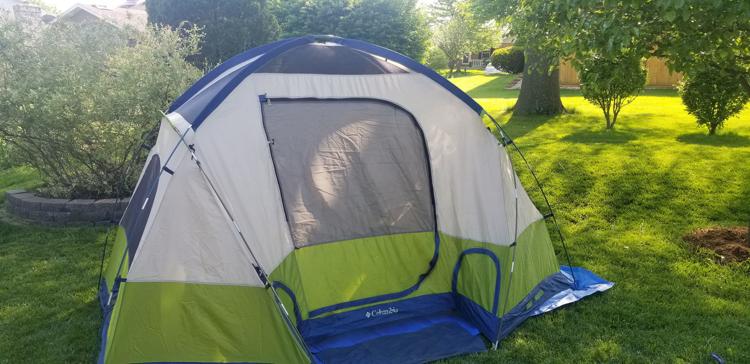 • Build a shelter. Dig a tent out of the basement and set up in the backyard or build that blanket fort in the living room. Get everyone to pitch in, spreading out the tarp or putting the poles together for the tent or help design the blanket fort by moving around the furniture. Basic tents start between $30 and $40 at discount stores — a four-person Ozark Trail tent is $34.97 at Walmart. But factor in sleeping capacity and the quality of materials and expect to pay from $45 to $200. The Coleman WeatherMaster 6-person tent ($191.99) and Coleman Evanston screened tent ($129) both have favorable reviews as family tents on Amazon. Don't want to spend money on a tent but still want an outdoor shelter? Make a simple A-frame shelter with a 10-foot-by-10-foot tarp ($12.85 at Walmart). String a paracord between two trees tightly, drape the tarp and then stake it down. Make sure to check the weather for rain considering there is no floor. Feeling really adventurous? String a hammock between two trees and sleep under the stars or just put out a tarp topped with some pillows and blankets.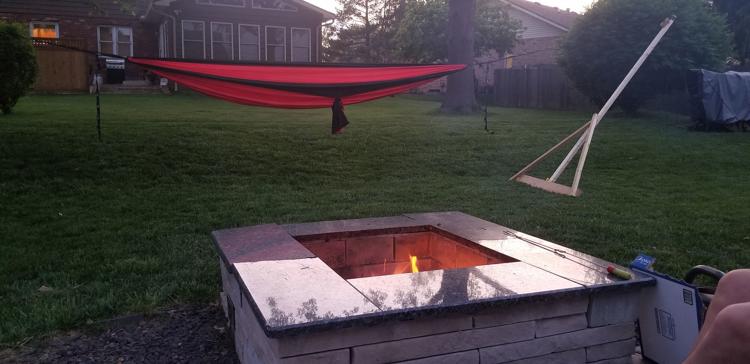 • Make it super cozy. Load up the tent with pillows, blankets, cushy comforters and sleeping bags. If you want to be more comfortable (It's not cheating!), bring out the air mattress or a cot. Invite some animal friends, whether it's your pet golden retriever or a stuffed polar bear. Bring some favorite books to read by flashlight.
• Light it up. Gather all your flashlights. Or hang string lights (Christmas lights work, too) in the backyard. Hang them inside or outside the tent. It will create a cozy glow and make little ones more comfortable in the dark outside.
• Build a campfire. Get a fireplace going indoors or use a built-in outdoor firepit or firepit table. Kids can help with carrying the wood and stacking it. If they are older, they can do the fire-making. Don't have a place to build a fire? Make a pretend fire out of tissue paper and put a flashlight in the middle of it to light it up. Or find a virtual campfire online to play in the background.
Cook up camp chow
If you want to cook over a fire, hot dogs on a stick and s'mores are obvious and easy camping favorites. But the best thing about being in your own backyard: You likely already have a grill back there, and the kitchen is just a few steps away. When Steinkuehler hosted a campout for Cub Scouts, two of the parents cooked scrambled eggs and sausage in the kitchen for breakfast, and then brought it out in aluminum trays to keep warm on the fire. Want to get more elaborate? Some ideas:
Foil packs • Search "foil pack recipes" on the internet, and you will find many options. Try thedyrt.com, where you'll find the "original campfire" tin foil dinner: ground beef, potato, carrots, onion, salt, pepper, garlic powder and butter. There is even a sweet option — Tin Foil Monkey Bread.
Tips for foil wraps: Use heavy-duty foil; spray the foil with cooking spray before loading it up; wrap it tight, less air is better; wrap it twice, it will help prevent burning.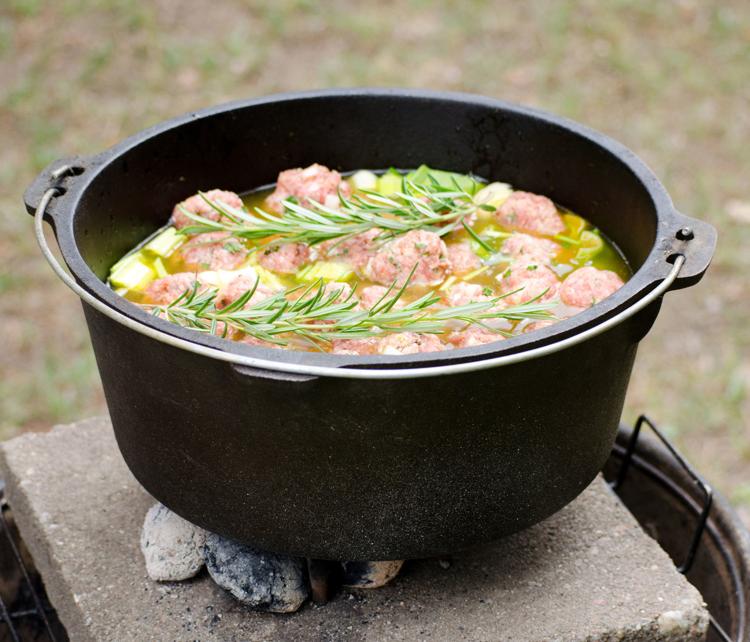 Dutch oven • From jambalaya to campfire chili to gooey caramel cinnamon rolls, a cast iron Dutch oven is a heavy but versatile way to cook outside. For an easy recipe your kids can make, try this apple dump cake: 2 cans apple pie filling; 1 box of white, yellow or spice cake mix; 1 stick of butter. Spray the Dutch oven with cooking spray and then dump the apple pie filling in, top with the cake mix and then slice the butter evenly over the cake mix.
Simple treats • Mix up a trail mix of nuts, fruits, cereal and something sweet or try making popcorn over the campfire.
Plan some fun
Sometimes kids are happy just playing in the dirt and running around and chasing one another. But here are some ideas to keep them from getting bored.
Take a hike • Put on your backpacks, grab your binoculars and explore the neighborhood. If you have a compass, plot a course — or just use GPS on your phone. Make it a scavenger hunt with a list of plants and animals to spot. Take photos or collect leaves, flowers or rocks to analyze later. 
Classic games • Simon Says, Telephone and Freeze Tag (when it gets dark, play flashlight tag) are all games you can play without any equipment. Pull out yard games like croquet, cornhole, washers or badminton.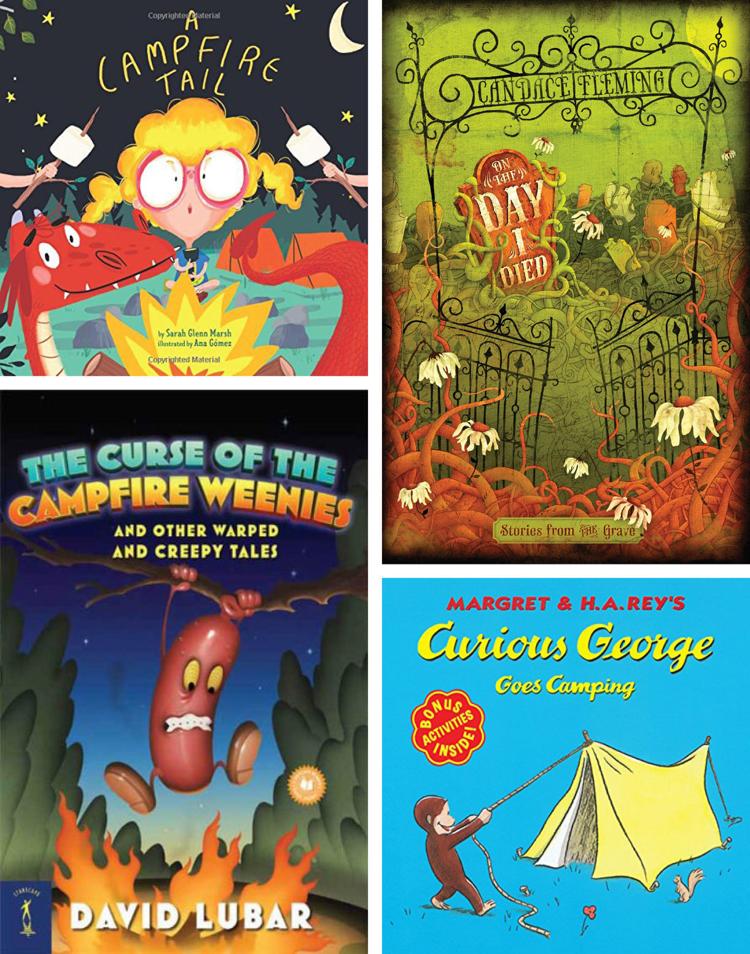 Stargazing • You may not have a sky map or a telescope, but you don't have to be an astronomy expert to just gaze at the stars. Lie on the ground and find your own patterns or use your smart phone — Skyview Lite and Star Tracker are two of many apps that allow users to point their device to the sky and instantly identify stars, constellations and satellites. 
Campfire stories • Small kids aren't quite ready for creepy urban legends or stories about murderous clowns in the woods, but there are plenty of spooky stories that are just frightening enough to make it an enjoyable experience. For really young campers, read children's books about camping: "Curious George Goes Camping" or "A Campfire Tail" are two examples. Ready for a little scare? Try "The Curse of the Campfire Weenies and Other Warped and Creepy Tales." For older tweens and teens, "On the Day I Died: Stories from the Grave," 10 stories that feature teen ghosts who narrate stories of their own demise. Check out boyscouttrail.com for stories, skits and songs for all ages.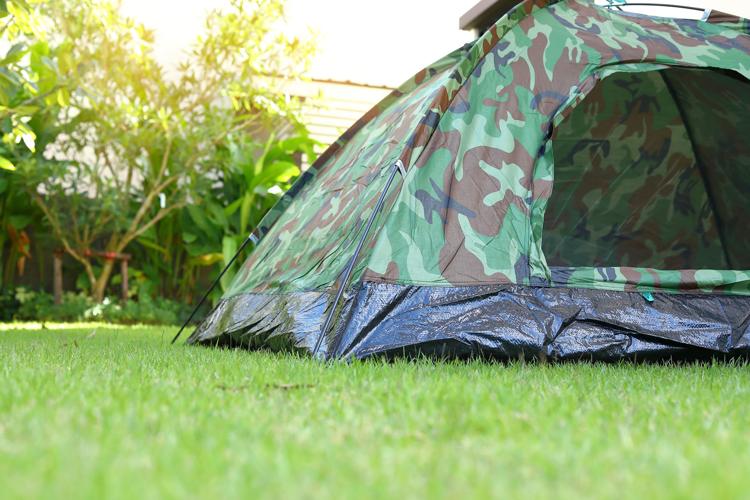 Beyond the backyard
Expert advice: Just in time for a summer where camping might be the best option for a family vacation, outdoor advocates Heather Balogh Rochfort and Will Rochfort of Denver have written a colorful illustrated guide for adults and families wanting to explore the outdoors. "Sleeping Bags to S'mores: Camping Basics" ($15.99) offers advice on everything from what to pack, how and where to build a campfire, and how to camp and hike on a budget.
Missouri: Missouri State Parks began to reopen last week, accommodating existing campground reservations. They also began accepting new reservations. The parks have instituted some changes to better facilitate social distancing and improve safety of operations for the guests and staff. Campground occupancy will be limited at the parks, and reservations are required. First-come, first-served camping will no longer be available. The parks have implemented a new contactless, self-check-in feature and will also increase the frequency of cleaning shower houses and restrooms. Visit mostateparks.com for more information. Most private campgrounds are also now open but require reservations so call ahead.
Illinois: In Illinois, both public and private campgrounds, as well as RV parks, are currently closed unless they are someone's permanent residence. State parks are open for limited use from sunup to sundown, but all visitor centers, campgrounds, playgrounds, beaches and concessions remain closed. Check the Illinois coronavirus response site for the latest information: coronavirus.illinois.gov/s/.
Camp like a scout: The Greater St. Louis Area Council announced this week that they are canceling their traditional camps this summer, but are instead opening up their camping facilities to families, offering self-guided family camping and day trip activities. Reservations at Beaumont Scout Reservation in High Ridge and S bar F Scout Ranch in Farmington will be limited to promote social distancing and available on a first-come, first-served basis. Illinois camps will become available as the state continues to open. Check stlbsa.org for more information.
Be the first to know
Get local news delivered to your inbox!