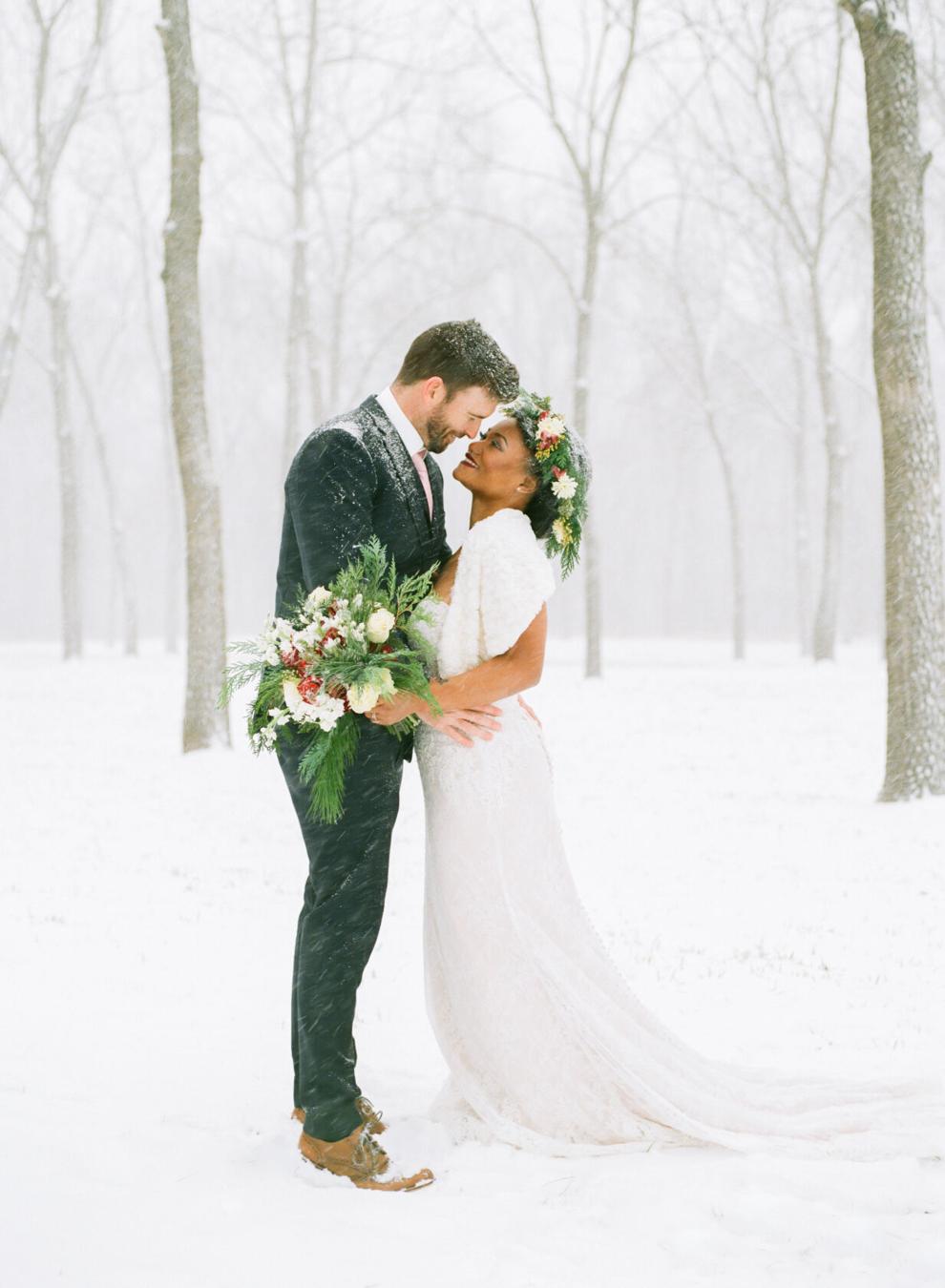 There's snow much to love about a wintry wedding or engagement photo session – the stunning snow, the flurry of fun (friendly snowball fight, anyone?) and the ability to bundle up with your boo. Regardless of the reason you're hoping for a winter wonderland photo session, St. Louis photographers are happy to share tips and tricks for a successful shoot.
"Winter sessions can be very unique and stand out from the warm weather sessions most people opt for," says Erica Robnett, owner and photographer of Erica Robnett Photography. "You will also usually have locations all to yourself and not need to wait for and work around other people also trying to use the space. Additionally, winter photos can capture a lovely atmosphere, with the possibility of snow or mist or soft light."
That unpredictability is why Robnett recommends wearing layers.
"Dress in warm layers with base layers/long underwear underneath regular clothing," Robnett adds. "Toe and hand warmers are great for keeping extremities toasty. Warm hats, gloves, scarves and cute blankets can be both a fun and functional addition to couples shoots. For brides on their wedding day, stoles and wraps are a beautiful option for keeping cozy."
Wondering what the best way to schedule such a session may be? According to Adara Reeves, owner and photographer of Adara Jade Photography, it can be tricky with unpredictable St. Louis weather, but it's possible.
"The best way to plan for this would be to first let your photographer know that you are interested in this type of shoot," Reeves explains. "From there, you and your photographer can keep an eye on the forecast and plan tentative dates around the weather. Be sure to have your outfits planned ahead of time, so when the perfect time comes with snow, you will be ready to go!"
But go where, exactly? Reeves recommends Lafayette Square, Forest Park or downtown St. Louis for a beautiful urban look. Robnett says she often opts for locations with architectural interest.
"Old buildings with character or artistic displays with visual interest are great for winter photo sessions," Robnett says. "Evergreen trees make a good background for couples still wanting some greenery in their winter photos. Indoor locations can also work under the right circumstances. I personally prefer natural light photographs, so lots and lots of windows would be key for me, but other photographers with a more dramatic, flash-lit style may prefer different types of locations."
Robnett adds that choosing your photographer is the most important decision in getting the look you are going for at the end of the day: "The key is finding the photographer who fits the style you are looking for and collaborating with them on specific locations that will best fit the aesthetic you want."