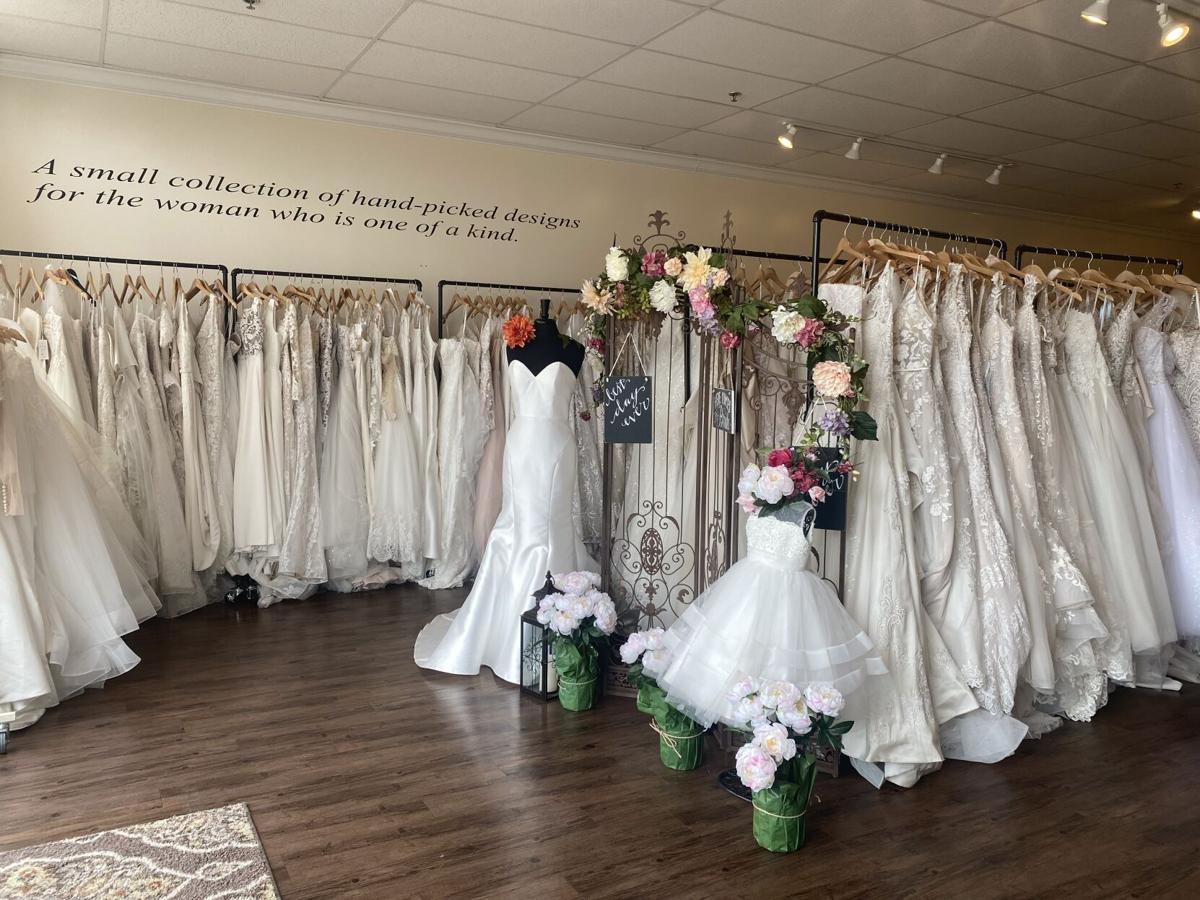 After a year-plus of stay-at-home procedures due to the ongoing coronaviral pandemic, many brides are ready to vault down the aisle at light speed. And Chesterfield boutique Mia Grace Bridal is ready to serve at short notice.
With its newest shop, located a few storefronts down from its flagship store, Mia Grace caters to the bride who can't wait the average nine to 12 months for her bridal gown to be ready before walking down the aisle.
"A large number of brides decided to wait because of COVID," says owner Vicky Smith about the necessity of Encore. "They had already waited a year, [so now] they're having much quicker weddings. They need a gown – and they need it quick."
Mia Grace Encore sees brides who, on average, are planning nuptials or celebrations in just three months – a much shorter length of time than was typical before the pandemic. Smith reports that bridal gowns typically take a half-year to arrive, and time must be set aside for alterations.
The selection at Mia Grace Encore boils that entire process down to one day by offering a wide variety of sizes and unique styles in which brides can discover the perfect fit and look.
"A lot of brides that got married during 2020 are deciding to have a second ceremony or reception, and they want to wear a different gown," says store manager Madison Crawford. "We were surprised by the number of Mia Grace brides who came back and purchased a second gown. They're loving that they are able to get a high-quality, design gown in their price point and still feel like a true bride."
Dresses are curated through one-on-ones with designers to reflect not only trends but also what most appeals to the Midwestern bride. Mia Grace Encore's racks feature single designs in sizes ranging from 0 to 32, with more availability in sizes from 4 to 28.
"The racks are not filled with the same gown over and over," Crawford says. "We choose gowns that are in great shape for our girls. The wide variety makes it feel like they're not limited [in comparison to] our flagship store."
Not only can brides browse 250 gowns to find the one and take it home that same day, but also they can match it with veils and other bridal accessories available in the boutique to create "that full bridal vision," Crawford adds.
Though the new store differs from the flagship, Smith notes that the customer experience is one of the most important aspects – and it's across the board at both boutiques. "It's an emotional purchase," she recognizes. "It's one of the biggest days of their lives."
Mia Grace Encore takes appointments two at a time to allow each bride ample space in one of its large, private viewing areas in which to relax with family and friends, as well as to receive one-on-one attention from a stylist.
"It does not matter to us if the wedding is right away or further out, or if they want to stay in a smaller or larger price point," Crawford says. "They're receiving the exact experience. We truly believe each bride deserves that intimate, personalized experience. [That way,] they're having a fun day and are able to create memories."