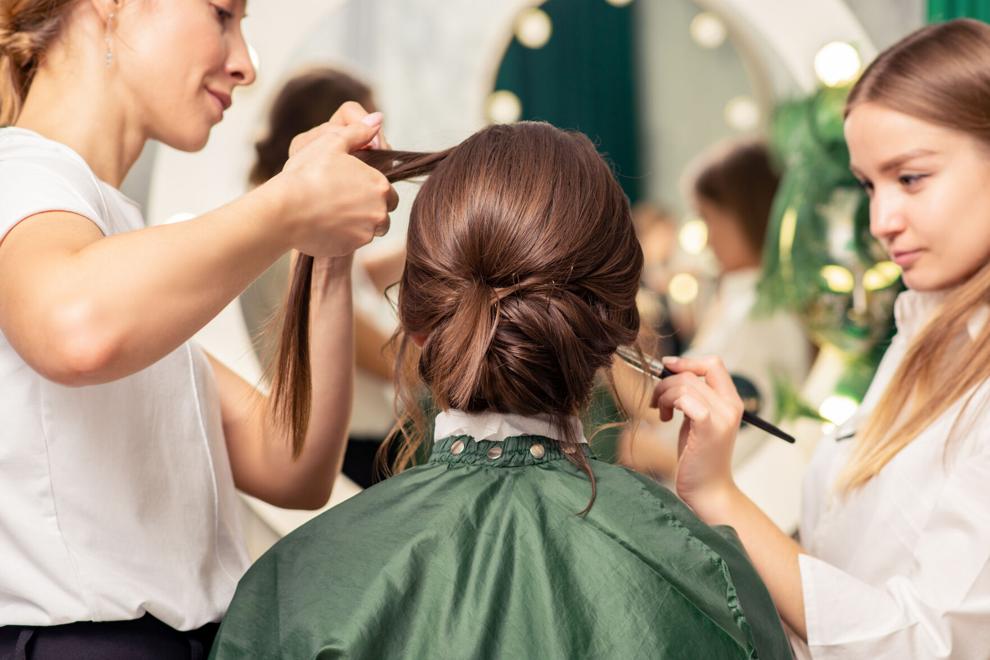 A team of St. Louis hair and makeup artists is offering their top prep tips to achieve your best wedding-day look.
For the ultimate big-day glow, Des Peres-based Fleur Bridal Styling's team, helmed by owner and lead stylist Jess Boheim, warns against trying new skin care the week before the wedding and advises: "Hydrate, hydrate, hydrate!"
Boheim and her team also recommend getting a spray tan a couple of days prior to the wedding. "We suggest a custom tan, and do not spray your face," Boheim notes.
Brides with lash extensions should have them filled, she says, adding that brows should be shaped and any facial hair waxed.
For the best big-day hairstyling results, Boheim says she and her stylists prefer clean hair. "Dirty hair is very difficult to work with," she notes. "It takes longer and you won't necessarily be able to obtain the desired look – dry shampoo won't save you! That goes for unbrushed hair and wet hair, too. This prolongs the process and takes away from styling time. Wash and paddle-brush dry the night before or in the [morning] with any lightweight volume mousse or spray – [and] don't forget [to apply] a heat protectant."
When it comes to hair cutting and coloring, the team suggests no more than two weeks prior to the event. "This is for any reason you may need to make adjustments, and your color will be fresh," Boheim says. "If your hair grows superfast, you can consider the week of. However, I am sure that week will be full of last-minute to-dos, so eliminate the stress and get it done two weeks prior." The same goes for a haircut, she says, adding: "Just dust the dead ends off."
The Fleur Bridal Styling team also advises being prepared with ideas for your stylists by having photos of the look you want to achieve with your hairstyle and makeup. "We always suggest picking photos that are similar in [hair] color and texture … [and] similar in skin tone [and] face shape," Boheim explains.
Remember to drink lots of water, so your skin is hydrated, the team emphasizes. "We suggest eye pads and a lip scrub the morning of the wedding, too," Boheim says.
Most importantly – relax, Boheim urges: "Rest assured that you know you have picked the best team, and you will look your absolute best!"
 Fleur Bridal Styling, 12139 Manchester Road, Des Peres, 816-633-2210, jessboheim.com