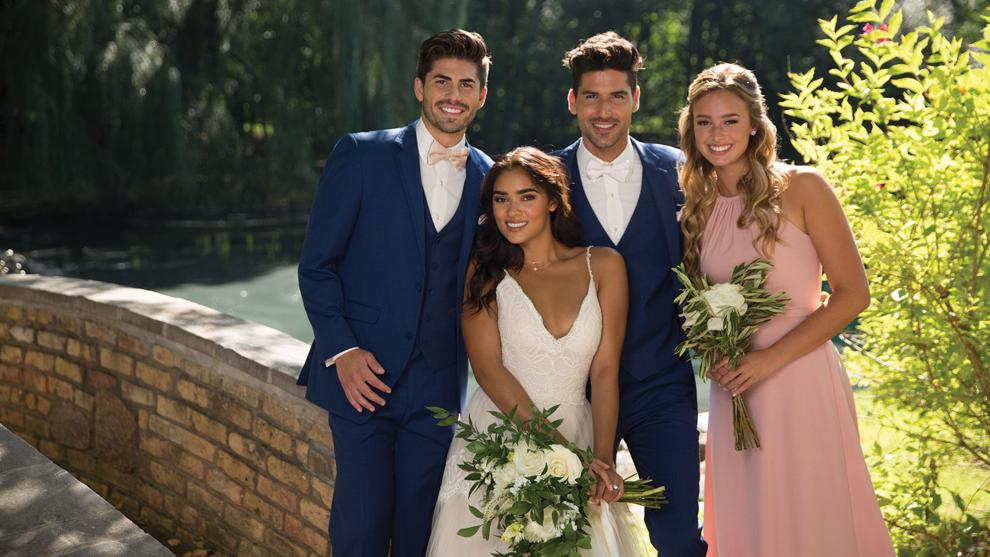 The groom's choice of formalwear is as much a once-in-a-lifetime experience as the bride's search for the perfect wedding gown. After all, the groom's attire is not your basic everyday outfit. When it's time to "dress up" for the wedding, most grooms are at a loss. The process, however, does not have to be difficult. Grooms have a wider selection than ever and include wedding suits in slim, modern or regular fit in sizes 3 to 70. Savvi Formalwear offers a free groom's try-on to give you confidence in selecting wedding attire by seeing what looks best on the groom before you place an order.
Today's groom may opt for a wedding tuxedo, then change to a reception coat to make his own fashion statement. Coats are available in bright colors, plaids, checks and paisleys for variety and fun on his wedding day.
When selecting your formalwear specialist, it's important to choose one that stocks tuxedos and suits locally. You want a formalwear specialist who can handle your wedding party's last-minute changes. If your best man's tuxedo is too small, it is next to impossible to get a replacement from halfway across the country on a Friday afternoon.
With local inventory at its centrally located warehouse at 6185 Delmar Boulevard in the University City Loop, Savvi Formalwear can quickly fix any problems without shipping something from out-of-town. Since men often delay trying on their tuxedo until the last minute, a local tuxedo company also can replace a coat or trousers within hours rather than days.
The level of formality, color and styling of the men's attire should follow the stylistic lead set by the bridal gown. Once upon a time, grooms were bound by strict etiquette when it came to their formalwear. The rule was cutaways in the daytime, and white tie – black tails accessorized with white pique vest, shirt and tie – after 6 p.m. While tradition certainly has earned its well-deserved place, don't feel bound by any regulations as you decide on wedding formalwear. Feel empowered to follow your heart and select the style that speaks to your personality as a couple, while still coordinating the formality of the bride's gown with the groom's wedding attire.
In fact, most couples choose to have a contemporary formal wedding and add their own unique touches. Brides coordinate the groomsmen's tie and pocket square color with the bridesmaid's dresses. Popular single-breasted tuxedos are available in black, tan, blue and several shades of gray in super fabrics, with a softer hand. You can also find slim-fit tuxedos and wedding suits, flat-front pants and fitted tuxedo shirts for the fashion-conscious groom. The traditional formal shirt is pleated and available in laydown and wing collar, but a more contemporary look in formal shirts is also available without pleats.
Formal shoes are a must. Black patent, black matte, brown or cognac formal shoes all look great. You can rent a pair with your tuxedo and ensure that the entire wedding party matches for that picture-perfect wedding!