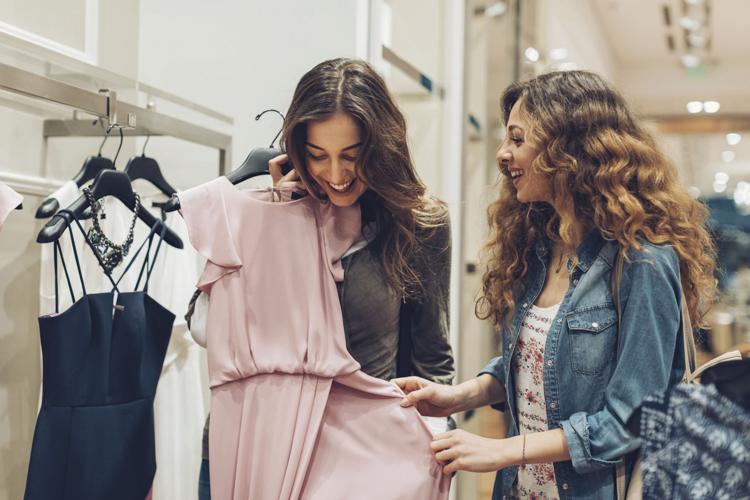 It's a well-known cliché popularized by movies like "27 Dresses" — bridesmaid dresses can be ugly and unflattering. But it doesn't have to be that way. Here are eight do's and don'ts for choosing the best dresses for your best gals.
DO:
KEEP EVERYONE'S BUDGETS IN MIND
Weddings are expensive, even for the bridesmaids. So, while talking about money can be uncomfortable, it's a crucial conversation if you expect each bridesmaid to pay for her own gown.
"Be considerate of your bridesmaids' financial situations, and have an open and honest conversation about your expectations as well as theirs. Remember, you're friends for a reason!" says Amanda Guagliardo, marketing manager for Azazie, an online bridal shop.
CONSIDER FORMALITY
Your bridesmaids' dresses should match the style of your event. "Want something black tie and elegant? Opt for floor length gowns in darker colors like black, navy and cabernet. Going for something more casual? Think brighter colors, lighter fabrics and shorter lengths to match," advises Guagliardo.
READ THE REVIEWS
Most of us have never shopped for bridesmaid dresses before. So do your research to find a store that will make the experience as easy as possible.
"Wedding planning is stressful enough — find a reputable company that will guide you through any questions you have and make sure your special day is perfect," recommends Guagliardo.
ORDER SAMPLE SWATCHES
If you go the online route, be sure to order swatches so you can see the color in-person before buying. Colors can appear different online due to screen resolutions, as well as fabric choice and lighting.
LEAVE TIME FOR ALTERATIONS
Don't wait until the last minute to order your bridesmaids' dresses. Most retailers recommend orders be placed six months before the big day. If you're ordering online, leave enough time (at least three months) for potential return and alterations.
---
DON'T:
ASSUME ONE STYLE FITS ALL
Everyone's tastes and bodies are different, so take the time to consult your bridesmaids before choosing a gown. Or, better yet, embrace the mix-and-match trend by letting your friends choose their own complementary dresses.
"One of the most common mistakes we see brides make is thinking that one style will flflatter everyone," says Guagliardo. "Embrace what makes your friends special and unique and allow them to choose a style they feel most comfortable in."
BE AFRAID TO SHOP ONLINE
Buying something as important as a bridesmaid dress can feel a little sketchy. Luckily, today you don't have to sacrifice boutique quality products for the convenience of online.
"At Azazie, we offer try-on samples in any size so you can gather your bridesmaids and host a try-on party in the comfort of your own home," says Guagliardo. "No time limit, no salesperson there to pressure you into a style they think you should like."
It's also a great option for bridal parties with members who live all across the country.
FORGET ABOUT DYE BATCHES
"To ensure that your bridesmaid dresses match perfectly, instruct your bridesmaids to place their [online] orders within 24 hours of one another so that they can be dyed in the same lot," advises Guagliardo.