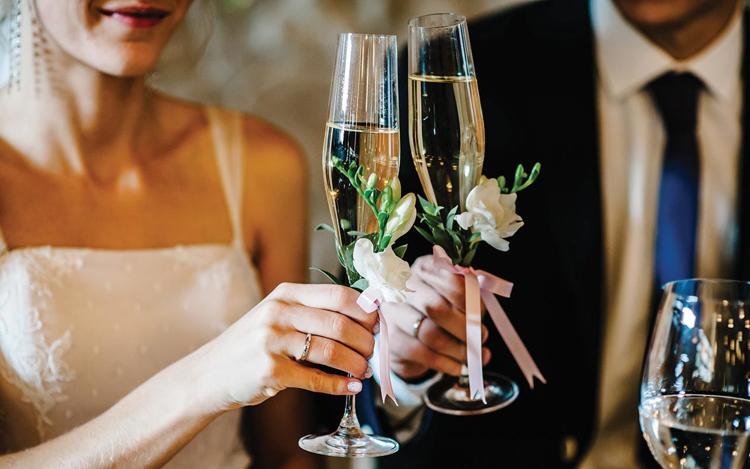 Whether you are the maid of honor, the best man or the father of the bride, a wedding toast is a gift and a love letter to the special people celebrating their special day. A good toast can make people laugh. It can make people cry. Most importantly, a good toast will bring the attendees together to celebrate the bride and groom, and to create a cherished memory for the happy couple to look back on. While that may seem like a daunting task, it gets easier with the help of the tips below.
Gather your thoughts
Before you get up to the microphone, have a plan of what you want to say. Rambling will lose the audience's attention. In weeks prior to the wedding, make a bullet point list of what you want to say or stories you want to tell. Having this list in mind while you present will allow the words to flow and make sense, as well as keeping the attendees engaged. However, ensure that it's only a list of topics: reading from a written script will kill the emotion and energy of the room. Have a plan but let the words come from the heart.
Be personal
An audience loves stories. Think about sharing some light-hearted or meaningful moments you've spent with the bride or groom; this can be a good way to start out the toast. While inside jokes may lose or confuse attendees, they will likely love to hear stories of the first time you met or how you helped the groom ask the bride out on a first date. Avoid inappropriate or embarrassing stories. Don't be afraid to be sappy - there's no such thing as being too sentimental at a wedding - and let your toastee know how much you care for them.
Wish them well
End your toast with kindness and well-wishing and relay to the audience your hopes for future prosperity. Then raise your glass and take the sip.
---
Traditionally, the order of wedding reception toasts goes like this:
1. The best man toasts the bride
2. The maid/matron of honor toasts the groom
3. The wedding host/financier (typically the father of the bride) toasts the couple
4. Other parental figures of the couple toast the couple
5. The couple toasts their family and guests